I must admit that Sina (NASDAQ:SINA) has been one of my worst stock picks this year. It has underperformed the market significantly and is down almost 50% from its October 2013 highs. The highly anticipated Weibo IPO was not quite successful and failed to spark interest and the regulatory concerns have made matters worse and the impact on Sina's share price is evident. However, when you consider the valuation and Sina's net cash position, it is hard to believe that the share price will stay depressed for long or go down further.
Negative estimate revisions, light guidance and regulatory concerns weigh on Sina's share price
A lot of negativity has been priced into Sina's current valuation. Analyst revenue and EPS estimates have declined over the past six months. EPS estimates have been hit the hardest, with 2014 EPS expectations coming down $1.48 in early April to $0.84 which is the current consensus. Revenue estimates for 2014 also came down from $835 million in January 2014 to the current level of $773 million. The negative earnings expectations cycle has been the major driver for the share price decline. The first quarter earnings report was above Wall Street estimates and management guidance, but Q2 guidance came in below expectations which kept Sina's share price depressed in late May.
Regulatory concerns were also contributing to the downward movement. The company announced in early May that it received two notices from Chinese regulators stating its "License for Online Transmission of Audio-Visual Programs would be revoked due to unhealthy and indecent content from third-parties or by users" on Sina.com and its affiliated online literature site. Management stated that the decision should have an adverse effect on the company's business going forward, and that it is reflected in the light Q2 revenue guidance. Sina's video advertising revenue contribution is in single digits, so the impact should be limited. But there's some customer reluctance here (the company also bundles some of these services), which will have an indirect effect on the company's top and bottom line. However, these issues are mostly reflected in Sina's share price, and there should not be additional downside here, as the company is working with regulators to resolve the issues.
Valuation seems compelling with substantial upside potential
Sina's valuation seems quite compelling at current levels. The company is actually valued for its Weibo stake and net cash position. Sina's Weibo stake is currently valued around $2.2 billion and the company's net cash position at the end of Q1 was $1 billion. Add these two together and you get $3.2 billion which is above Sina's current market cap of $3.05 billion. You essentially get the rest of Sina's business for free. The company also has a $500 million share buyback authorization, so the company can buy back more than 15% of its float at the current price. I am valuing Weibo (NASDAQ:WB) at $27 a share, which would make Sina's stake worth approximately $3 billion. This would translate into 30% upside for Sina just for Weibo plus its net cash. And if we value the rest of Sina's business without Weibo around $1 billion (or at 2x sales, which is conservative given the current P/S ratio of 4.3), the upside could be north of 60%, as Sina would have a market cap around $5 billion. If the company executes its growth strategy going forward and resolves the regulatory issues, the upside could be even higher.
As for the downside, investors should have some protection in the substantial cash position. Net cash currently accounts for one third of the market cap, and the buyback should help cushion the further fall in the share price. But that does not protect the share price from going further down, and if additional regulatory concerns emerge, the downside might be between 15% and 20%. In that case, the company might decide to boost the buyback since it has $1.8 billion in cash (which includes $800 million in debt). The $40 level might prove as crucial if the stock chooses to retest the late May lows. This level is important as the stock bottomed there on three separate occasions in the last three years.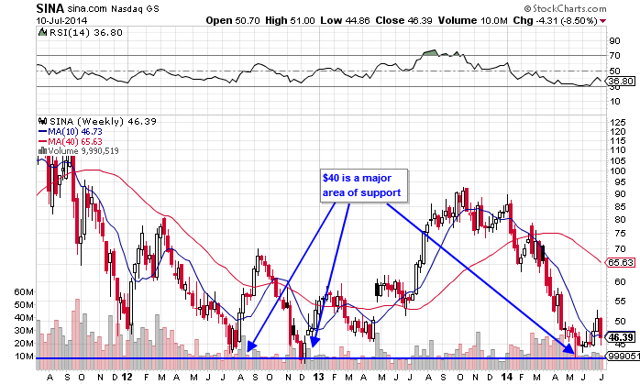 Source: Stockcharts.com
Conclusion
Although the regulatory issues are a major cause for concern, I believe that Sina is a bargain here, and that the reward/risk ratio is in the bulls' favor. If the situation gets better and if Weibo is valued around my target price, Sina's upside could be north of 60%, while the downside should be 15% to 20% if the stock revisits the multi-year lows. The $500 million buyback and a $1 billion net cash position should serve as downside protection.
Disclosure: The author is long WB. The author wrote this article themselves, and it expresses their own opinions. The author is not receiving compensation for it (other than from Seeking Alpha). The author has no business relationship with any company whose stock is mentioned in this article.
Additional disclosure: I may initiate a long position in SINA over the next 72 hours