How much principal are you planning to lose in your bond portfolio when interest rates rise? If you do not know the answer, then you have not done your job of protecting your assets against these inevitable losses.
Seeking Alpha issued two very interesting news summaries this week concerning the rise of the Fed Fund rate increasing from its current 0.25% to 1.55% in two years and possibly breaching 4.0% by 2018. The first summary is the expectation of rising interest rates as shown by activity in Eurodollar futures and the second incorporates Goldman Sachs (NYSE:GS) prediction moving up the timetable for rate hikes. GS also sets a 2018 target of 4.0%. These summaries can be found here and here, with a more detailed announcement from GS on marketwatch.com here.
The gist of these articles is that by this time next year, rates will be on the move and will continue to do so for the next four years. The most interesting is the change of attitude at Goldman Sachs concerning moving the first Fed Fund Rate increases forward to the third qtr. 2015.
Nevertheless, what does that mean for you? Most investors spend lots of time and effort uncovering the next, best equity that will make them comfortably rich. However, these same investors spend very little time with their bond portfolios, usually consisting mainly of bond funds of various flavors. There is a common misbelief that bond portfolios can be put on autopilot. Many investors also believe a cross section of investment grades will diversify their bond portfolio and protect themselves against the evils of rising rates that consistently eat away at the principal.
Below is a Fed Fund Rate chart going back to 1954. As obvious, there are substantial movements in these rates over time, with the prevailing virtual zero Fed Fund Rate in force since 2009.
The last time the Fed Funds Rate was at 4.0% with an upwards bias was in Jan 2006. Prior times were in April 2001 with downward trend and in May 1994 within an uptrend.
What did the yield curve look like back then? It looked pretty flat. Treasury.gov offers a visualization of the yield curve on various dates and compares that curve to the curve today. The following is a graph of the yield curve for Jan 2006 when it crossed 4.0% with upwards momentum. The rate kept rising to 5.2%, and then the fiscal crisis hit with the rate declining to its current 0.25%.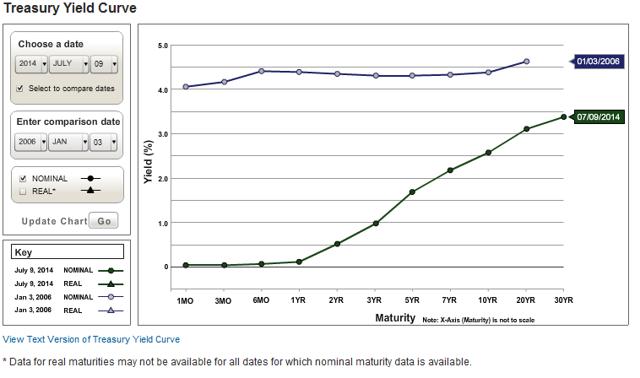 In April 2001, the yield curve had a positive slope, as shown below, but was in an overall downward trend. Rates continued their downward trend and bottomed at a Fed Fund Rate of just under 1.0%.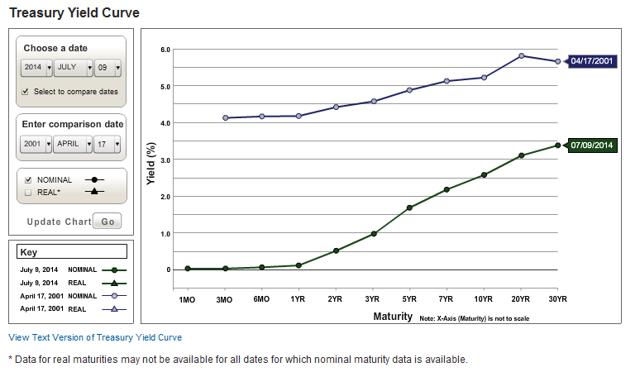 In May 1994, rates were on the march up and had just crossed the 4.0% threshold. The chart below outlines the yield curve. The Fed Funds Rate stayed above 4.0% until the decline of 2000. Investors should remember the Fed Fund Rate stayed above a 4.0% threshold for seven years.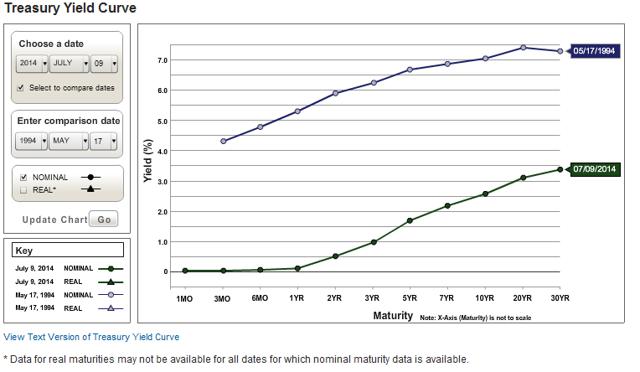 The table below recaps these dates and yield curve rates from information provided above, and list various interest rates along the yield curve from these time periods. The last line is the current yield curve as of July 9, 2014. In 2006, the Treasury was not issuing 30-yr bonds and did not include them in the yield curve of the day.
| | | | | | |
| --- | --- | --- | --- | --- | --- |
| Date | 1-mo | 3-mo | 10-yr | 20-yr | 30-yr |
| Jan-06 | 4.05% | 4.15% | 4.37% | 4.67% | na |
| Apr-01 | 3.96% | 4.10% | 5.14% | 5.79% | 5.64% |
| May-94 | 4.26% | 4.78% | 7.18% | 7.45% | 7.41% |
| Current July-2014 | 0.03% | 0.03% | 2.57% | 3.10% | 3.37% |
The best case scenario above for bond holders would be a flat curve similar to 2006. If the "goal" were a Fed Fund Rate of 4.0% and a 10-yr rate of 4.37%, the 10-yr projected rate could be 1.72% above the current 10-yr rate of 2.65%. The 30-yr rate could have a goal of about 4.67% as well, having a spread of 1.35% above the current 30-yr offering.
After determining a target for interest rates increases of between 1.35% and 1.72% above current rates, the next step would be to determine the projected value of each of your bond funds based on the increase. This step is pretty simple as well.
Morningstar.com offers two important bond fund calculations for investors - Average Duration and Average Maturities. These are found on the right side of their basic quote page. The first measures the sensitivity of the specific fund to movements in interest rates. The second is the time remaining on the fund's bond portfolio. An example is below: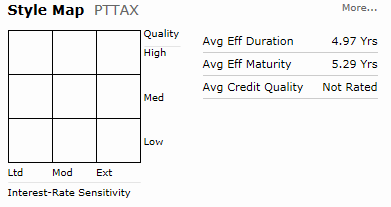 Source: Morningstar.com
Remember the longer the maturity, the higher the sensitivity to interest rate movements. Duration is expressed in years, but its use is as a multiplier for rate changes. For example, the largest bond fund with $236 billion in assets is the PIMCO Total Return fund (MUTF:PTTAX) and it has a Duration of 4.9 with an average Maturity of 5.2 years. According to the Duration, investors can expect PTTAX to move up or down 4.9% for every 1% change in rates. In the projection above, the lowest rate change would be 1.35%, giving PTTAX the potential to decline by 6.6%. Estimating a higher rate at 1.75%, a corresponding PTTAX decline would be in the neighborhood of 8.6%.
Below is a spreadsheet of various bond funds and ETFs. The selections were made based on a relatively random goal of creating a low duration portfolio. The information includes a fund's assets under management, current yield, average duration and average maturity, along with the potential percentage decline in value following a 1.35% rate increase. Sample investment dollars are calculated based on creating a $125,000 diversified portfolio. The downside for this portfolio is calculated at -3.9% and should produce income of 2.4%.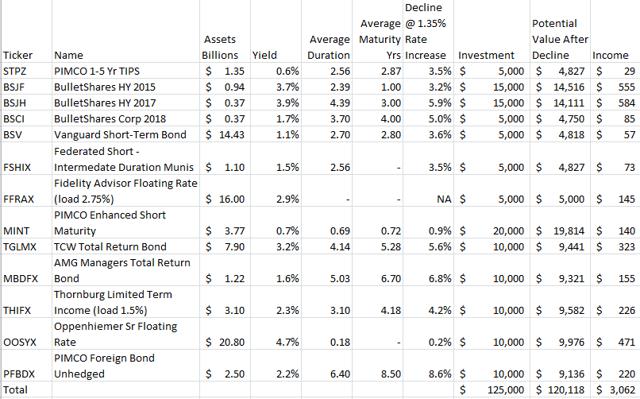 A similar spreadsheet could be developed for a diversified portfolio of various U.S. Treasury funds. Below is an example of a portfolio of an evenly invested $60,000 with 50% invested in long maturities of 20-yrs and longer. The potential value decline exceeds 21% and the current yield is 1.9%

Larger funds are not immune to interest rate risk and fund value declines, based on the maturities they hold. However, good fund managers have been lowering the Durations and shortening the maturities of their bond portfolios over the past few years, in anticipation of higher rates. For example, below is another spreadsheet using evenly allocated amounts in well-known funds. These funds combined should be expected to decline by 5.6% and offer a 3.45% yield.

I am not advocating one portfolio design over another. What I am advocating is readers take the time to analyze their bond assets in another light - and that light is the potential for bond fund losses. It is better to anticipate a decline than to be surprised by one.
FINRA, the government securities regulatory body, is also sounding the alarm, and has been for over a year. Below is a quote from a Feb 14, 2013 publication, titled Duration-What an Interest Rate Hike Could Do to Your Bond Portfolio:
If you own bonds or have money in a bond fund, there is a number you should know. It is called duration. Although stated in years, duration is not simply a measure of time. Instead, duration signals how much the price of your bond investment is likely to fluctuate when there is an up or down movement in interest rates. The higher the duration number, the more sensitive your bond investment will be to changes in interest rates.

Currently, interest rates are hovering near historic lows. Many economists believe that interest rates are not likely to get much lower and will eventually rise. If that is true, then outstanding bonds, particularly those with a low interest rate and high duration may experience significant price drops as interest rates rise along the way. If you have money in a bond fund that holds primarily long-term bonds, expect the value of that fund to decline, perhaps significantly, when interest rates rise.
So, I will repeat the question: How much money are you planning to lose with your current bond fund portfolio? You have about 12 months to figure this one out, and the clock is ticking.
Tick, Tock … Tick, Tock
Author's Note: Please review important disclaimer in author's profile.
Disclosure: The author is long BSJF, MINT, TIP. The author wrote this article themselves, and it expresses their own opinions. The author is not receiving compensation for it (other than from Seeking Alpha). The author has no business relationship with any company whose stock is mentioned in this article.
Additional disclosure: Author is also long BSIH, BSCI, OOSYX