Netflix (NASDAQ:NFLX) had an initial public offering in mid-2002 for $15 a share. Since then the company has exploded, with shares worth ~$440 and a market capitalization of $26.36 billion. It's evident that services like Netflix are only going to get more popular. Netflix allows consumers to seize their time and adjust their television viewing to their preferences; you pick what you want to watch, when you want to. At such high share prices, however, could there be any more room left for profit? The answer lies in a careful analysis of the company and the market that they operate in.
Fundamentals
Netflix didn't get to where it is today without revenue. With all the tech company hype going around right now, it wouldn't be surprising to some if Netflix barely made a cent. Luckily for investors, this isn't the case.

Click to enlargeSource: YCharts
Looking at a trailing twelve month average (an average of the last 4 quarters), we can see that Netflix has excellent revenue growth that continues to climb at a quick pace. The company is profitable as well, unlike some other tech behemoths (Amazon (NASDAQ:AMZN), for instance):

Click to enlargeSource: YCharts
These margins aren't very high, especially for a software company. They also don't appear to be going anywhere fast. What's important to note, however, is that during this period Netflix has continued to undergo an incredible rate of growth and revenue stream diversification: being profitable at this point is icing on the cake. Netflix has hit a share price of over $400 with barely any debt:

Click to enlarge
Source: YCharts
That's impressive management. With a company of this size, where's all the cash coming from? A quick look shows us that Netflix doesn't actually get that much cash from operating:

Click to enlarge
Source: YCharts
Since the company has such low liabilities, the cash is coming from its equity financing. This means that Netflix management has been able to leverage its rapidly rising share price in order to finance its expansion. This is opportunistic, and doesn't carry interest with it like debt financing. If the stock were to drop a certain amount, however, then Netflix might just be in trouble. This assumption is further backed up by the rising shareholders equity, a value indicating the degree to which a company is financing itself through shares:

Click to enlarge
Source: YCharts
Fundamentally, Netflix looks sound.
Market Position
The lifeblood of Netflix is its subscriber base. Without subscribers, no one is going to get paid. Thankfully, Netflix has undergone healthy subscriber growth. Its stock has appreciated in tandem with the amount of subscribers that it has.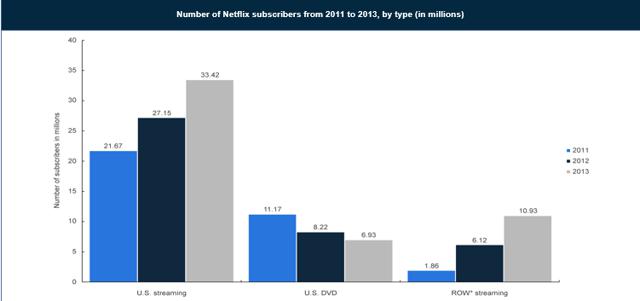 Click to enlarge
Source: ComScore, Statista
It's obvious here that DVDs are on the way out. Netflix made an excellent pivot with its business model in order to react to the industry and adapt itself to it. It made streaming its primary focus, bursting into the market seemingly out of nowhere: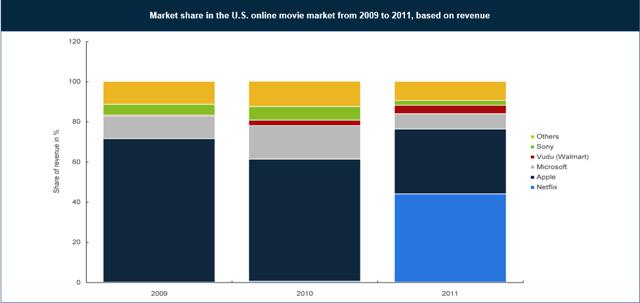 Click to enlarge
Source: ComScore, Statista
Although it had an excellent entry and growth period, Netflix faces a variety of competitors, with only more to come to the rapidly growing digital video market.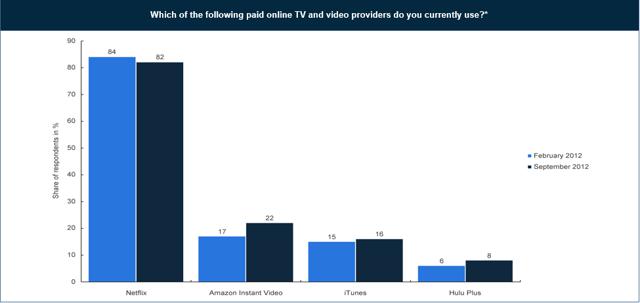 Click to enlarge
Source: ComScore, Statista
Although the numbers were skewed in Netflix's direction in 2012, it might not be the case anymore. Amazon Instant Video gets bundled with Amazon Prime; the result is rapid user acquisition on Amazon's front. If you're a Netflix investor, it pays for you to keep an eye out for Amazon: the way it stands now, they could take over many of Netflix's users.
Netflix is also diversifying its business model. A couple of years back the firm decided to begin peddling homegrown shows and movies - it has had success with several of them. It's hard to put a tangible value on a venture like this, but if the firm continues to be creative and persistent, there's no reason that they won't have a blockbuster or two. Successes like that could allow Netflix to add to its brand value and charge a higher fee to subscribers.
Conclusion
Netflix is a good company. The issue is that the share price reflects this and more. With a price to earnings ratio of 166, it may be significantly overvalued. It also seems that the United States streaming video market is saturated; Netflix needs to switch up and diversify its revenue streams if it wants to remain dominant. For now, I would say that it's best to hold off from buying Netflix stock.
Disclosure: The author has no positions in any stocks mentioned, and no plans to initiate any positions within the next 72 hours. The author wrote this article themselves, and it expresses their own opinions. The author is not receiving compensation for it (other than from Seeking Alpha). The author has no business relationship with any company whose stock is mentioned in this article.