Bank In Portugal Spooks U.S. Investors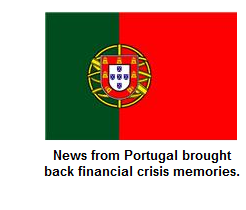 Many on Wall Street looked at the futures early Thursday and thought "what?..down 17 points?". The bearish catalyst came from across the pond. From Reuters:
U.S. stocks dropped on Thursday as concerns about the financial health of Portugal's top listed bank gave investors a reason to cash in recent gains. Espirito Santo Financial Group, the largest shareholder in Portugal's Banco Espirito Santo, suspended trading in its shares and bonds, citing "material difficulties" at parent company ESI. The bank's shares tumbled 17.2 percent. Portugal's benchmark stock index fell 4.2 percent and Italy's FTSE MIB slid 1.9 percent.
We can all recall the almost non-stop volatility cased by problems in Europe between 2010 and mid-2012. Therefore, the situation in Europe needs to be monitored and respected.
How Serious So Far?
Rather than make knee-jerk allocation decisions based on a few days of weakness, it is best to take a step back and ask how healthy does the current market look. To help answer that question, we can look at a "full bore risk-off" market. The chart of the S&P 500 in 2008 provides a good reference point for investor fear and economic pessimism.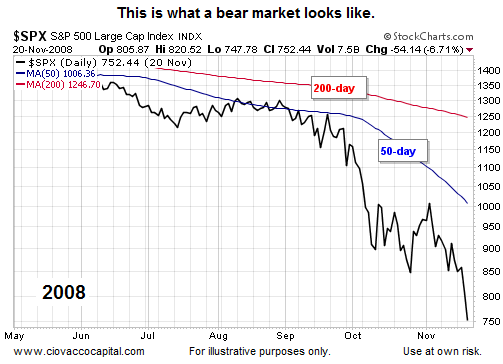 How Does The Same Chart Look Today?
The present day S&P 500's chart looks much better. The first two observable signs of a shift in investor confidence come when (A) price drops below the blue 50-day moving average, and (B) the slope of the 50-day turns down; neither have occurred yet. Therefore, some patience remains in order with U.S. stocks (NYSEARCA:SPY).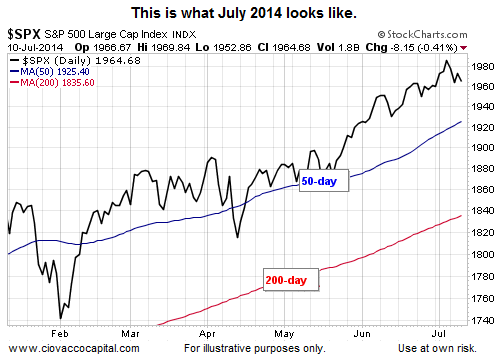 Will More European Dominoes Fall?
The news from Europe, taken in isolation, is not a show-stopper for the bull market. Investors fear that more bad news could follow, which is what happened in 2010. From The Wall Street Journal:
"There is worry about contagion," said Thomas Roth, a government bond trader at Mitsubishi UFJ Securities (USA) Inc. "The theory is that it could lead to bank failures and throw us back into recession," he added. Nick Lawson, a London-based stock trader at Deutsche Bank AG, spoke of "the memories of 2011 coming back."
Investment Implications - Observe And Adjust If Needed
If Friday's session is weak, it is possible our market model will call for an incremental reduction to the growth side of our allocations. No action was needed based on our intraweek rules Thursday. Our allocations still consist of U.S. stocks (NYSEARCA:VTI), and leading sectors (NASDAQ:QQQ). Our approach does not assume anything about what will happen Friday (good or bad). We will enter Friday's session with a flexible and open mind. If you liked the research on the performance of blue-chip stocks in the last bear market, you may also have an interest in seeing how "safe" utility stocks performed over the same period.
Disclosure: The author is long SPY, VTI. The author wrote this article themselves, and it expresses their own opinions. The author is not receiving compensation for it. The author has no business relationship with any company whose stock is mentioned in this article.