This article will discuss what is the real cost paid by North American Palladium (NYSEMKT:PAL) to Brookfield Asset Management, Inc. (NYSE:BAM) since June 7, 2013; and analyze if this recent financial move made any sense to the PAL shareholders? I will raise some questions here that are very sensitive to many average investors who have been probably short-changed somewhat or been sacrificed without any basic economic common sense, in my humble opinion.
Who is Brookfield Asset Management, Inc.?
From Yahoo,
BAM is a publicly owned asset management holding company. Through its subsidiaries the firm invests in the property, power, and infrastructure sectors. Its property business include owning and managing office properties, developing master planned residential communities, and offering clients bridge and mezzanine lending; alternative assets funds; and financial and advisory services...Through its funds and private capital business the firm invests in specialty funds including private equity and makes direct investments in real estate, energy, and resource assets. It also makes investments in privately held investment management and equity and fixed income mutual funds...Brookfield Asset Management is based in Toronto, Canada.

YTD chart: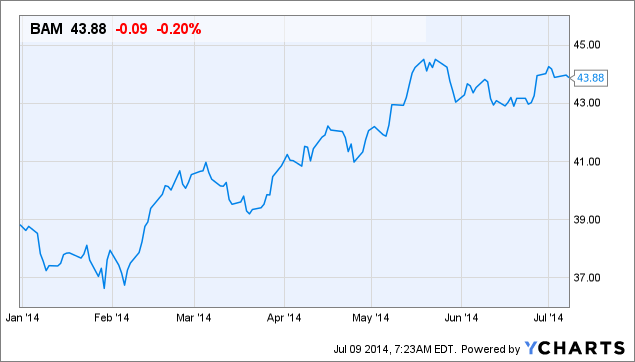 Historical snapshot of BAM's involvement with PAL.
1 - Brookfield Capital Partners Ltd., which is the private equity group of BAM, got involved with PAL on June 7th, 2013.
The loan agreement, click here.
PAL announced $130 Million Debt Financing from Brookfield at an interest of 15% due June 7, 2017. The loan is secured by first priority security on the fixed assets and second priority security on accounts receivable and inventory.
The same day PAL also announced a $20 Million Fully Subscribed Private Placement of Flow-Through Shares and Extension of Credit Facility to July 4, 2014.
PAL used part of the proceeds to repay earlier the existing $72 million senior secured notes due October 4, 2014. This early prepayment was forced by BAM and cost a great deal of cash to PAL.
Here is an excerpt from the 6K related to the loss on debt:
"Loss on extinguishment of debt in June 2013, in connection with a financing, the Company repaid existing senior secured notes and incurred an $11.0 million loss including a $7.2 million debt repayment premium."
As of today, PAL still carries 4,200 oz of palladium warrants outstanding on its balance sheet related to this particular debt.
2 - The Brookfield loan was amended on November 29, 2013.
BAM transferred a cash amount of $21.4 million to PAL, representing an extra loan of $15 million and the return of $6.4 million in interest paid earlier to PAL. Few covenants were modified and particularly the "exit fee" was deleted and capitalized in the BAM loan amended.
"On November 29, 2013, the Company amended its US$130 million senior secured term loan with Brookfield Capital Partners Ltd. ("Brookfield") resulting in an additional advance of US$21. 4 million of cash to support working capital needs and continue funding operating and capital expenditures at its Lac des Iles ("LDI") palladium mine."

As a result of the retroactive application of the 19% interest rate to June 7, 2013, an aggregate US$169.7 million principal is outstanding under the loan consisting of: US$148.9 million of loan and capitalized commitment fees; US$12.7 million of accrued and capitalized interest; and US$8.1 million of a capitalized amendment fee. The Company estimates that it will record a non-cash loss of approximately C$14.5 million in the fourth quarter of 2013 related to the accounting treatment of the amendment.
3 - On July 7, 2014, PAL is modifying again the BAM loan agreement.
"The Company has made a payment of approximately US$23.4 million to Brookfield Capital Partners Ltd. ("Brookfield"), its senior secured term loan lender, representing US$16.2 million of accrued interest and US$7.2 million of the associated pre-payment fee."
PAL tried to put a stop to the mounting cost of the debt and reduced the total principal to $173.2 million. The loan interest will be back to 15% on September 30, 2014. However, PAL will have to pay now the quarterly interest to the loan starting Q3 2014; an amount of $6.5 million per quarter. This decision is not without problem for PAL that has a limited amount of cash and lives on borrowed money.
Quick BAM debt cost snapshot since June 7, 2013.
Date

Shares Count

Million

Interest

%

Principal BAM loan

(Including cost)

$ Million

Cash advance from BAM to PAL

$ Million

Cash paid by PAL to BAM

Capitalized

$ Million

Loss Related

$ Million

06/07/2013
178.6
15
133(1)
130
0
-
11(2)
11/29/2013
 
19
169.7
15
0
36.7
-
3/31/2014
362.8
19
180.4
-
0
10.7
 
7/7/2014
-
15
173.2
-
23.4
-7.2
 
12/31/2014
-
15
173.2
-
13(3)
-
 
Total
-
-
173.2
145
36.4
40.2
11
(1) Including financing costs, which were capitalized.
(2) Loss from the forced repayment of the $72 million senior secured notes due October 4, 2014.
(3) 2 Quarters at 15% on $173.2 million.
* "For the quarter ended June 30, 2013, financing activities provided cash of $52.0 million consisting primarily of $131.9 million of senior secure term loan issued and $9.6 million of share issuance less $79.2 million repayment of senior secured notes and $8.8 million from a repayment of the credit facility."
Commentary
BAM has been involved with PAL for a little over a year. The first loan agreement was signed on June 7, 2013.
PAL was probably very close to declare bankruptcy and was desperate to get the cash needed for the completion of the LDI shaft Phase I at around -850 m. Assuming that PAL will be able to pay the interests until the end of 2014, let's have a quick look at the cost paid by PAL.
The table above has all the information we need.
For example, BAM used a total cash principal of $145 million. PAL will pay an amount of $36.4 million at the end of 2014; and the principal went up from $145 million to $173.2 million. This simple calculation is an absolute increase of $64.6 million from June 7th, 2013 to December 31st, 2014, which is 572 days and about an increase of 28% per annum (including exit fee and prepayment fee).
Furthermore, in order to get the cash from BAM, PAL had to pay off the existing $79.2 million senior secured notes due 10/4/14. This early payment came with penalties, and $11 million in loss were booked in Q3 2013.
The total cost for PAL will be $75.6 million by end of 2014 or 33%.
Conclusion:
North American Palladium total cost will be $47.4 million at the end of 2014 (assuming no problem or "hiccup") and BAM transferred $145 million total to PAL, which are now long gone, and the loan has ballooned to $173.2 million. An absolute value of $75.6 million in total cost including penalties, exit fee, prepayment fee and premium.
I can formulate two important questions that any honest long shareholder should ask to PAL management at the next conference call:
1 - Is it really legal to profit so much from an honest Canadian company with a temporary acute cash-flow problem? Was it the best solution or the less costly that could have been used?
2 - Are we certain that the actual PAL management, under Philippus Du Toit, CEO, has been conducting the search of a new cash funding with the shareholders' interest in mind, and has not acted in a precipitous way?
My opinion:
My first question is just an academic one, because I will trust BAM and its lawyers regarding the permissibility of this whole loan process, which makes them, de facto, the legal owner of the mine. A simple look at the loan covenants is very telling.
The "exit fee" and the "commitment fee" have been piling-up outside the 15% and 19% interests. PAL has amended already two times the terms of the loan agreement and each time was welcomed with a tremendous cost associated. Going from $130 million loan to $145 million loan; paying interest at 15% and then deciding to capitalize the interests and go to 19%; and finally reversing course recently, back to 15% by using borrowed cash needed to complete the mine expansion.
The second question is also very hard to answer because we do not have a clear budgetary picture of what was going on in June 2013, when PAL negotiated the first loan agreement with BAM. Each of you will have to think about what could have been done to avoid this financial disaster. Looking at the cost paid, I cannot believe that it was the best economic path or the only possible strategy.
The cash situation then was certainly an urgent problem which obviously necessitated a quick decision. However, when you read what has been written by M. Langille CFO and Philippus Du Toit CEO after the loan agreement was finally signed, I still wonder if shareholders were not "short changed" in some way, without accusing anyone of any wrongdoing.
Let's take a look of what Dave Langille, CFO, said after concluding the first loan agreement:
"We expect that these financings will enable us to complete the first phase of our LDI mine expansion and establish our operations for improved financial performance in 2013 and beyond," said Dave Langille, NAP's Chief Financial Officer.
Dave Langille was referring to the $130 million from BAM and the two consecutive $10 million offerings. In fact, PAL was miles away from financially sound at that time. It is puzzling to say the least.
Then, five months later, PAL was again in trouble financially and turned to BAM once more for a new emergency loan. We know now that PAL needed another $100 million or perhaps more to complete the shaft and survive until the end of 2014. BAM gave $15 million and returned the $6.4 million paid by PAL...
The company decided then to use some very costly equity financing debentures that could be done without breaching any BAM loan covenants. Another roughly $70 million were collected at a high cost for shareholders. Look at the shares outstanding situation:
On June 7, 2013, The total shares outstanding was 178.6 million.
On March 31, 2014, the total shares outstanding was 362.8 million and counting (another $4 million to $6 million of the two debentures were not converted yet. Furthermore, roughly 36 million share warrants at a strike price of $0.547 were also created.)
Shares outstanding doubled in ten months. I am wondering what will be the real count at the end of 2014?
In my preceding article about PAL (Part I), I was indicating that the company used a great amount of cash on hand to pay off part of the BAM debt, and run the risk to be forced to use another equity offering that I called "Tranche 3," even before the end of 2014. Q2 results will give us an insight of what is the cash-on-hand situation today, and how the company intends to avoid this highly dilutive financial instrument again?
Here is the chart from June 7, 2013, until now: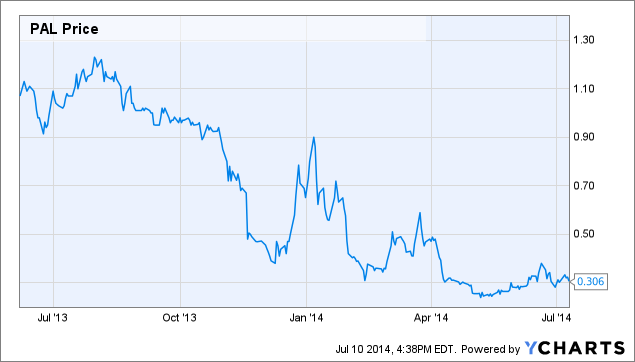 The stock has lost around 75% of its value and is still in a precarious situation. The next few months will be very important for the company's survival.
Conclude what you want.
Disclosure: The author has no positions in any stocks mentioned, and no plans to initiate any positions within the next 72 hours. The author wrote this article themselves, and it expresses their own opinions. The author is not receiving compensation for it (other than from Seeking Alpha). The author has no business relationship with any company whose stock is mentioned in this article.
Editor's Note: This article covers one or more stocks trading at less than $1 per share and/or with less than a $100 million market cap. Please be aware of the risks associated with these stocks.