Look up any online article on fracking and its pros and cons, and what's the first debate hotpoint that comes up? Water, or the potential contamination of it from fracking techniques. Gas and oil producers are being hit by increasing scrutiny and regulation as the US fracking boom continues, and have a pressing need to treat the large amount of water that's needed in this process.
Check out this growth figure: The total amount of water used in Texas for fracking doubled between 2008 and 2011. (Source: CELP website)
However, producers favor using their capital to drill wells, vs. building wastewater facilities, which supports water treatment outsourcing. Enter this week's focus stock, Cypress Energy Partners, LP, (NYSE:CELP)- it was the first IPO in Water & Environmental Services (W&ES), as well as in Private Inspection (PI) and Integrity Services (IS), debuting in mid-January 2014.
CELP's W&ES division has 9 wastewater disposal facilities in two of the most active fracking areas - 7 in the Dakotas- Bakken basin and 2 in the Texas Permian basin.
CELP's Inspection division, TIR, serves over 58 customers in 45 states and in Canada. It has many well-known names among its top 10 customers, such as Kinder Morgan, Oneok, Conoco Philips, Enbridge, and Pacific Gas & Electric, among others.
(Source: CELP website)
Dividends/Distributions: CELP has stated that its targeted quarterly distribution is $.3875, which gives it a 6.72% yield. It paid an initial pro-rated $.301 distribution in May, and should go ex-dividend again in early August or late July - (no announcement yet). Its common unit distributions look well-supported, with a 2.30 coverage ratio.
We've added CELP to the Energy section of our High Dividend Stocks By Sector Tables.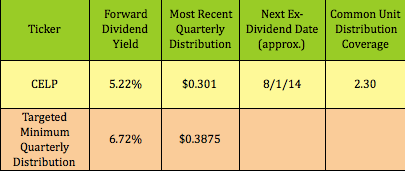 Options: CELP doesn't have options yet, so we haven't been able to add any trades to our Covered Calls Table or Cash Secured Puts Table.
Earnings: Here's a breakdown of CELP's earnings estimates. It looks undervalued on a 2014 PEG basis, but not on a 2015 PEG basis. However, given the growing need for water treatment and inspection services, CELP may surpass the current 2015 estimates - it has right of first offer with its sponsor on other entities.
In addition, the water treatment facility industry is highly fragmented, and ripe for acquisitions - for example, in Texas, there are several hundred operators which only own a single water treatment well. A well-capitalized firm such as Cypress should be able to quickly expand its water treatment division over the next few years.

CELP's revenue and adjusted EBITDA both jumped big time in 2013, 62% and 55%, respectively:

Here's a breakdown of the 2 divisions' 2013 growth - the Inspection division generated around 95% of 2013 revenue.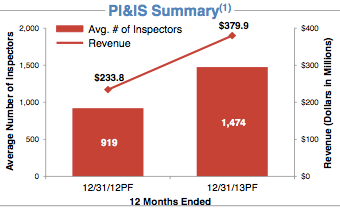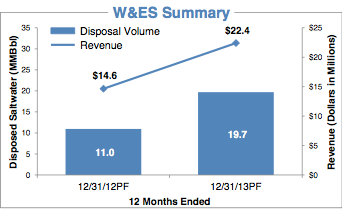 (Source: CELP website)
More Valuations: CELP looks roughly in line with industry averages.

Financials: It looks good for Management Efficiency, based upon its 2013 figures. All of CELP's debt is long term, and it has a strong current ratio.

Performance: CELP has outperformed the market thus far in 2014, but is down a bit over the past trading month.

All tables furnished by DoubleDividendStocks.com, unless otherwise noted.
Disclaimer: This article was written for informational purposes only.
Disclosure: The author is long CELP. The author wrote this article themselves, and it expresses their own opinions. The author is not receiving compensation for it (other than from Seeking Alpha). The author has no business relationship with any company whose stock is mentioned in this article.