As someone whose primary investment objective revolves around income, dividend-related events are always something I tend to keep an eye on. It is these types of events that have a tendency to influence my decision in terms of which stocks I should keep on my radar and which ones I should not. With that said, and in the wake of its latest dividend increase, I wanted to highlight several reasons why I've chosen to stay bullish on shares of ConocoPhillips (NYSE:COP).
A Brief Summary of the Company
Headquartered in Houston, Texas, ConocoPhillips explores for, develops, and produces crude oil, bitumen, natural gas, liquefied natural gas, and natural gas liquids worldwide. Its portfolio includes North American shale and oil sands assets; legacy assets in North America, Europe, Asia, and Australia; various international developments; and exploration prospects.
Recent Dividend Behavior
On Thursday, July 10, ConocoPhillips announced a quarterly dividend increase of $0.04/share, which brings its upcoming dividend payout to $0.73/share. It should be noted that the increase will be paid on September 2 for shareholders of record as of July 21. This boost represents a 5.8% increase from its prior dividend of $0.69/share, which had been paid to shareholders on June 2 of this year.
Upcoming Earnings Outlook
When it comes to the company's upcoming earnings, there are a number of things potential investors should consider. For example, analysts are currently calling for COP to earn $1.59/share in terms of EPS for its Q2 earnings that are due out on July 28 (which is $0.22/share lower than what the company had reported during Q1 2014, and $0.18/share higher than the company had reported during the year-ago period). In order to meet and/or exceed its quarterly EPS estimates, I'd like to see a 7.5%-to-10% increase in the combined production at the companies Eagle Ford and Bakken operations, a 1.5%-to-2.5% increase in the company's cash flow from operations, and lastly, a 1.5%-to-2.0% increase in the company's net income.
Keeping Our Eyes On The Permian Prize
On May 27, ConocoPhillips offered some insight on its recent development with regard to the Permian Unconventional, and to be quite honest this particular acreage could play a factor in the company's long-term production growth. How so? Given the fact that ConocoPhillips currently holds about 240 million net acres and early production has demonstrated just under 1,000 BOED, there's a very good chance that not only will the company develop its estimated 24 horizontal rigs by the end of this year, that number could grow well into the 30s if not the 40s by the second half of 2016.
Although no production-related estimates have been calculated, I strongly believe 20-25 MBOED is a fairly conservative estimate over the next 24-36 months, given the fact that company's Permian acreage is about one-third the size of its Bakken acreage which is estimated demonstrate production of between 50 and 75 MBOED by 2017.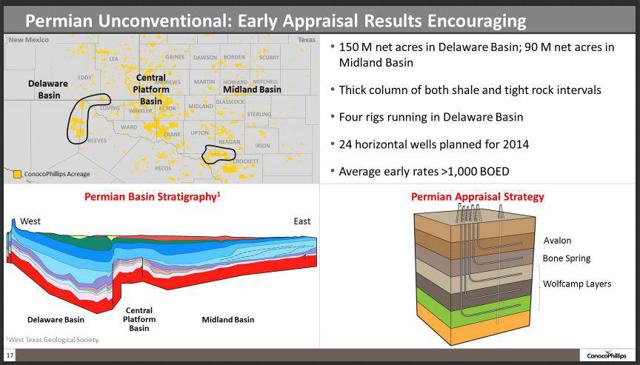 ConocoPhillips's Recent Trend Behavior
On Thursday, shares of COP, which currently possess a market cap of $105.18 billion, a forward P/E ratio of 13.34, and an annualized dividend yield of 3.40% ($2.92), settled at a price of $85.67/share. Based on a closing price of $85.67/share, shares of COP are trading 0.78% above their 20-day simple moving average, 5.99% above their 50-day simple moving average, and 19.48% above their 200-day simple moving average.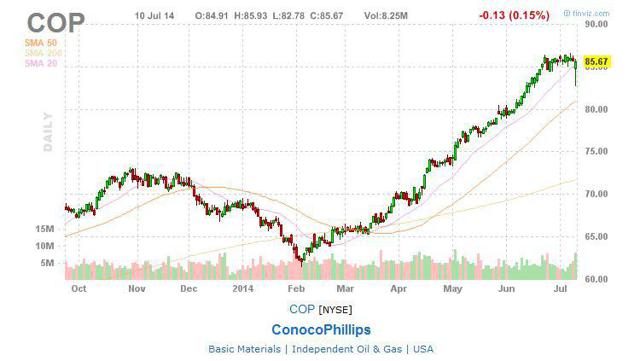 It should be noted that these numbers indicate a short-term and mid-to-long term uptrend for the stock, which generally translates into a buying mode for most near-term traders and many long-term investors. If the company can demonstrate a stronger-than-expected earnings performance when it announces Q2 results on July 28, there's a very good chance the company's trend behavior will move in a sustainably positive direction.
Conclusion
For those of you who may be considering a position in ConocoPhillips, I strongly recommend keeping a close eye on not only the company's recent dividend behavior which has demonstrated a solid uptrend over the last 12 months, but also any further developments that may occur at the Permian Basin, and as each of these catalysts will play a factor in fueling future earnings growth.
Disclosure: The author is long COP. The author wrote this article themselves, and it expresses their own opinions. The author is not receiving compensation for it (other than from Seeking Alpha). The author has no business relationship with any company whose stock is mentioned in this article.