The Alibaba Group is the largest eCommerce company in China. It is expected to go public on the New York Stock Exchange this year with a valuation from $168 billion to as high as $221 billion (source: Bloomberg and Money Morning). If Alibaba raises $20 billion or more, it would be the largest IPO in the U.S. history. From an investor's point of view, the most important questions you may ask are:
Is Alibaba is a great long-term buy?
How much should Alibaba be worth when it goes public?
I will address both questions in this article based on some of the most insightful information that I found on the company's latest preliminary prospectus, filed on June 26 this year (check here for the latest Alibaba prospectus).
About Alibaba Group
Alibaba (the Group) is the largest online and mobile commerce company in China and the largest eCommerce company in the world in terms of gross merchandise volume (GMV). In 2013, the company's total GMV was $248 billion, which was more than Amazon (NASDAQ:AMZN) and eBay (NASDAQ:EBAY) combined (source: Morningstar).
Alibaba's business model is also different from Amazon's and eBay's. Unlike Amazon, the company does not own any inventory or sell products directly to its customers. Instead, it operates a number of marketplace websites (Business-to-Business, Business-to-Consumer, Consumer-to-Consumer) in China to connect buyers and sellers to each other. The company earns its revenues primarily from marketing services (advertising revenues from sellers) and from other sources, such as commissions on transactions, fees on other online services, memberships and cloud computing services.
Unlike Amazon's online retail business, Alibaba's retail marketplace websites function like a search engine in which sellers pay advertising fees (e.g. cost-per-click and cost-per-thousand-impressions) to have their products and services listed in search results. Sellers also pay commissions based on the transaction amount (e.g. 3% of the transaction amount) when they settle their transactions through Alipay (Alibaba's version of Paypal).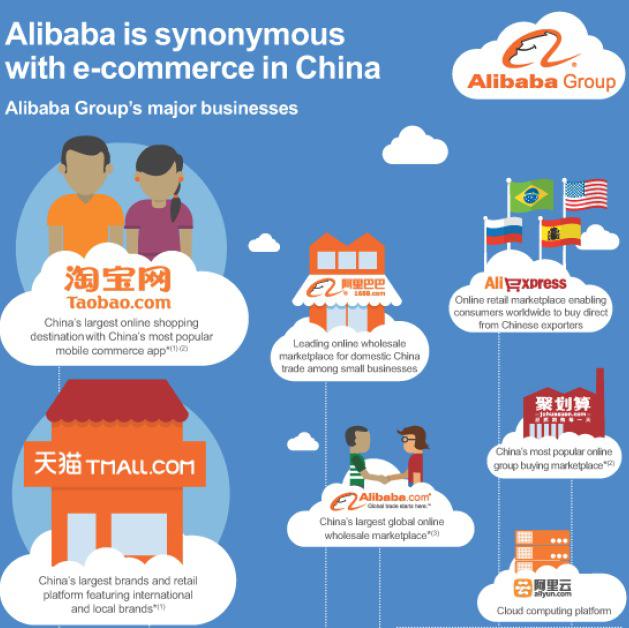 Source: Alibaba's Prospectus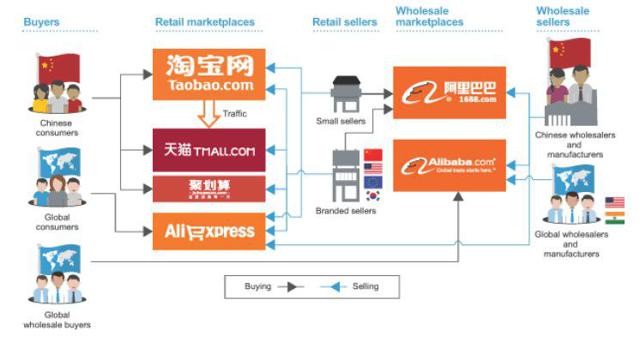 Source: Alibaba's Prospectus
Alibaba's Business and Long-Term Prospects
I believe that Alibaba has great long-term business prospects for these reasons:
Alibaba has a near monopoly in China where most of its websites (e.g. Taobao, Tmall and Juhuasuan) already have the largest market share.
China has the most internet users in the world, and its eCommerce industry is growing rapidly.
Alibaba's network effect creates great economic moats against competition.
First, in fiscal 2014, Alibaba's most important marketplaces-Taobao.com, Tmall.com and Juhuasuan.com-accounted for 81.6% of the company's revenues. In 2013 and according to iResearch, Taobao.com and Tmall.com were the largest marketplaces based on their GMV. Juhuasuan.com was the most popular group buying marketplace based on its monthly active users. Alibaba's market dominance in China's eCommerce is also shown by the two images below. In Q1 2014 and according to China Internet Watch, Taobao.com dominated China's mobile shopping market with a 78% market share. In the same time period, Tmall.com had a 50.55% market share. JD.com (NASDAQ:JD), Alibaba's closest competitor, was far behind Alibaba in both categories.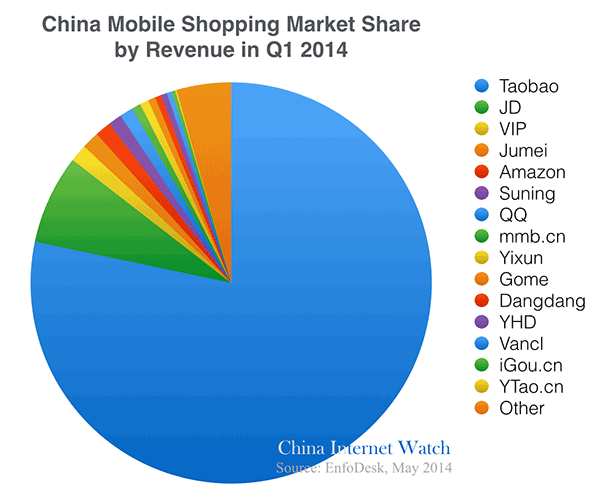 Source: China Internet Watch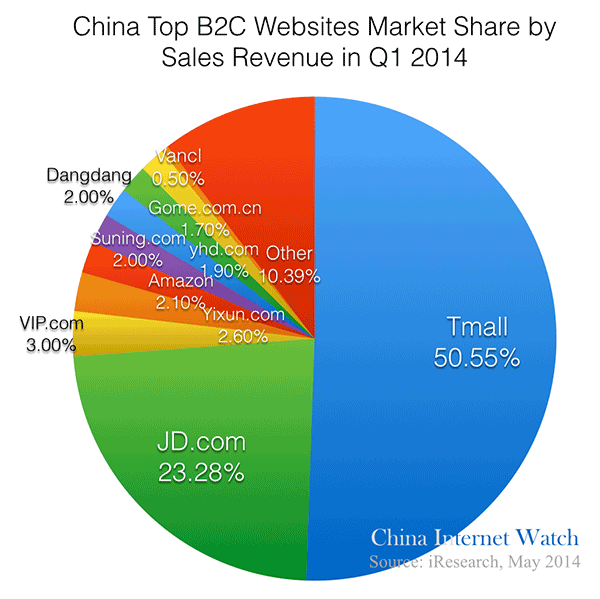 Source: China Internet Watch
Second, China has the most internet users (around 618 million) and the largest population (around 1.35 billion) in the world (see image below). More importantly, it has around 302 million internet shoppers and around 500 million mobile internet users. The eCommerce industry in China is still in its early growth stage and is growing at a much faster pace than in the Western countries. I believe the number of internet users and internet shoppers in China will continue to increase as more consumers gain access to the internet through smartphones, tablets and personal computers. The growing number of internet shoppers will definitely benefit Alibaba in the long run because the company already owns the most popular eCommerce websites in China.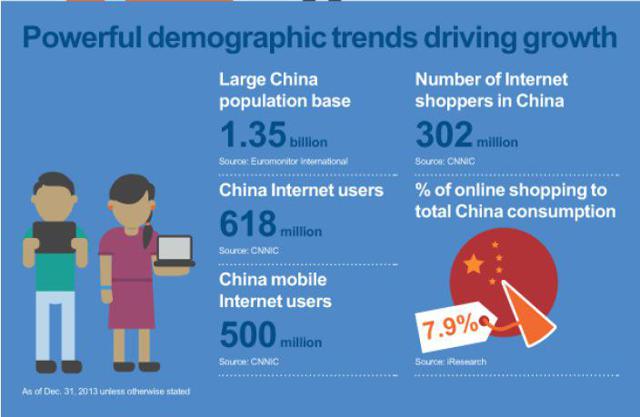 Source: Alibaba Prospectus
Third, Alibaba's large network of sellers and buyers create great economic moats (competitive advantages) against competition. Like Amazon, Alibaba benefits from the network effect: more buyers attracts more sellers and vice versa. Alibaba already owns the most popular marketplaces in China, and most sellers use Alibaba's websites to market their products. This means that it is very hard for other companies to compete with Alibaba due to the network effect.
Alibaba's IPO Valuation and Estimated Intrinsic Value
In terms of valuation, analysts have estimated the company is worth between $168 billion and $221 billion (source: Bloomberg and Money Morning).
I have estimated Alibaba's current intrinsic value (business value) based on three net income growth scenarios (see image below). I have used the company's net income as a proxy for its free cash flow because the prospectus' explanation of its free cash flow Non-GAAP measurement (in my opinion) is not clear. The discount rate is assumed to be around 12%:
A high-end valuation with a net income compound annual growth rate (CAGR) of 30% over the next 10 years.
A fair valuation with a net income CAGR of 25% over the next 10 years.
A low-end valuation with a net income CAGR of 20% over the next 10 years.

Based on my estimate, Alibaba's fair intrinsic value should be worth around $164 billion. This assumes that its net income will grow at a CAGR of 25% over the next 10 years. In the past 5 years, Alibaba's net income growth rates were much higher (see image below), but its net income has already reached $3.7 billion USD in fiscal 2014. Hence, I believe it is reasonable to expect that its net income growth will decelerate to a CAGR of 20 to 30% each year over the next 10 years.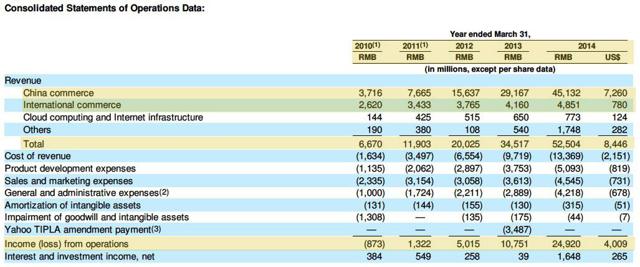 Source: Alibaba's Prospectus
Potential Flags to Look out For
When it comes to IPO stocks, I believe it is important to look for potential issues that may impact the stocks' valuations and growth prospects. For Alibaba, there are two potential problems that investors should look out for.
Corporate Governance
According to Alibaba's latest prospectus, the company will continue operating under a partnership structure comprised of members who are mostly Alibaba managers and executives. More importantly, the Alibaba partnership, which already controls the company's daily operations, will have the exclusive right to nominate up to a simple majority of the board members. This is regardless of how many shares they own, even though each partner is required to retain a meaningful amount of shares during their tenure as a partner. In addition, each director nominee will initially be a member of the Alibaba partnership or individuals who are affiliated with the partnership.
What does Alibaba's partnership structure mean for shareholders? It simply means that shareholders will have little or no control over the election of Alibaba's board members and that shareholders can only vote for or against the director nominees chosen by the Alibaba partnership. If shareholders do not elect a director nominee, the Alibaba partnership has the right to appoint a different person as an interim director until the next annual general shareholder meeting. In short, the Alibaba partnership will have complete control over the company's daily operations as well as its board memberships.
Alipay's Spinoff
Another potential problem is Alipay's (Alibaba's version of Paypal and its previous subsidiary) spinoff in 2011 by Alibaba's co-founder and Executive Chairman, Jack Ma. The spinoff was not disclosed to Yahoo (NASDAQ:YHOO), one of Alibaba's largest shareholders, until several weeks later. Ma defended his decision to spinoff Alipay by explaining that it was necessary to comply with the new banking regulations, issued by the People's Bank of China (PBOC). The new regulations required payment companies to obtain a license in order to operate in China. In addition, foreign-owned payment companies-such as Alipay-will be subject to additional regulations before they can obtain their licenses.
However, the biggest issue was that "no such additional regulations governing foreign-owned payment companies had been put in place," as stated in Alibaba's prospectus (source: page 222 of prospectus). On the other hand, Jack Ma benefited from the transaction by having a 46% stake in Alipay, which exceeded his ownership in Alibaba. In my opinion, there was a huge conflict of interest in the spinoff, and Ma benefited the most from it. The prospectus also stated that Ma will reduce his stake in Small and Micro Financial Services Company (the parent company of Alipay) to an amount that does not exceed his ownership in Alibaba prior to Alibaba's public offering. I believe this is to eliminate the large conflict of interest in Ma's majority ownership in Alipay.
At this point, it is not clear whether or not Alibaba will reacquire Alipay. If it does, I believe it will benefit all Alibaba shareholders.
Should You Invest in the Stock?
Alibaba's IPO is likely going to be oversubscribed, meaning that the stock will likely be traded at a large premium when it goes to public. I believe that a more reasonable price at which to buy the stock is when its market cap is at $164 billion (near its fair intrinsic value) or lower, provided that you are investing in the company for the long term.
Alibaba should have good long-term growth prospects over the next 10 years because the company owns the most popular marketplace websites and is benefiting from the eCommerce growth in China. However, investors should look out for Alibaba's partnership structure-which gives the partnership complete control over the nominations of board of directors-and Alibaba's relationship with Alipay. I believe it will be a great strategic move if Alibaba can reacquire Alipay in the near future.
Sources: Alibaba's Prospectus, Bloomberg, Money Morning, Morningstar, China Internet Watch and Intelligent Stocks.
Disclosure: The author is long AMZN. The author wrote this article themselves, and it expresses their own opinions. The author is not receiving compensation for it (other than from Seeking Alpha). The author has no business relationship with any company whose stock is mentioned in this article.
Additional disclosure: No position in Alibaba and no business relationship with Alibaba and its affiliates.