Recent Operating Performance
The ability to generate revenue growth is not under scrutiny for Groupon (NASDAQ:GRPN). In Q1 of 2014, it was able to grow revenues 26% y/y. The reason for the selloff is because that growth was accompanied by a paltry gross profit increase of 2%. Investors are becoming worried that margin reductions will never allow that revenue growth to flow through to the bottom line. Further, operating expenses rose 14% y/y as the company invested more heavily in marketing and a more robust sales staff. The incremental gross profit coupled with substantial expense growth is what led to an unprofitable quarter, losing $35 million in total.
Business Fundamentals Since IPO
In the three years since GRPN first became publicly traded, the business fundamentals have deteriorated and the stock price has subsequently fallen to the mid $6 level today, down from $20 at its IPO. The most prudent action taken by GRPN's management was timing an IPO well and cashing out while they could.
Groupon was the first to enter the industry, however, they did not have a moat to keep competitors out. An influx of competitors such as Living Social, Open Table, which was recently purchased by Priceline (NASDAQ:PCLN), LiveDeal, RetailMeNot (NASDAQ:SALE), and daily deal sites such as Woot.com (owned by Amazon), and meh.com (founded by Woot's founder) have compressed margins considerably. Since the IPO, gross margins have dropped from 84% to 51%.
In the most recent 10Q filing management cited further margin deterioration being on the horizon:
We anticipate that our financial results will be impacted as we continue to invest in our growth, through increased spending in some areas and through accepting a lower percentage of the proceeds from our deals, as we attempt to add more merchants to our marketplace.
Source:10Q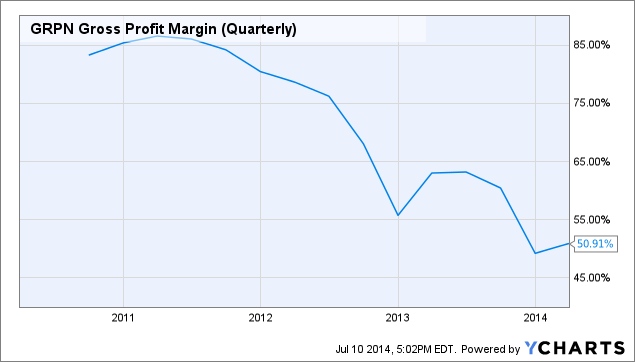 Share Dilution
In the early days of the IPO, the stock received a pop, as the offer was quite limited. Only 35 million shares were offered with a total of 630 million shares outstanding. However, once lock-ups expired, the stock price fell precipitously. Moreover, investors since the IPO have experienced a significant dilutive effect, as management has increased shares outstanding by approximately 8%.
Although management repurchased 3.1 million shares valued at $29.5 million, and has another $224 million remaining under the current authorization, it is not enough to overcome the dilution. Additionally, with losses still mounting, management may be wary to let go of its $1 billion of cash, so the positive effects of further share repurchases may never materialize.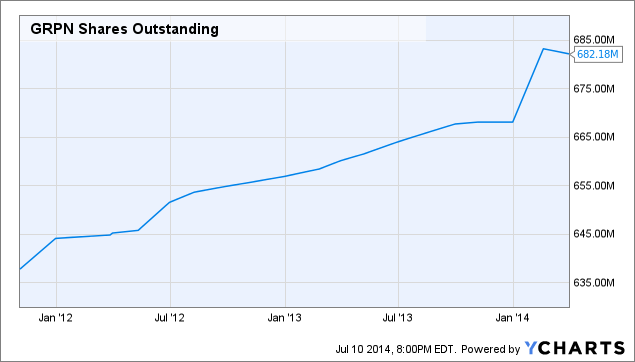 Hidden Costs On The Horizon
There are seemingly insignificant aspects of 10Qs that actually have an influential effect on the company's prospects. One such easily overlooked aspect is stock options. GRPN carries roughly 3 million options to purchase shares with a weighted-average price of $1.11. This results in an expense to management of $16 million when exercised. Further, management has a total of 40.5 million of restricted stock units, restricted stock, and ESPP shares. They have varying exercise prices, but certainly blunt the upside if management somehow is able to turn the business prospects around.

Source:10Q

Source:10Q
High Operating Expenses
Groupon has attempted to increase its focus on local businesses. Without a good system of allowing businesses to create deals themselves, GRPN has relied on adding a larger sales staff in order to generate these sales. Operating with this model its not sustainable, as evidenced by the chart below. Their operating expense growth is far outpacing gross profit growth, which is the crux of the problem for Groupon. Unless it is able to create a system that enables customers to easily create deals for themselves, they will never become profitable. This business model clearly doesn't support a significant sales force.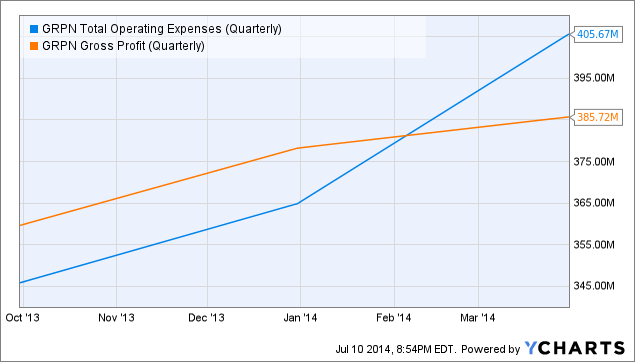 Possible Positive Developments
Mobile
The ubiquitous prevalence of mobile on society is apparent. Therefore, for internet-based business, it is integral for them to successfully convert their business to this platform. Groupon's mobile strategy has prospered and in March of 2014, mobile transactions accounted for 54% of total transactions. Moreover, during Q1 of 2014 10 million people worldwide downloaded their app, which brought total downloads to 80 million. Although this does mark a positive development and is a compelling figure for management to cite, it won't staunch margin deterioration.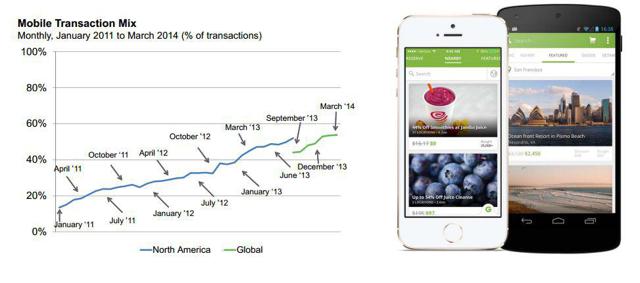 Source: Q1 2014 Earnings Presentation
Product Assortment
At the time of the IPO in 2011, Groupon had around 1,000 active deals worldwide. Today, it has approximately 95,000 in North America, and over 200,000 worldwide. Another positive is that its active customer base rose to an all-time high of 51.8 million in the first quarter of 2014. Although a larger product assortment and active customer base is impressive, with no catalysts to drive margin expansion, these figures are not that important. The most salient implication of these figures is that it makes GRPN a more lucrative takeover target.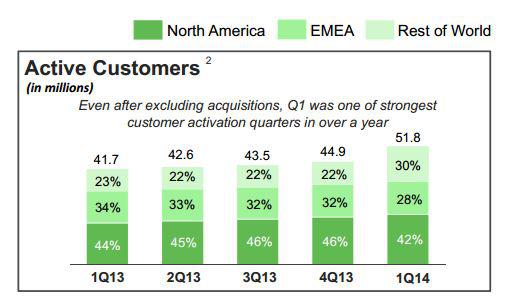 Source: Q1 2014 Earnings Presentation
Gnome Point-Of-Sale System
It seems apparent that Groupon recognizes that it has no sustainable competitive advantage. An attempt to create one was the recent launch of Gnome, a point-of-sale (POS) system. Groupon will charge $10 a month for the Gnome iPad system and each transaction will charge 1.8% plus 15 cents a transaction for MasterCard and Visa purchases. This system is clearly designed not to be a money maker, but to attempt to spur businesses to join the platform and create more deals.
Small businesses that Groupon caters to are notoriously slow to adopt new technology. Further, the Gnome is much less well known than competing point-of-sale systems such as Square. With no reviews of the system or real testimonies yet, small business owners will be skeptical of the system.
Square was able to create a trusted brand with its simple credit card readers and then eventually rolled out an iPad POS system. I expect the effect of this system to be negligible on their results in the next few quarters and don't believe the system has a good likelihood of becoming that successful. However, they could prove me wrong and galvanize growth through this avenue, but I would not bet on it.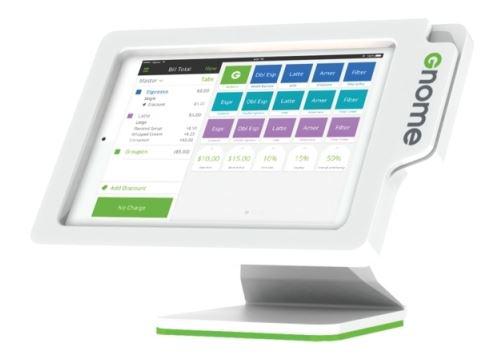 Source: Groupon Website
Final Remarks
Companies that have declined precipitously can sometimes create value opportunities. The adage buy when everyone is fearful and sell when others become greedy comes to mind. To determine if true value exists after a selloff, it is necessary to decide if the price reduction was warranted or not. Groupon is trading at around 1/3 of its IPO price, so it clearly fits the first criteria. However, with a deterioration of business fundamentals and no significant positive catalysts on the horizon, I do not view this company as a value opportunity.
Nonetheless, I warn investors about shorting this stock. Although I truly believe that, as a stand-alone company, this business will eventually falter, it could be an acquisition target. A company could find value in integrating this platform into their offering such as was the case with OpenTable and Priceline. Therefore, shorting this company could be risky.
Disclosure: The author has no positions in any stocks mentioned, and no plans to initiate any positions within the next 72 hours. The author wrote this article themselves, and it expresses their own opinions. The author is not receiving compensation for it (other than from Seeking Alpha). The author has no business relationship with any company whose stock is mentioned in this article.