A company with one employee has drawn a lot of attention over the past few days. Why? For starters, its stock has risen 23,066% in one month.
CYNK Technology Corp (OTC:CYNK) has gone from totally unheard of to the front page of every major financial publication in a matter of weeks.
I spent yesterday digging through SEC filings to offer you everything I know about CYNK.
The stock traded at $0.06 per share on June 17. Yesterday, the stock closed at $13.90 per share. That means that in one month the value of CYNK went from $17.5 million to $4.05 billion. With no revenue. And no assets.
Absurd.
Even more absurd, the stock briefly touched $21.95 yesterday around noon. That means that the stock was up 36,583% in one month. Yesterday's trading range was $9.80 to $21.95.
I visited Nasdaq.com - the official website of the Nasdaq stock exchange and a great resource for stock information - to take a closer look at the company that has drawn so much attention over the past few days.
What I found was perplexing.
Never before have I entered a ticker symbol on Nasdaq.com and found zero press releases, zero earnings call transcripts and zero annual reports.
SEC filings are really the only source of information regarding this strange company.
The company was founded in 2008 as Introbuzz. It first issued shares through public markets in 2012 under the name Introbuzz and traded under the ticker symbol OTCBB: IBZZ.
In an April 2013 SEC filing the company reported that Kenneth Carter had resigned as the company's CEO, President, Treasurer and as a Director. About a month later, Marlon Luis Sanchez was elected to the board of directors and, the next day, was appointed CEO, Secretary and Treasurer.
In a bizarre twist, that same SEC filing described Sanchez as the primary spokesperson for the Medical Tourism Industry counsel in Tijuana, Mexico.
The company changed its name to CYNK Technology Corp in June 2013 and executed a 1-to-75 stock split.
In the same SEC filing, CYNK noted that one shareholder holds "in excess of 72%" of the company's stock. Since that shareholder held a majority of the stock, only that shareholder's approval was needed to move forward with the name change and stock split.
Can you guess the name of the person holding 72.4% of the company's shares?
It is, of course, Marlon Luis Sanchez, the company's CEO, CFO, Secretary, Treasurer and its only Director.
It seems that in every new SEC filing, Sanchez has a new title. More recent filings also list him as the company's President.
What does CYNK do?
The company claims to be developing a social network but that social network appears to be completely defunct. The business model is based on acquiring users with celebrity or some other influential status.
CYNK plans charge "donations" from other users who are willing to pay for the ability to interact with CYNK's celebrity users.
The company's 2012 annual report listed the following tag line: "Your network is valuable and not something you give away."
Its social network, IntroBiz, technically has an active website. But with no revenue listed in its SEC filings, it's pretty clear that the company and its website don't actually do anything.
The last set of financials filed with the SEC paints a bleak picture of the company's health.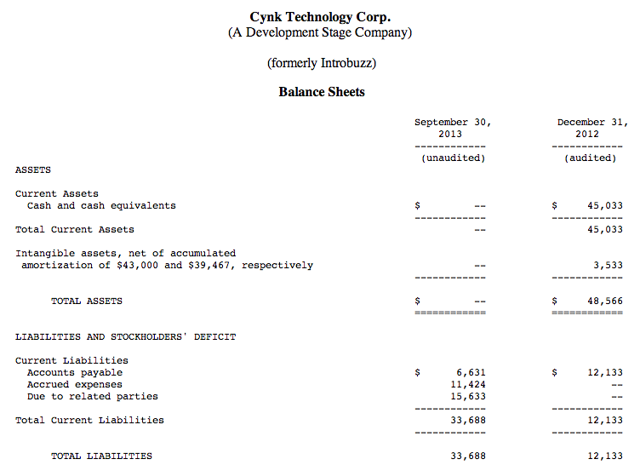 What's next for CYNK?
In February, Sanchez resigned and a new President, Secretary, Treasurer and Director, Javier Romero, was "elected."
If you haven't already had your WTF moment with this stock then here it is. The new CEO, Treasurer, Secretary, President and ENTIRE board of directors is this one man who is also a fisheries officer for the government of Belize.
CYNK filed SEC Form 15 in mid-April. Form 15 is a "suspension of duty to file reports," meaning that CYNK is no longer going to file any financial or company reports with the SEC.
Form 15 is commonly used by companies that are about to go out of business and/or de-register their stock.
Further adding to the mystery, this April filing was signed by Sanchez who was supposedly replaced two months before.
When I called the 1-800 number listed for Sanchez, it came back as unregistered and the new number listed for the company (area code 305) turns out to be a landline based in the Miami, Florida area.
I won't go so far as to call CYNK a fraud. (What's happening with its stock price over the last month is probably a different story.) But with no revenue, no assets and one employee wearing the hats of President, CEO, CFO, Treasurer, Secretary and the entire board of directors, I consider it a fact that something is not right here.
Disclosure: The author has no positions in any stocks mentioned, and no plans to initiate any positions within the next 72 hours. The author wrote this article themselves, and it expresses their own opinions. The author is not receiving compensation for it (other than from Seeking Alpha). The author has no business relationship with any company whose stock is mentioned in this article.
Editor's Note: This article discusses one or more securities that do not trade on a major U.S. exchange. Please be aware of the risks associated with these stocks.