Among the large cap E&Ps, ConocoPhillips (NYSE:COP) is by far my favorite pick. The company has great assets, with tremendous exposure to growth plays in the Eagle Ford and Bakken. Furthermore, the company has greatly de-risked itself, selling off assets in highly volatile regions to focus its capex spending on North America. It also helps that ConocoPhillips offers an above-average dividend yield and a lower multiple compared to peers.
Dividend increased 6% to $0.73 per share
On July 10, ConocoPhillips announced that its board of directors had approved an increase to its quarterly dividend from $0.69 ($2.76 annually) per share to $0.73 ($2.92 annually) per share. This continues a streak for the company of near-annual dividend increases since 2001.
As a side note, in 2012, ConocoPhillips spun off its downstream refining arm, Phillips 66 (NYSE:PSX), which itself instituted its own dividend, resulting in a higher total dividend for the combined "pre-split" ConocoPhillips.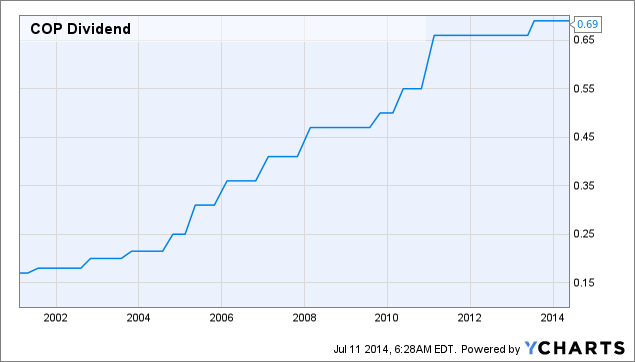 COP Dividend data by YCharts
Was ConocoPhillips' dividend increase large enough?
I will admit that the size of ConocoPhillips dividend increase caught me by surprise. I was expecting a larger increase, more in line with its EPS growth rate of 8% to 10%. This year's dividend increase of 5.8% was up from 4.5% last year, but still well below the 10-year average growth rate of 15.7%.
Clearly, ConocoPhillips' dividend growth rate has stalled in recent years. As for the reason, there are several that come to mind.
The first is that ConocoPhillips was increasing its dividend faster than EPS growth. This was possible a few years back (pre-2011), as the company had a very low initial dividend.
The second reason for the weak dividend increases in 2013 and 2014 has to do with the after-effects of the Phillips 66 spin-off.
ConocoPhillips basically lost over 30% of its earnings power in an instant. Yet, the company did not adjust its dividend lower, keeping the $0.66 per share dividend intact. However, by doing so, ConocoPhillips' payout ratio started creeping higher, up above 50% on a TTM basis for parts of 2013.
This higher payout ratio does not compare favorably to other large cap E&Ps, which typically have payout ratios in the 20% to 30% range, as shown below:
*** Payout ratios based on non-adjusted TTM EPS and the most recent quarterly dividend annualized
As a result, I think ConocoPhillips will continue to grow its dividend at levels below EPS growth. This will allow for the payout ratio to moderate and allow for more capital to be deployed elsewhere (capex, share buybacks).
ConocoPhillips is committed to double-digit annual returns
ConocoPhillips may be wanting to grow its EPS at a faster clip than the dividend. However, this does not mean the company will not produce results.
As I noted in my previous article, ConocoPhillips announced plans at its annual meeting to produce double-digit annual returns for its shareholders.
As part of its strategy and long-term goals, ConocoPhillips will target:
3% to 5% compound annual production and reserves growth
3% to 5% compound annual margin growth over the next several years, assuming flat prices, by shifting the production mix to higher-value products
ConocoPhillips also plans to continue to offer a compelling dividend and provide sustainable dividend growth
As shown below, ConocoPhillips plans to invest $16 billion per year to grow its production, with 95% of its capital to be allocated to investments that improve margins compared to the average today ($30 per BOE).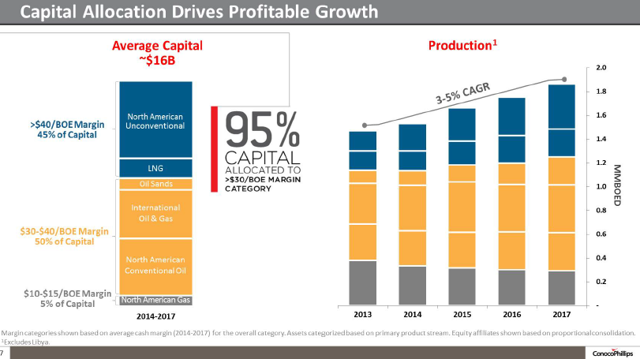 Click to enlarge
Conclusion
ConocoPhillips is the prototypical blue-chip type investment, with its bountiful 3.40% yield, large size, and moderate growth. Furthermore, the stock is hardly expensive, trading at 13x 2015 earnings and with its sub-8.0x EV/EBITDA. I would easily add to my position on any meaningful pullback.
Disclaimer: The opinions in this article are for informational purposes only and should not be construed as a recommendation to buy or sell the stocks mentioned. Please do your own due diligence before making any investment decision.
Disclosure: The author is long COP, PSX. The author wrote this article themselves, and it expresses their own opinions. The author is not receiving compensation for it (other than from Seeking Alpha). The author has no business relationship with any company whose stock is mentioned in this article.