Situation: Einstein Noah Restaurant Group, Inc. (NASDAQ:BAGL) trades at a forward P/E of 14 compared to its competitor Dunkin' Donuts (NASDAQ:DNKN) forward P/E of 22. BAGL has the ability to enjoy multiple expansion as a result of continued growth and the large total addressable market, and can be viewed as similar to a Panera or Dunkin' Donuts during their early years. However, there is major risk around Greenlight's concentrated position and any selling on their part could send the stock falling. Thus, prior to initiating a long position, we would need to see a more enticing entry price point; however, no one would fault you for initiating a long in this 3.2% dividend yielding growing chain.
Company Description: As of December 31, 2013, Einstein Noah had 852 restaurants in 42 states and in the District of Columbia. During fiscal 2013, they opened their first restaurants in Montana, Vermont and Iowa. As a leading fast-casual restaurant chain, their restaurants specialize in high-quality foods for breakfast, lunch and afternoon snacks in a bakery-cafe atmosphere with a neighborhood emphasis. Collectively, their concepts span the nation with Einstein Bros. restaurants, Noah's restaurants in California and Manhattan Bagel restaurants concentrated in eight states primarily in the Northeast. Currently, their Einstein Bros. and Noah's restaurants are predominantly company-owned or licensed and their Manhattan Bagel restaurants are predominantly franchised.
Company Is Targeting A Niche Within Crowded Breakfast/Lunch Categories: Einstein Noah is attempting to offer the freshness of a bakery cafe with the quickness and convenience of a fast service restaurant. However, the distinction of this positioning may not be enough to stop competitors.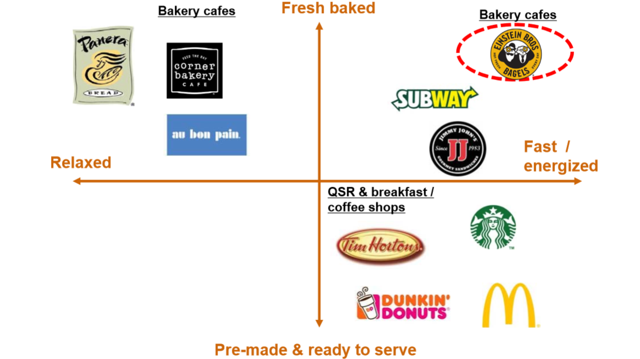 David Einhorn's Position: Einhorn currently owns 37% of BAGL as a result of the company emerging from a previous bankruptcy. Greenlight, Einhorn's fund, filed a shelf registration allowing them to sell their shares if they so desire. I believe Greenlight is currently maintaining their position because they see value in this growing franchise model. However, one needs to be aware of this large stake as any action to lower or raise Greenlight's stake will have a large effect on the stock.
Strong Same Store Sales Growth: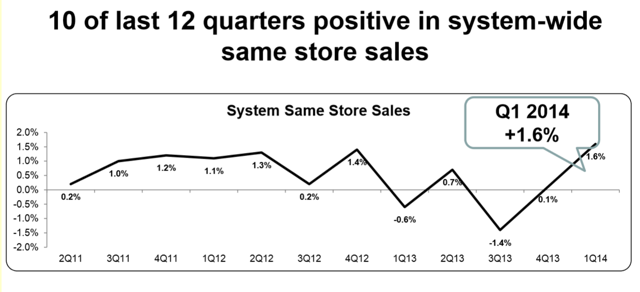 Same store growth has been very strong and is another reason to take a look at this business. The company trades at a PEG ratio slightly above 1, which looks appetizing in this market.

BAGL grew revenue 3.3%, with company owned stores accounting for 88% of sales. Growing their franchise business is a possible larger growth opportunity.
Insider Selling Not Excessive With Insiders Not Selling Entire Positions: Insider selling is a great way to see whether management has confidence in the business. Recent filings, including one from the Chief Operating Officer, show executives only selling portions of their shares not all of them, an indication of at least some confidence in the upside of the common stock.
Company Is Very Shareholder Friendly: BAGL recently announced a $20 million share repurchase program, suggesting management views shares as cheap. Also the company has a history of strong dividends with a current dividend yield of 3.2%.
Valuation:
Disclosure: The author has no positions in any stocks mentioned, and no plans to initiate any positions within the next 72 hours. The author wrote this article themselves, and it expresses their own opinions. The author is not receiving compensation for it (other than from Seeking Alpha). The author has no business relationship with any company whose stock is mentioned in this article.