Getting much tougher to find deep bargains in a market that has rose some 40%, including dividends, over the past year-and-a-half. My own feeling is the overall market is slightly overvalued here especially with the Federal Reserve to be done with its latest QE program by October and debt challenges cropping back in Europe again.
However, there are still some cheap stocks out there if one is willing to look. One of these I recently picked up in NetApp (NASDAQ:NTAP) which looks like it is beginning to rebound a little here after a significant decline.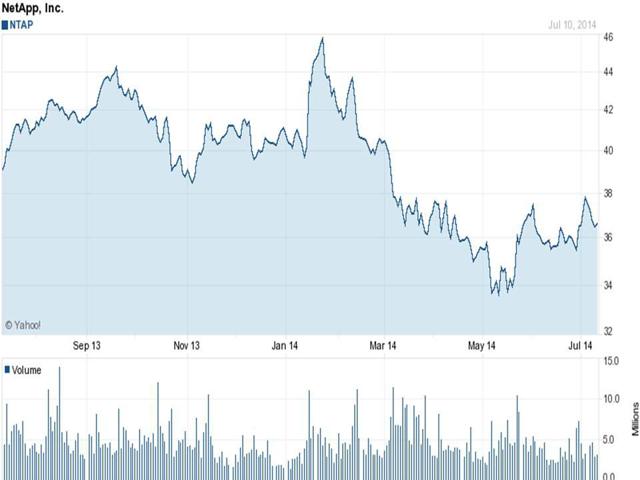 Company Overview:
NetApp designs, manufactures and markets networked storage solutions. The company provides storage and data management software, systems, and services. It is the second largest standalone provider in this space behind market leader EMC Corp. (EMC).
Valuation:
The stock goes for just over 12 times forward earnings, a 20% to 25% discount to the overall market multiple which is 15 to 16 times forward earnings. The company has beat consensus earnings forecast for four straight quarters by between 5% to 8%. Revenue growth this year is flattish with expectations of a two to three percent increase in 2015. The company is releasing some new flash offerings which should buoy sales going forward. Earnings are tracking to a ~5% year-over-year gain.
A Cash Rich Balance Sheet:
The company is much cheaper than it appears once its balance sheet is taken into consideration. NetApp has some $4B in net cash on the books. This is one third of its market capitalization at its current price level. Backing out net cash, NTAP trades at eight times earnings; about half the overall market multiple.
The stock pays only a 1.8% dividend payout. The payout ratio is less than 25% and the company could easily support a 50% payout ratio given its net cash and steady cash flow. I would look for NetApp to significantly raise its dividend payouts and stock repurchases either by its own volition or under pressure at some point from future activists.
Possible Buyout Target:
One of the themes to the market in 2014 is the huge increase in M&A activity. In the first half of the year, global M&A activity is running more than 50% above the same time frame in 2013 based on total transaction amounts.
If the company does not start to unlock shareholder value either by itself or as a result of some "encouragement" by activist funds; I think it is an attractive buyout candidate given its valuation. Oracle (NASDAQ:ORCL) is a serial acquirer and IBM Corporation (NYSE:IBM) would be a logical suitor as this would substantially bolster its existing storage business.
I believe NetApp represents good value at its current levels. D.A. Davidson recently came out with a $45 a share price target on NTAP, which would be more than 20% from here. I think this is attainable over the next year as the company releases new products, uses its cash in more shareholder ways and/or attracts the interest of a larger player. BUY
Disclosure: The author is long NTAP. The author wrote this article themselves, and it expresses their own opinions. The author is not receiving compensation for it (other than from Seeking Alpha). The author has no business relationship with any company whose stock is mentioned in this article.