By Bryan McCormick
Markets have turned quiet this morning after yesterday's strong moves. So far it appears that what was most down yesterday is most up, which indicates short-covering after yesterday's drubbing.
US stock index futures are up fractionally, following on a mostly down session in Asia and a moderate rebound in Europe. The German government more than doubled its growth forecast for 2010 according to Reuters sources. The official estimates will be released tomorrow.
The key this morning for a stronger equity and commodity picture is the drop in the dollar. Yesterday's spike higher has largely been erased, with the dollar weaker against all other currencies in the basket. Commodity prices have edged higher for that reason.
In earnings news, Juniper Networks disappointed when it reported last night after market close. The stock had been down more than 10 percent at one point in the after-market but is trading down 1.7 percent at the time of this writing.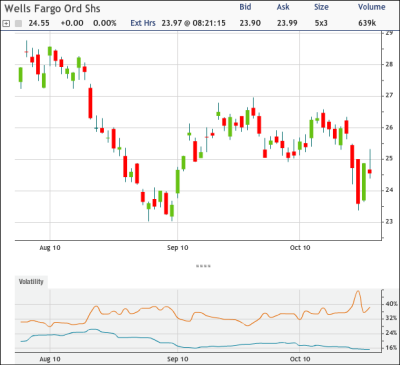 Wells Fargo is trading higher by more than 1 percent after its releasing its earnings statement a few minuts ago, beating expectations but appearing a bit light on revenues. It is early yet as there are several components in the report that traders will be parsing, and guidance is key. The financials could certainly use some good news.
Textron (NYSE:TXT) also appears to have handily beaten consensus, sending its stock up more than 4.5 percent.
Yahoo (NASDAQ:YHOO) issued a disappointing report last night but isn't being actively traded in the pre-market. Again, the stock was down in the after market but has recovered ground, trading up
1.5 percent on very light volume.
Select names reporting earnings tomorrow include Amazon.com (NASDAQ:AMZN), American Express (AMEX), Caterpillar (NYSE:CAT), Freeport-McMoRan (NYSE:FCX), Citrix Systems (NASDAQ:CTXS), Eli Lilly (NYSE:LLY), Philip Morris (NYSE:PM), SanDisk (SNDK), and United Parcel Service (NYSE:UPS)..
Disclosure: No positions