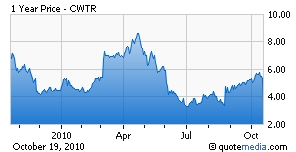 It's not often you see a -33% down day. But, it's not often that you come across a management team as clueless as the folks at Coldwater Creek (NASDAQ:CWTR). This is an appropriate move lower for a company that may never make money again and a management team that has no business running a specialty apparel retailer.
We've previously written about our concerns re: CWTR's inept management team on our blog:
I nventory Shell Game at CWTR Only Further Damages Credibility of Management
Monday, June 7th, 2010
CWTR Management Is Up a Creek and Apparently without a Paddle!
Thursday, March 4th, 2010
The company's Chairman and CEO is Dennis Pence and the company's Chief Merchandising Officer is Georgia Shonk-Simmons. Mr. Pence re-assumed the job of CEO in September 2009 with much fanfare (let's all get excited because the guy that was largely responsible for negative EBIT margins in FY 2007 and FY 2008 was BACK).
Of course, he and Ms. Shonk-Simmons were both in the mix when the company made its ill fated decision to MATERIALLY increase inventory levels in 2H 2009 (Mr. Pence was still the company's Chairman). Then, Mr. Pence decided to double down on his and the company's ineptitude by deciding to increase its store growth in FY 2010 versus FY 2009 (+20 stores were planned for this year).
Mr. Pence and Ms. Shonk-Simmons have made many mistakes over the years. But, the reality is that Mr. Pence made an ill-advised decision years ago to build stores that were too large. There was a reason that Chico's (NYSE:CHS) was so successful for many years - that company built stores that were less than half the size of a typical Coldwater Creek location. He then stuck by a merchant that has had almost no merchandising success since FY 2006. Basically, he appears to have been "mailing it in" for the past 4-5 years.
What's funny is that you never hear Mr. Pence suggest any of the merchandising missteps were the fault of Ms. Shonk-Simmons or the incoming Mr. Jessup. Hmmm. Check out this quote from Monday's conference call:
We have made several changes in key positions in both the merchandising and design organizations, including the recent resignation of the senior merchant serving under Georgia, as well as a number of changes in scope and responsibilities, which we believe will better support our strategic direction going forward. Additionally, we recently replaced the head of Product Design and Development in our New York office working for Jerome Jessup.
This is fairly typical of Mr. Pence's stance over the years. IT'S NEVER THE FAULT OF MS. SHONK-SIMMONS OR MR. JESSUP. Yet, who hired the folks to support them? The lack of accountability has dogged the career of Mr. Pence and investors have suffered along the way.
See, the fact is that CWTR's direct business (i.e. catalogs/internet) makes money. But, the retail segment may have never made money once you allocate G&A costs to the segment (click here to view the company's divisional profitability break-out). Therefore, the direct business has value and always has. But, the retail channel will need to prune its worst money losing stores over the next few years in order for the company to have an opportunity to return to profitability.
The bloated store size demands a materially higher level of sales and merchandise margin for CWTR's retail channel to be successful. That may have worked a decade ago, but it's not easy to accomplish in today's highly competitive environment.
At the end of the day, in our view, Mr. Pence has demonstrated little leadership and has not held his senior merchants accountable. So, there's little reason for a modest amount of optimism until he, Ms. Shonk-Simmons, and Mr. Jessup exit stage left.
Disclosure: No positions