Introduction
Sony (NYSE:SNE) was once a market leader and innovator in consumer electronics. Sony revolutionized the business with products such as the TR-63 portable transistor radio, the Trinitron TV, the Walkman, and the PlayStation, effectively creating new markets that the company would dominate. During the 1950's to late 1990's, and much like Apple (NASDAQ:AAPL) today, Sony's innovative capability, product quality, and product design were the company's strongest competitive advantage, which helped hold competition at bay, while enabling the firm to charge above-market prices for its products. This, however, is no more.
In the late 1990's, the competitive landscape changed significantly. Sony has since then faced an ever-increasing pressure from competitors that are able to produce products that overall are similar in design, quality, and functionality. As a result of the increased competition, margins in consumer electronics have become razor-thin.
So why this history lesson?
Sony has not been able to reinvent itself and therefore it is, in my opinion, essential to understand what made the company successful in the first place. By going back to the roots of the company, CEO Mr. Kazuo Hirai is trying to make Sony what it once was; a highly innovative company with quality products and a recognized brand.
The Rebuilding of Sony
As many are aware, Sony is in the midst of a hefty restructuring process. The figure below summarizes the company's efforts.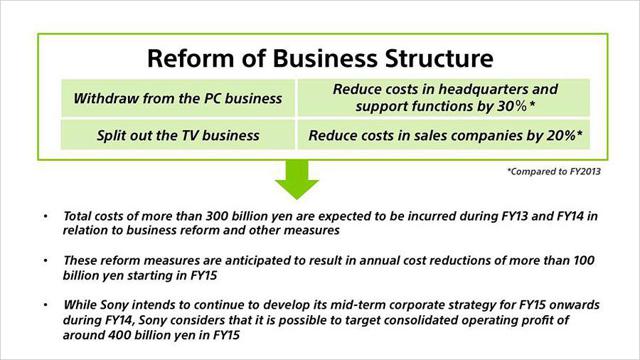 As you can see, the restructuring fundamentally changes the company. The unprofitable non-core PC-business has been sold, the TV-business spun-off, and costs are ambitiously being cut. Hirai wants Sony to become a nimble company, which is able to respond quickly to market changes. Furthermore, he wants Sony to focus on its three core competencies; imaging, mobile, and gaming. It is beyond the scope of this article to describe the initiatives in each business area, but a lot has been written on this subject, and several articles can be found here on SA.
Is Hirai reinventing Sony?
To turn the business around, Sony needs to be innovative. The company cannot compete with the standardized, razor-margin products that only the most efficient firms can profit from producing. Hirai knows this. Although not exhaustive, let us look at some of the company's key initiatives:
Project Morpheus
Project Morpheus is Sony's interpretation of VR. The fact that Sony is investing in the future of gaming is very promising, as the company seeks to defend (and widen) PlayStation's market share. By making Morpheus a PS4 exclusive, Sony adds another major selling point to the list.
Right now, the only other competitor is the Rift by Oculus VR. However, it would be reasonable to argue that Rift is not a competitor per se because it targets the PC-market. If Sony could launch Morpheus ahead of any VR device from its real competitor, Microsoft, the company would widen the distance to Xbox One, and enjoy even more users being locked in the PS ecosystem.
An increase in the total number of registered users could prove highly beneficial, as the company has made it necessary to purchase a PS Plus subscription to play multiplayer. According to Reuters, around half of the registered PS4 users have purchased a PS Plus subscription. Because the company does not profit significantly from hardware sales, but instead from subscription fees and content sales, it is imperative that Sony, in order to benefit from its growing user base, keeps strengthening its ecosystem. More users equal more content sales.
So far, software sales has YOY (including networked software) increased from 276 Bn Yen in FY2012 to 384 Bn Yen in FY2013, which is equivalent of a 39.1% gain.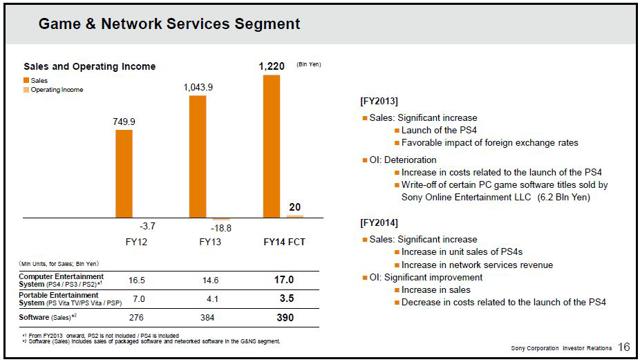 This bodes well for future network sales because these are highly correlated with the total number of registered users. When taking this into consideration, a forecasted growth in software sales of approximately 1.6% in FY2014 seems very conservative.
Although the company is not releasing a final VR-product this year, Morpheus is definitely an example of Sony wanting to act more proactively in product innovation. If you doubt the potential of VR, see this video (quite amusing) of Jimmy Fallon trying it out (1:47).
PlayStation TV
PlayStation TV is somewhat similar to Apple TV and Amazon's (NASDAQ:AMZN) Fire TV, but is tightly integrated with the PS universe. PlayStation TV is now launching in America & Canada, and is yet another example of Sony trying to acquire even more users for its ecosystem. What is interesting about PlayStation TV is that it allows user to purchase content such as movies, TV episodes, and even older PS games, directly from the PS Store. It seems that Sony has big plans for utilizing the integration between its hardware and PS Store, as the company has announced that it will be producing original TV-shows for the PlayStation. The first show, "Powers", is already in production.
With the announcement of the company's intention to provide original content to its most important platform, Sony is finally trying to utilize the synergy effect that can be created by letting the company's own media branch provide content to its platforms. This synergy effect should not be underestimated, but it is, however, uncertain what Sony's true ambitions are, as well as how successful the company can become in a market with intense competition and established players such as Netflix (NASDAQ:NFLX), Amazon, HBO etc.
The company's PS4 and network strategy (including PS TV) is to focus on sales volume, instead of profit, to pursue the highest possible amount of install-base numbers. The profit is expected to come from growth in network sales (streamed games, video etc.), that will be driven by the growing user base. As mentioned earlier, this makes sense, as it is exceedingly hard to profit from hardware sales in contrast to profiting from content sales.
Lifestyle UX
Lifestyle UX is an initiative set to create new business for Sony. The initiative focuses on seamless integration of technology within the home, and has already introduced its first product which is a 4K Ultra Short Throw Projector. Lifestyle UX is a very interesting project, as it represents a somewhat unexplored market, but more than likely a market of the future. The project, currently signified by the 4K projector, reflects the virtues that Sony is trying to reestablish; design, quality and innovation. The 4K projector is a high-margin product targeted at wealthier consumers that can afford the price tag of $30,000-40,000.
Will the projector become a huge consumer success? Not likely. The product, however, has a huge branding value, as it showcases the company's product philosophy and manages to get people excited about a Sony product. This is key, as Sony has to differentiate itself from its competitors as well as attract new customers that will remain loyal to the brand.
The Investment case
For me, the investment case of Sony is quite simple; will Hirai be able to restructure and reinvent the company? This is the question one has to ask oneself before investing in the company. Sure, the stock seems attractive at current levels trading around $1.5 above its 52-week low, with a P/B ratio of 0.8, and with a P/S ratio of 0.2 compared to the industry average of 1.9, but on the other hand, the company has only been profitable once since 2008: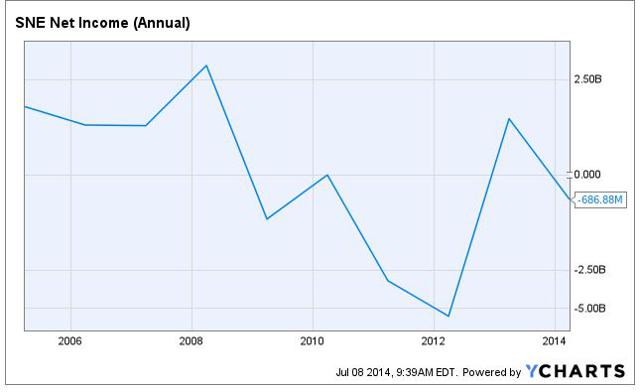 Furthermore, Sony's profits are primarily derived from its banking and insurance branch, which should be a warning signal as one is investing in an electronics company: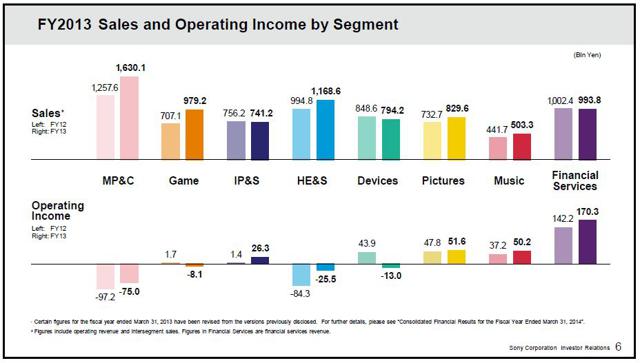 Based on the above, Sony does not currently seem like a wise investment which is why one has to decide whether to believe in Hirai's project or not. If one is investing in Sony, one is investing in a turnaround. Turnarounds are interesting, as profits can be made from buying when sentiment towards a security is bearish, and selling when bullish sentiment returns due to improved fundamentals. This, however, depends on a successful turnaround, as the opposite will result in a further decline in revenue and ultimately bankruptcy. So which scenario is Sony facing?
In my opinion, Sony will be able to complete a successful turnaround. Sony has been very aggressive in cutting costs and dispersing of unprofitable branches. While this process is not pretty, it is, however, necessary. Former CEOs have not made the same radical changes to the business as Hirai is currently making, and that is why I believe, that this time the fundamental restructuring of the company will be final. When the restructuring phase is over, Sony has planted a lot of seeds that, if nurtured, will flourish into a healthy viable business model:
Sony is shifting to high-margin products
Sony is now competing on design, quality and innovation instead of price
Sony is applying a proactive approach to product innovation
Sony is finally building a sensible ecosystem that combines and utilizes its different business areas
For the above-mentioned reasons, I believe that Sony's turnaround will be a success. The company's move into high-margin products is sound because the company is not efficient enough to compete on price alone. Instead, the company will supply high-quality, high-value added products that differentiates the company from its competitors by unique design and level of innovation.
Sony will seek to create new markets by applying a proactive approach to innovation, which could give the company a first-mover advantage if a future market should prove profitable. Sony has created an internal department whose sole purpose is to seek out and create new markets for the company. Lifestyle UX is a concept by this department. This proactive approach to innovation is much more sustainable than acting reactively to the innovations of competitors.
Within the foreseeable future, we should be able to see Sony's efforts to build a profitable ecosystem around the PS4 bear fruit, as the growing user base more than likely will result in a heightened number of subscriptions to PS Plus as well as increased content sales from an expanded PS Store. The production of original content for the PS4 is an example of Sony utilizing the company's different strengths which, all other things being equal, must result in higher margins/lower costs than purchasing externally produced content. Overall, the realization of the company's "One Sony" strategy will definitely contribute positively to Sony's bottom line and cash flow.
When to buy
If you, like me, are convinced that Sony will succeed in its restructuring efforts, the next question becomes: when is the right time to buy? While this is impossible to answer specifically, it is, however, possible to provide an overall guideline.
As many are aware, the restructuring and exit from the PC business has cost a lot of money and will continue to weigh on results until (expectedly) FY2015. Turnarounds are never pretty, especially not on the books. However, when the ugly cost-cutting restructuring phase is completed, companies enter a period of stabilization followed by a revitalization of the business. Sony has named 2014 "the year we complete our structural reform," and targets growth (stabilization and revitalization) from FY2015: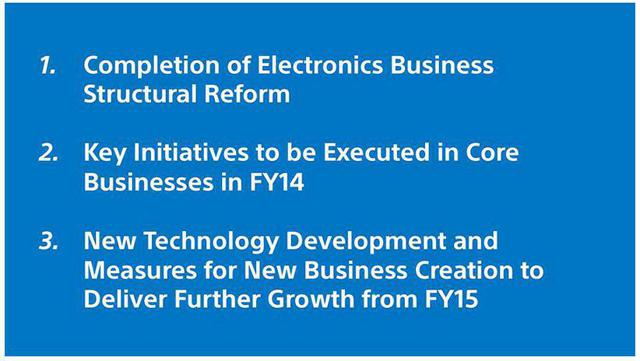 In my opinion, Sony is in the final phase of restructuring its business and the efforts should be concluded in 2014. For the contrarian and turnaround investor this is a perfect time to buy, as many investors are waiting for positive results to materialize which will happen during the stabilization and revitalization period (FY2015). When this happens there is, however, a possibility that the stock price will be significantly higher than its current depressed levels. Therefore, if one is considering acquiring the stock, one should do so during 2014 before Sony enters the stabilization and revitalization phase. During 2014, one should buy the dips as Mr. Market's notorious mood is almost certain to swing, as markets continue to set new records. It is worth noting that at current levels, $16.65, Sony is trading well below its book value of $21.02 which indicates a value opportunity, should the turnaround prove successful.
There is, however, a risk of the restructuring process not being completed in 2014, which could delay the transformation up to a year. If this happens, the stock will definitely suffer, as investors have seen too many promises of transformation and profit be broken, and yet another one could be fatal. In my opinion, Hirai knows that Sony needs to regain the trust of investors, which is done by eliminating the uncertainty surrounding the company's guidance, and this suggests a completion of the restructuring process in 2014.
Conclusion
Before researching this article, I was very skeptical about Sony and its future. After all, would you invest in a company that primarily operates within consumer electronics, but derives the majority of its profits from banking and insurance?
My skepticism of Sony's strategy and restructuring process began to fade as I learned more and more of what the company is trying to achieve; a Sony as it once was, with groundbreaking products built around the three virtues of quality, design and innovation.
For the reasons stated in this article, it is my opinion that Sony is well on its way to achieving a successful turnaround. Are we there yet? No, not at all. Sony is currently selling at an attractive price well below book value, and should the turnaround prove successful, the stock should move significantly higher than its current levels. I have refrained from making any guesstimates on where the stock should be a year from now as a lot of uncertainty (e.g. growth rate, additional costs etc.) surrounds the transformation which is why it would not be sound to make bold predictions based on FCF and the like. However, in my subjective opinion, I would not be surprised if the stock climbs to book value levels (around $21) at some point in 2015, should the transformation prove a success. This is of course a best-case scenario that requires the transformation to unfold as planned, including the company keeping its promises to its shareholders.
Disclosure: The author is long SNE. The author wrote this article themselves, and it expresses their own opinions. The author is not receiving compensation for it (other than from Seeking Alpha). The author has no business relationship with any company whose stock is mentioned in this article.
Additional disclosure: I have no intention of selling before 2015.