Another week has passed in the NQ Mobile (NYSE:NQ) saga, and it looks as if the market is now relatively comfortable valuing the security at around $4.37/share, where it closed yesterday. The stock was struggling to find an area to settle after last week's news of the company's audit chair resigning and another bearish report out of Muddy Waters.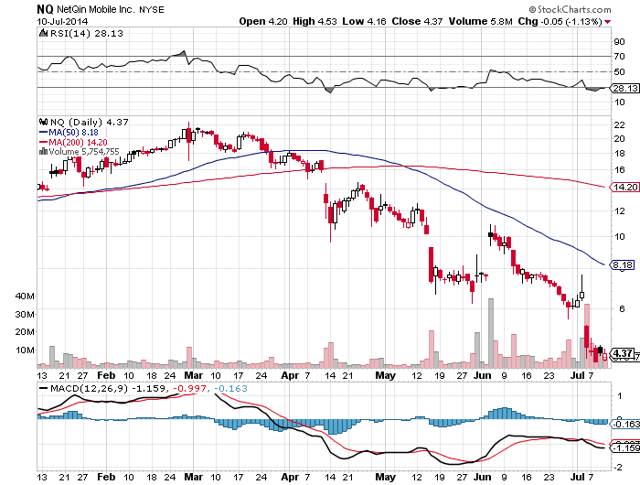 A lot of the longs' argument for picking up shares of NQ Mobile - even in the midst of all of the scrutiny on the company - is that a good event for the company could catalyze a short squeeze. With the continued downward pressure on the stock price, longs could have a point. The last few times that NQ reported "good" news, the stock shot up violently by 20%+ during intraday trading.
As such, I've been keeping an eye on the short interest data for the company and watching for recent numbers to come forward, especially with the new developments we've had in the case this past week.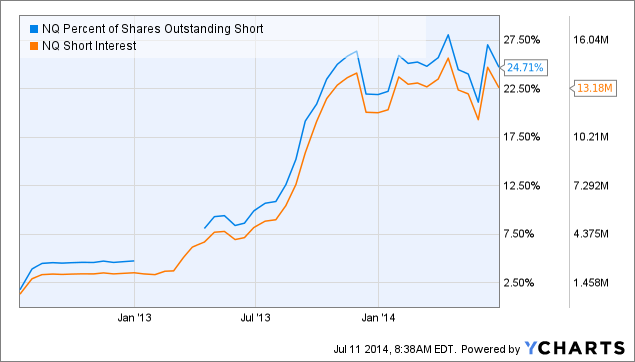 NQ Percent of Shares Outstanding Short data by YCharts
I've been watching the data closely, as the pressure cooker has ramped up in the NQ Mobile debate in the past couple of months. It simply looks like shorts are still not ready to cover.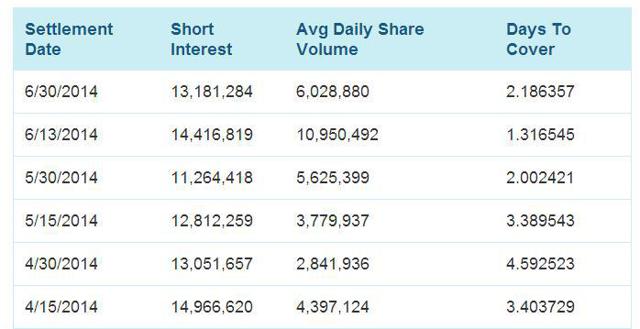 (Source: nasdaq.com)
This data, in addition to the data that comes out mid-month July (assuming we don't get more news by then) should draw a picture for us about whether or not the bears feel like now is the time to cover. At a glance today, it appears that a good constituency of the bears (including some that I know) wants to hold this one until the end of this saga, whenever that may be. Additionally, this could be a result of new short positions piling into the security as the story continues to unfold.
I continue to suggest using caution and pause if you're considering a long position in NQ Mobile. Best of luck to all investors.
Disclosure: The author has no positions in any stocks mentioned, and no plans to initiate any positions within the next 72 hours. The author wrote this article themselves, and it expresses their own opinions. The author is not receiving compensation for it (other than from Seeking Alpha). The author has no business relationship with any company whose stock is mentioned in this article.