By Jeremy Schwartz, CFA, Director of Research & Christopher Gannatti, CFA, Associate Director of Research
Europe has been the destination of investment choice both in 2014 and going back the last 12 months. There have been significant returns in the sovereign debt of peripheral countries, with one example being the Spanish 10-year government bond having a lower yield than the U.S. 10-Year Treasury note. Equities, especially European small-cap stocks, have performed very strongly, with our measure of European small-cap dividend payers up approximately 50% over the 12 months ending May 31.
The markets were further excited by recent actions taken by Mario Draghi and the European Central Bank (ECB), which unveiled a package of potentially stimulating policies meant to kick-start lending in Europe's real economy. One critical issue, as we see it, is that such large gains are being driven by valuation multiples rising and an expected recovery in earnings that still needs to materialize over the coming 12 months and longer.
The WisdomTree Index methodology, which employs a rules-based annual rebalance focused on maintaining a sensitivity to relative valuation, is all the more important during times with strong gains, such as those we have witnessed recently, especially in the small-cap segment.
WisdomTree's Discipline To Refocus On The Fundamentals
WisdomTree's European equity strategies employ an annual screening process designed to, in essence:
Typically reward firms that have displayed growth in their dividends with greater weights.
Typically trim exposure to firms that have displayed strong share price performance but that have not grown their dividends commensurately.
It is this discipline that applies an ongoing sensitivity to relative valuation in WisdomTree's European Equity Indexes.
The Growth In Europe's Dividend Stream®
WisdomTree's screening and rebalance process provides a detailed look at the behavior of aggregate regional Dividend Streams.
Figure 1 shows how Europe's dividends have behaved since dividends peaked in 2008, at the May 31, 2008, annual Index screening.

Unlike the Dividend Stream of the United States, which has been hitting new record highs recently, Europe's Dividend Stream of $388.3 billion still must grow 22% to reach its 2008 peak (or similarly put, currently we are 18% lower than 2008 levels). Yet clearly, the Dividend Stream is off its 2010 lows, up more than 34%, signaling positive momentum.
Financials experienced the greatest decline from 2008, as dividends in Financials went from approximately $160 billion in 2008 to approximately $86 billion in 2014. While Europe, in aggregate, must grow 22% to reach its 2008 peak, Financials must grow more than $72 billion (nearly 84%) from 2014 levels to surpass their 2008 peak.
About 220 firms qualified as dividend payers in 2008 in the European Financials sector, and this compares with 170 firms today. Royal Bank of Scotland (NYSE:RBS) is perhaps most notable in that it contributed more than $10 billion to the Dividend Stream in 2008, and it has not paid a dividend since 2008.
Factors Driving The 12.4% Dividend Stream Growth
The 12.4% aggregate growth of the Dividend Stream masked some variability in Dividend Stream growth at both a sector and a country level.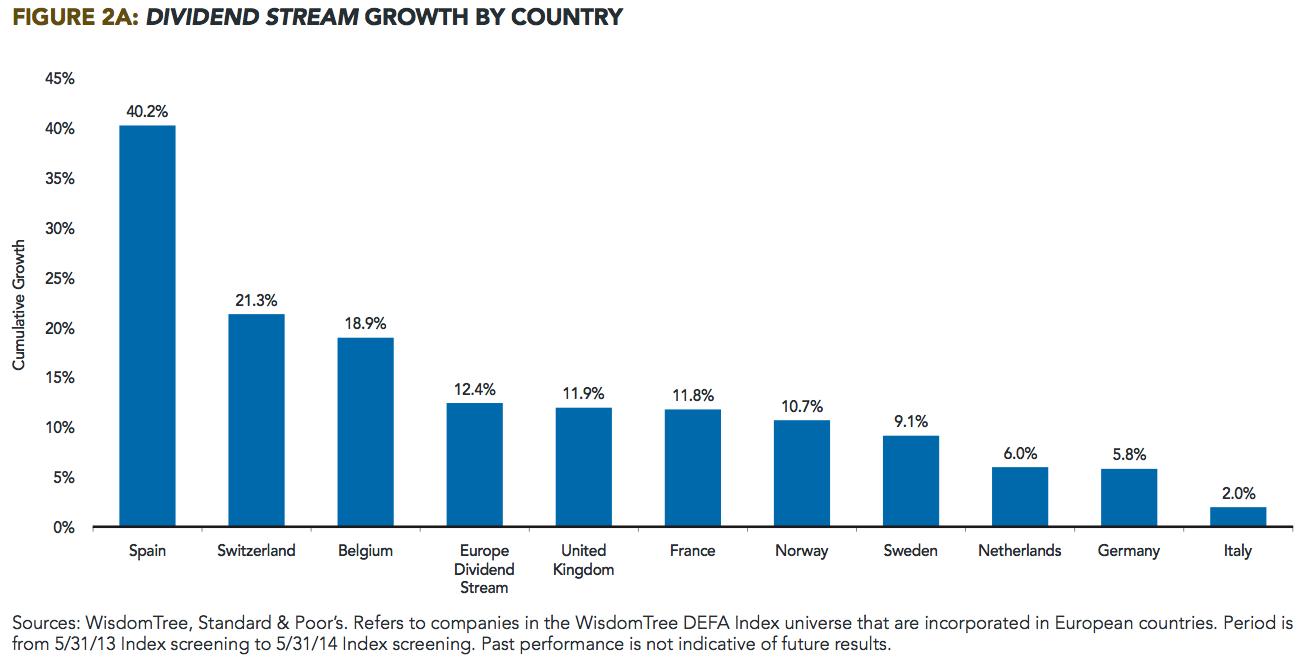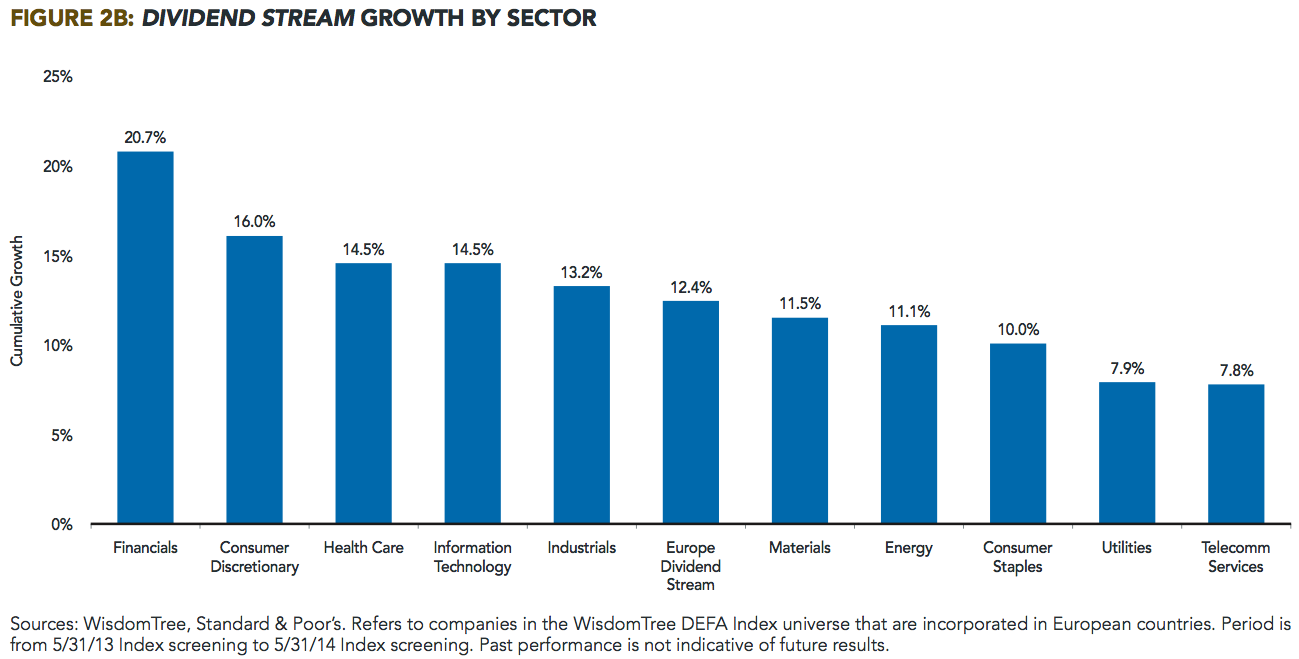 What Happened in Spain? In looking at figures 2a and 2b, the case of Spain literally leaps off the page with a 40% Dividend Stream growth figure. Spain's total Dividend Stream, slightly over $32 billion, is less than 10% of Europe's total Dividend Stream. Broadly speaking, there are two drivers of its dividend growth.
Companies Re-initiating Payments: Telefonica SA (NYSE:TEF) and Endesa SA (OTCPK:ELEZY) are two examples of this phenomenon. In 2014, Endesa SA had a Dividend Stream of over $2 billion, and Telefonica re-initiated an annual Dividend Stream, contributing more than $4.6 billion after neither qualified with a dividend payment in 2013.
Companies Growing Dividends Significantly: Repsol SA (OTCQX:REPYY) is an example of a firm that was included in Europe's Dividend Stream in 2013 but that nearly doubled its dividend per share for this year's screening date. Its contribution was over $1.7 billion.
WisdomTree's European Equity Toolkit-Dividends, Dividends, Dividends
When thinking of Europe as a potential hunting ground for investment opportunities, WisdomTree's three European Indexes provide precise focus, albeit from different angles:
WisdomTree Europe SmallCap Dividend Index (WT Europe Small): This is notable for its strict focus on the small-capitalization segment of the European equity market.
WisdomTree Europe Hedged Equity Index (WT Europe Hedged): This is notable for its focus on dividend-paying, global multinationals in Europe, and it seeks to hedge the impact of the euro's exchange rate on its returns.
WisdomTree Europe Dividend Growth Index (WT Europe Growth): This is a relatively new Index for WisdomTree, so the May 31, 2014, screening was actually its first rebalance after it was initially constituted. The Index employs a focus on potential future dividend growth by taking long-term earnings growth expectations and different measures of quality into consideration.
Taking Weight From Top Performers And Redeploying It To Dividend Growers
Dividend growth is a key factor in determining which companies get increased weight at each rebalance. In figure 3, we quantify the median dividend growth for companies that received increases or decreases in weight and compared that to the overall universe. We did the same for total returns.

Raising Weight to Faster Dividend Growers: For each respective WT Index, the firms that received additional weight exhibited median dividend growth rates that were between about 6 percentage points and 10 percentage points higher than it was for the constituents that saw their weights reduced. This is exactly what our methodologies are intended to focus on.
Lowering Weight to Top Performers: For each respective WT Index, the firms that saw their weights reduced exhibited higher median performance that was between about 12 percentage points and 17 percentage points higher than the performance of companies that saw their weight increased at the rebalance.
Stepping back, this is an apt illustration of placing the focus of the Index back on the fundamentals and taking it away from those firms that may have exhibited some of the strongest performance.
Digging Into Sector And Country Rebalance Impacts
A major focus of each annual rebalance at WT regards how the mix of sectors and countries changes due to the focus on relative valuation that we've described. We'll provide four tables to illustrate these changes for WT Europe Small and WT Europe Hedged. We'll then shift to a slightly different approach to illustrate WT Europe Growth, since that Index hasn't had the opportunity to generate a full year of live performance yet.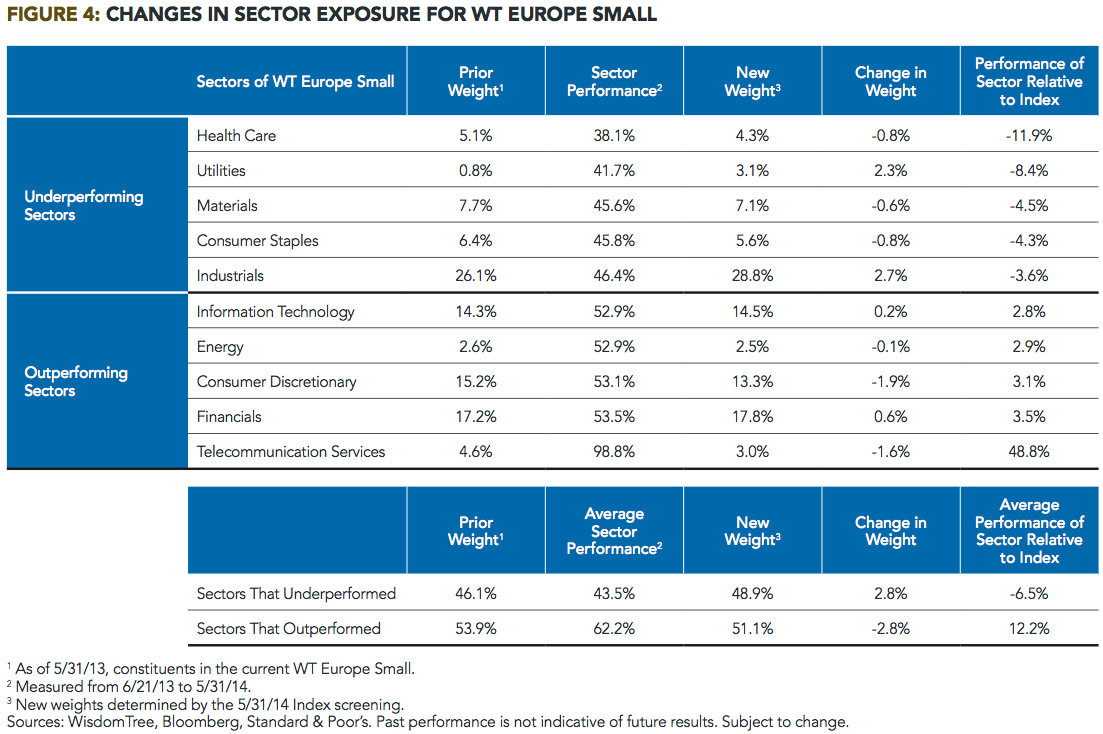 Utilities and Industrials saw the largest incremental increases in weight. These were underperforming sectors; it makes sense that exposure would be increased to sectors that had underperformed. The largest weight reductions occurred in Consumer Discretionary and Telecommunication Services. The Telecom sector in particular had a blowout year, with the stocks in WT Europe Small in this sector up nearly 100%. No other sector had anything close to this performance.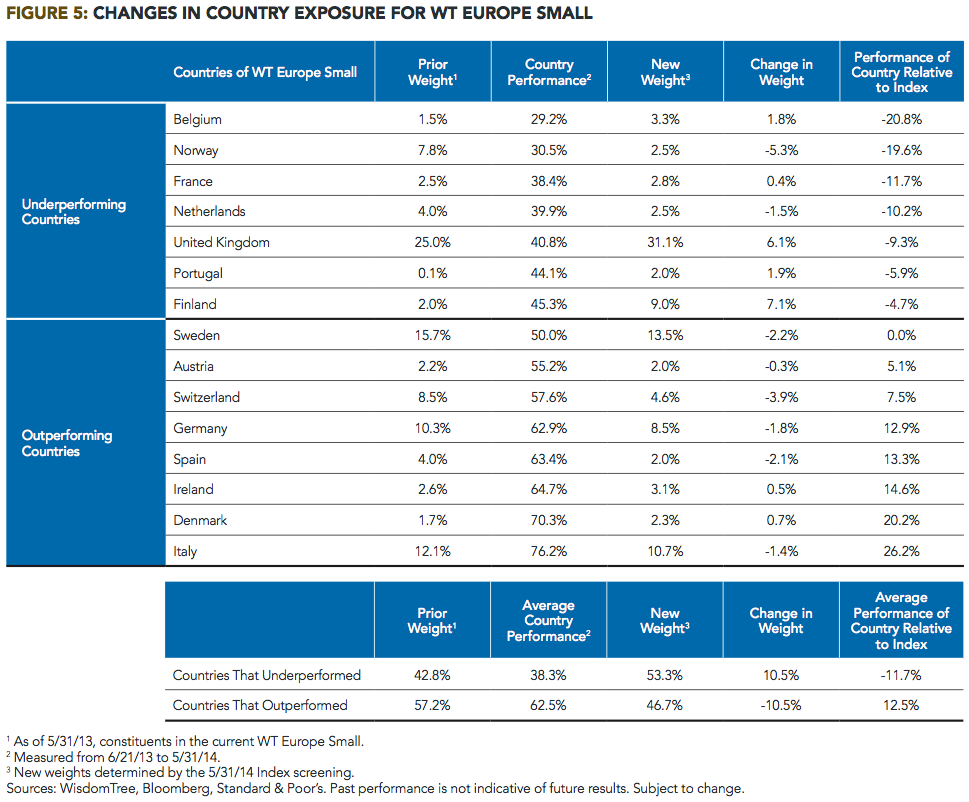 In aggregate, countries that outperformed the broad Index had returns that ranged from 50% to 76%. Three of the four best country returns were in the peripheral European countries Italy, Ireland and Spain. This speaks to the recovery that occurred in the bond yield spreads for these countries as well. In aggregate these outperforming countries saw their weight reduced by 10.5 percentage points.
Taking Chips Off The Small-Cap European Table
Figures 4 and 5 are certainly helpful in illustrating the changes occurring in WT Europe Small's exposures to different sectors and countries, but given that the past year was so strong, we wanted to take it a step further. Did we in fact trim weight from top- performing securities, looking broadly at this Index?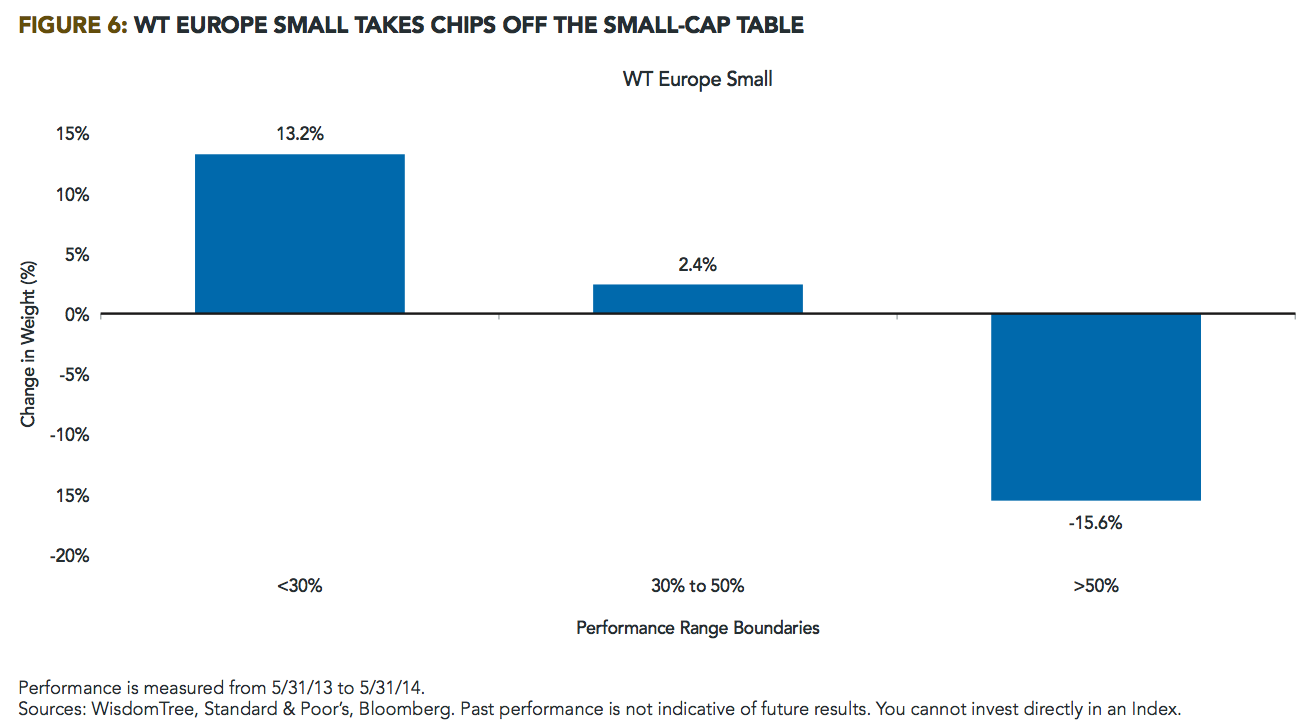 Almost 50% of Weight in Top Performers: Approximately 47% of the weight in WT Europe Small was in firms that delivered a return greater than 50% from May 31, 2013, to May 31, 2014. We can see that 15.6% of WT Europe Small's weight in these securities was trimmed as a result of the 2014 Index screening.
We believe that this is a simple, rules-based application that does not hold greater weights in stocks simply because their market capitalizations have expanded with an increasing share price. Since many of these firms did not have dividend growth commensurate with their share price performance, their weights were trimmed, and weight was reallocated to firms with greater relative growth in their fundamentals-specifically dividends, in this case.
Evaluating The Impact Of The Rebalance On WT Europe Hedged
We now shift the discussion to a distinctly different Index of European equities, this one focused on the performance of large-cap, multinational exporters incorporated in the European Monetary Union (EMU).
It is striking that only two of the 10 sectors outperformed the broad Europe Hedged Index, and eight of 10 sectors in WT Europe Hedged underperformed. The most significant weight was added to Telecommunication Services, a sector that had almost no exposure prior to the rebalance. The culprit responsible for this change was Telefonica SA, the Spanish firm we mentioned earlier that re-initiated its dividend and contributed $4.6 billion to Europe's Dividend Stream-the third-largest of any company qualifying for inclusion in WT Europe Hedged. Consumer Staples was the only other significant addition in weight. Financials, on the other hand, saw the greatest reduction in weight after outperforming the overall WT Europe Hedged Index by the widest margin-some of the best performance came from Spanish banks, which were large weights last year and had large returns.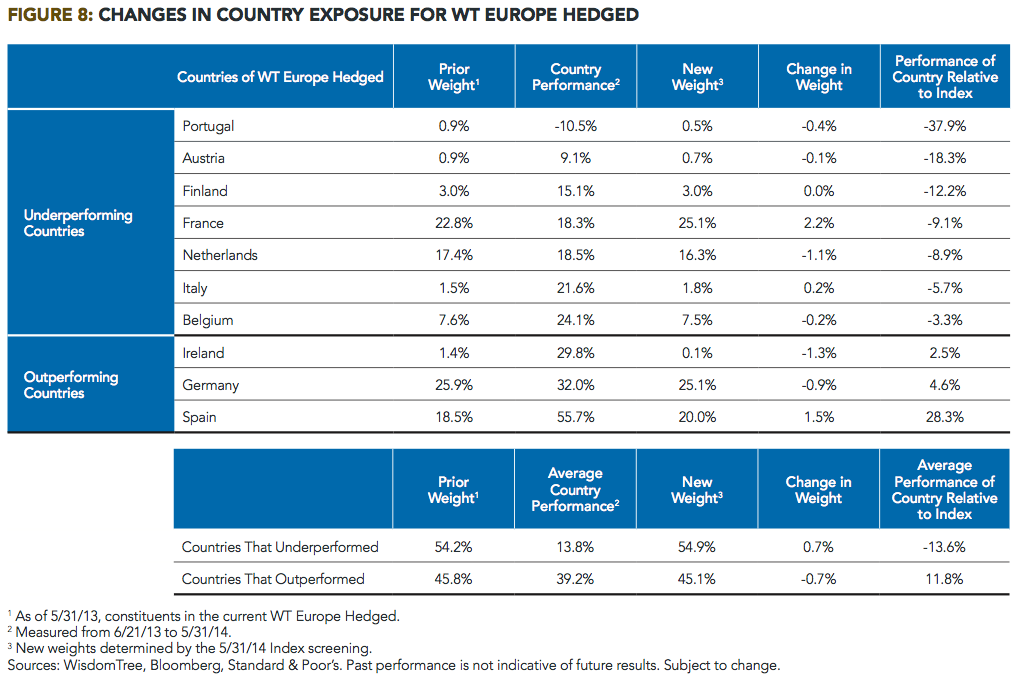 Only three countries outperformed the broad Index-Spain, Germany and Ireland. Because of a number of Spanish dividend payers that resumed dividends, weight was added to Spain in aggregate, despite reductions in weight to some of the previously large holdings. Germany and Ireland saw reductions in weight after outperforming. France received the largest weight addition after underperforming by 9 percentage points.
Focusing On Growth And Quality: WT Europe Growth
As we previously alluded, WT Europe Growth focuses on identifying firms that WT believes have better-than-average prospects for their future dividend growth potential. This is accomplished by focusing on growth and quality selection metrics:
Growth Factor: The growth factor specifically measures the long-term earnings growth expectations for potential constituents. It constitutes 50% of our overall selection criteria.
Quality Factor: The quality factor specifically measures the three-year average return on equity (ROE) and three-year average return on assets (ROA). These factors are weighted equally as part of our selection criteria, 25% each, to make up the other 50% of our overall selection criteria.
As we actually applied these selection criteria, we thought it would be interesting to note the average levels observed on a sector basis. A total of 603 stocks were eligible to undergo WT Europe Growth's screening criteria, and the top 300 of these would ultimately form the Index.
Steering around Financials: European banks are highly leveraged, so although many are large dividend payers, the inclusion of ROA penalizes them to a degree. Only 17 firms in the Financials sector passed our screens. The average leverage of the 98 excluded financial firms was 5.0x-nearly twice the average leverage for all 300 of our Index constituents and also significantly higher than that of the 303 firms that did not qualify for inclusion.
Staggering ROE and ROA Contrasts: Nine of the 10 sectors exhibited average ROEs greater than 20% when looking across the included firms, whereas the highest average ROE for any sector in the excluded category was Industrials at 12.5%. Not one sector among the excluded firms saw an average ROA that was in the double-digit range, whereas the average of all 300 included firms was above 10%.
We think that this is a useful illustration of the characteristics of the firms that we are including versus those that we are excluding, and it will help us better understand the positioning of WT Europe Growth compared to other European equity indexes that we'll see in our next and final section.
Conclusion: Evaluating WT's Europe Equity Toolkit
We believe that the rubber meets the road when investors look to understand, after all the rebalancing and relative value sensitivity that we've talked about, how the various equity tools work. To answer this question, we will look at two major components:
Exposures,which we evaluate on a sector and country basis, compared to commonly focused-upon market capitalization- weighted European equity indexes.
Valuation characteristics, which we evaluate against the same benchmarks.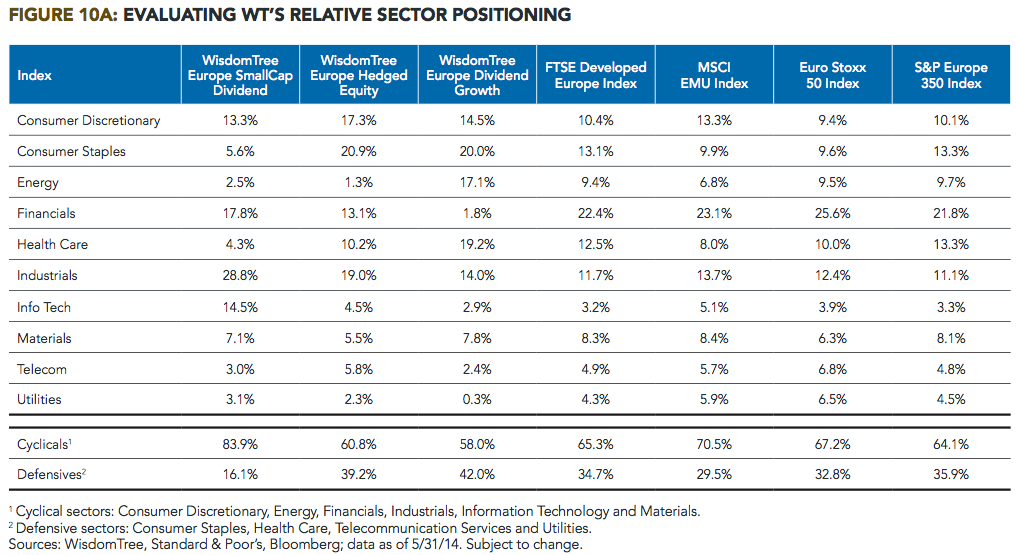 WT Europe Small for Cyclicals: It is typical to think that cyclical sectors have the potential to be more sensitive to a budding economic recovery than defensive sectors. WT Europe Small has almost 84% exposure to cyclical sectors-by far the most of any of the widely followed indexes that we show in figure 10a.
WT Europe Growth: Market capitalization-weighted indexes of European equities tend to have greater than 20% weight to the Financials sector-especially when their predominant exposure is to larger-capitalization stocks. WT Europe Growth has less than 2.0% exposure-a significant under-weight. We saw in figure 9 why this was the case-we screened a lot of financial firms, but their average leverage among the excluded firms was the highest of any of the 10 sectors.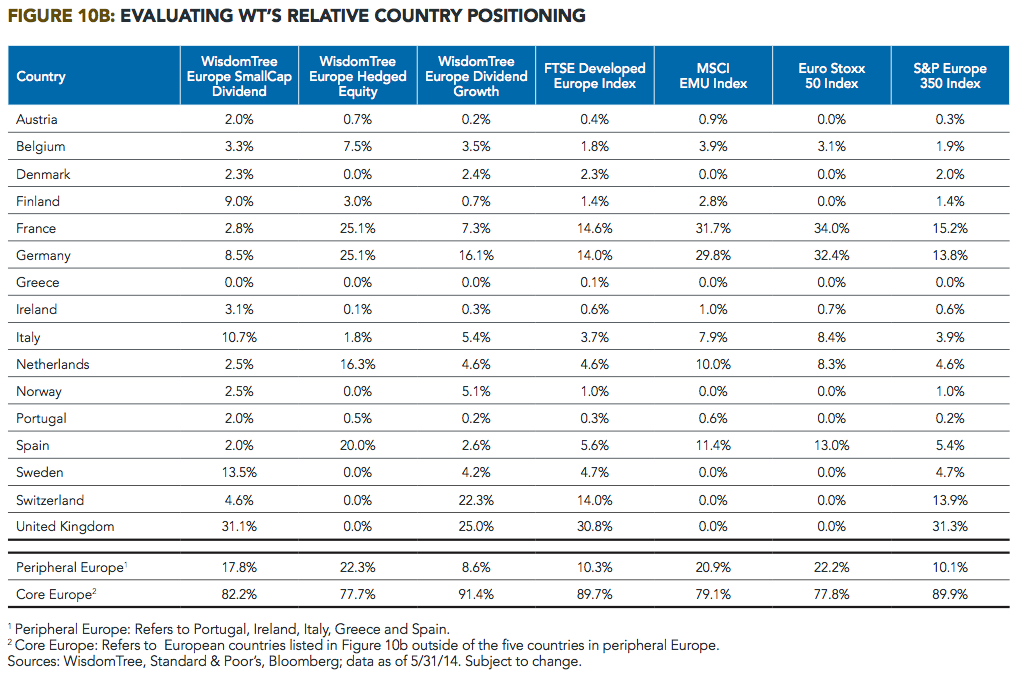 Euro Area vs. Europe Distinction: WT Europe Small and WT Europe Growth-along with the FTSE Developed Europe Index and the S&P Europe 350 Index-avoid the peripheral countries in part because they are allowed exposure to Switzerland, Sweden, Denmark and the United Kingdom. The other three indexes shown have higher (but very similar) exposure to peripheral countries, and a big reason for this is the lack of exposure to the United Kingdom, a very large equity market, whether weighting by Dividend Stream or market capitalization.
WT Europe Growth Shows Some Interesting Features: It's interesting that WT Europe Growth significantly under-weights France compared with the four market capitalization-weighted indexes shown, but significantly over-weights Switzerland. Due to the methodology, we'd surmise that this means if one is focusing on growth and quality factors, Switzerland must be the more attractive market than France.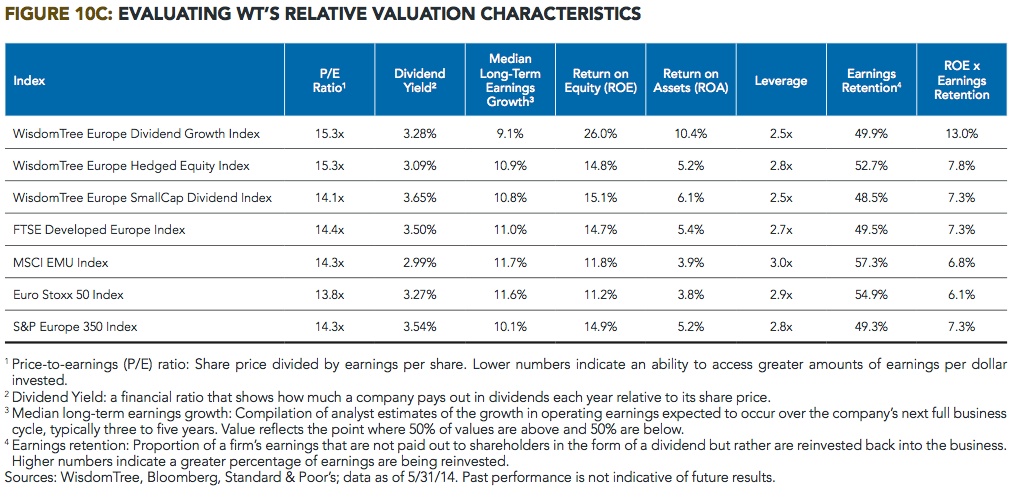 Dividend Growth Potential: The column farthest to the right in figure 10c indicates ROE x Earnings Retention, which in simple terms means the fraction of the earnings that are retained for reinvestment multiplied by the efficiency of the firm at generating profits. According to the dividend discount model, this denotes a measure of potential dividend growth, and although we recognize that it is by no means a certainty, we believe it's important to be aware and to bring together the reasoning behind our selection factors and screening process for WT Europe Growth.
Small Caps Still Indicate Value: Even after the strongest performance run of the indexes shown, WT Europe Small does not have the highest P/E ratio. This is of course due to the fact that, even though performance has been strong, earnings growth is expected to continue. For those believing that the potential earnings recovery in Europe can continue, we believe that it is a device with very strong potential.
We hope that this analysis has provided useful color about what we believe to be the most important singular aspect of these WisdomTree Indexes. Each year, WisdomTree believes it is important to reset Index weights and exposures away from what has been driven by share price performance and toward what has actually occurred in terms of fundamentals. While no one can say what will drive tomorrow's performance, we believe that markets tend to ultimately relocate their sensitivity to fundamentals and reward those firms that have undergone positive actions, such as growing their dividends.
Unless otherwise stated, data source is WisdomTree.
Investors should carefully consider the investment objectives, risks, charges and expenses of the Funds before investing. To obtain a prospectus containing this and other important information, visit wisdomtree.com. Read the prospectus carefully before you invest.
Foreign investing involves special risks, such as risk of loss from currency fluctuation or political or economic uncertainty.
Investments focused in Europe are increasing the impact of events and developments associated with the region, which can adversely affect performance. You cannot invest directly in an index.
Investments focusing on certain sectors and/or smaller companies increase their vulnerability to any single economic or regulatory development. This may result in greater share price volatility.
Investments in emerging, offshore or frontier markets are generally less liquid and less efficient than investments in developed markets and are subject to additional risks, such as risks of adverse governmental regulation and intervention or political developments.
WisdomTree Europe Hedged Equity Index: Designed to provide exposure to European equities while at the same time neutralizing exposure to fluctuations between the euro and the U.S. dollar. Constituents are dividend-paying European firms deriving a least 50% of their revenues from outside Europe. Weighting is by cash dividends paid. WisdomTree Europe Dividend Growth Index: A fundamentally weighted index that measures the performance of dividend-paying common stocks with growth characteristics selected from the WisdomTree DEFA Index. The Index comprises companies from the eligible universe based on their combined ranking of growth and quality. WisdomTree Europe SmallCap Dividend Index: A fundamentally weighted index meant to measure the performance of dividend-paying European small-cap equities, weighted by cash dividends paid. FTSE Developed Europe Index: Measure of the performance of developed European companies, weighted by market capitalization. MSCI EMU Index: A free float-adjusted market capitalization-weighted index designed to measure the performance of the markets in the European Monetary Union. S&P Europe 350 Index: A float-adjusted market capitalization-weighted measure of the performance of large-cap equities in European markets. Euro Stoxx 50 Index: A market capitalization-weighted stock index of 50 large, blue-chip European companies operating in eurozone nations. MSCI Europe Small Cap Index: A free float-adjusted market capitalization-weighted index designed to measure the performance of developed equity markets in Europe, specifically focusing on the small-cap segment of these equity markets. WisdomTree Dividend Index: Measures the performance of dividend-paying companies incorporated in the United States that pay regular cash dividends and meet WisdomTree's eligibility requirements; weighted by indicated cash dividends.
WisdomTree Funds are distributed by ALPS Distributors, Inc.
Jeremy Schwartz and Christopher Gannatti are registered representatives of ALPS Distributors, Inc.
© 2014 WisdomTree Investments, Inc. "WisdomTree" is a registered mark of WisdomTree Investments, Inc.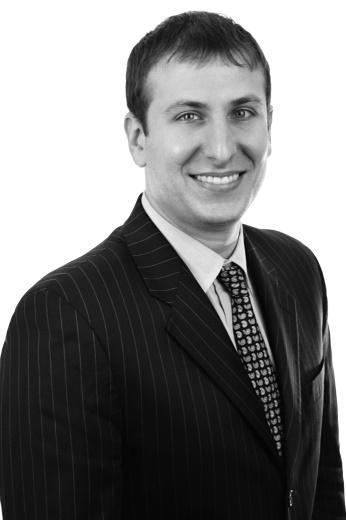 Jeremy Schwartz, Director of Research
As WisdomTree's Director of Research, Jeremy Schwartz offers timely ideas and timeless wisdom on a bi-monthly basis. Prior to joining WisdomTree, Jeremy was Professor Jeremy Siegel's head research assistant and helped with the research and writing of Stocks for the Long Run and The Future for Investors. He is also the co-author of the Financial Analysts Journal paper "What Happened to the Original Stocks in the S&P 500?" and the Wall Street Journal article "The Great American Bond Bubble."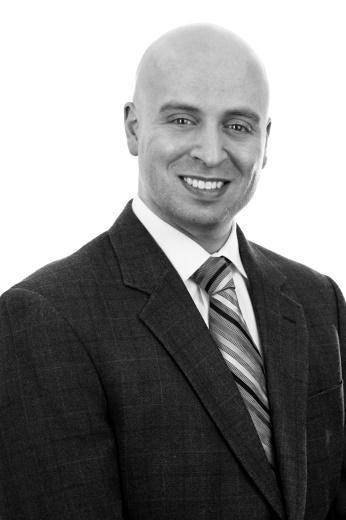 Christopher Gannatti, Associate Director of Research
Christopher Gannatti began at WisdomTree as a Research Analyst in December 2010, working directly with Jeremy Schwartz, CFA®, Director of Research. He is involved in creating and communicating WisdomTree's thoughts on the markets, as well as analyzing existing strategies and developing new approaches. Christopher came to WisdomTree from Lord Abbett, where he worked for four and a half years as a Regional Consultant.