I always appreciate reader feedback and learn almost as much from you as I do from researching articles. In previous discussions on BuyWrite funds, a reader posed a question similar to, why not just invest in the index fund itself? Today, we will answer that question.
We are going to compare the top two BuyWrite funds to a top dividend fund. These funds are the top funds by assets in their respective categories (not necessarily top performing across all indexes). All three of these ETFs focus on the S&P 500. For this discussion, we are going to keep our focus on that index to compare apples to apples. It is important to note that the two BuyWrite funds track their own respective indexes off of the S&P 500.
BuyWrites:
PowerShares S&P 500 BuyWrite Portfolio ETF (NYSEARCA:PBP)
Horizons S&P 500 Covered Call ETF (NYSEARCA:HSPX)
Dividend Fund:
SPDR S&P Dividend ETF (NYSEARCA:SDY)
I would like you to read over, or just quickly browse, my previous article on PBP. It contains a lot of analysis on the total return of that fund since inception. You can read it here.
Total Returns
We will begin by taking a look at the total return for all three funds. HSPX is relatively new so I have included two charts.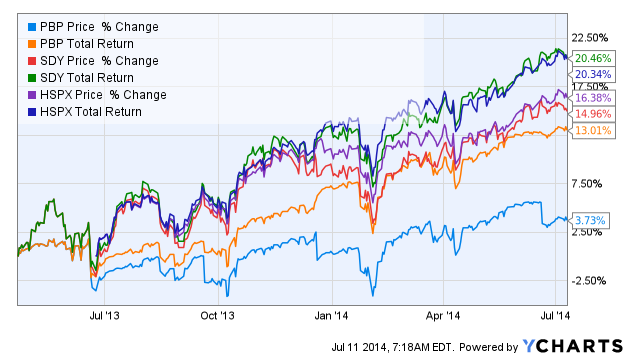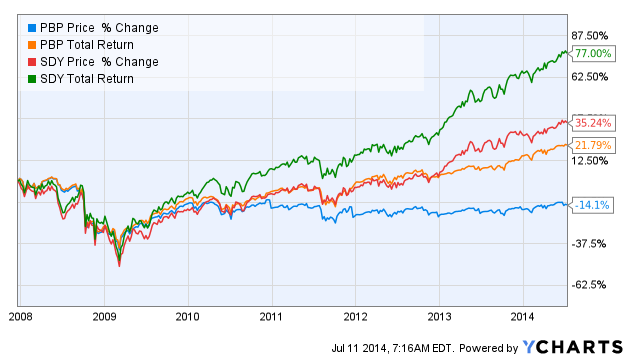 As seen from the charts above SDY significantly outperforms the BuyWrite funds.
Let's take a look at the historical performance of the S&P 500 Index. This chart includes dividend reinvestments for a total return.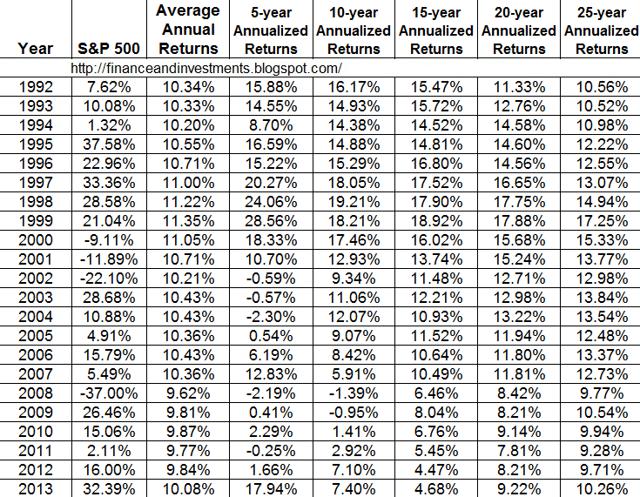 Received from here. By visiting this link, these charts are available all the way back to 1926.
The above chart, with charts included in the link, tells me everything I personally need to know. The BuyWrite funds cannot match the long-term performance of a fund like SDY.
Dividend yields
| | | |
| --- | --- | --- |
| Fund | Current Yield (TTM) | Expense ratio |
| PBP | 6.93% | 0.75% |
| HSPX | 1.65% | 0.65% |
| SDY | 1.82% | 0.35% |
Data from Charles Schwab. Chart created by Nathan Buehler
PBP will perform better in a sideways market. However, I have never seen a longer-term S&P 500 chart that just moves sideways. It does offer a better dividend yield, but at the cost of share price appreciation.
HSPX, in my opinion, will outperform PBP over the long-term. However, its gains are capped at 15% per cycle (usually one-two months). There will be instances where the S&P 500 will rise more than 15% in a short period of time. In this case, SDY would rise the full amount and HSPX would be limited by its options strategy. When the market drops all three funds would fall at roughly the same rate.
Divergence
I always like to take a look at divergence and note it in my analysis for ETFs.
PBP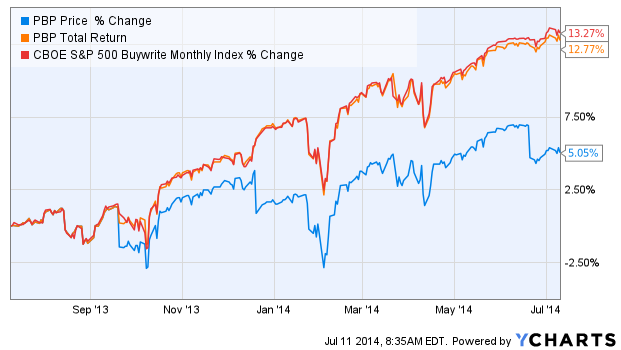 HSPX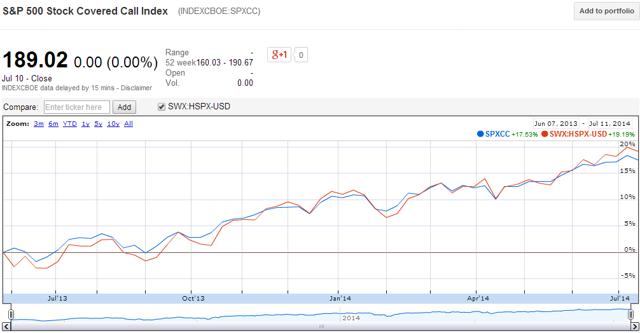 Courtesy of Google Finance
SDY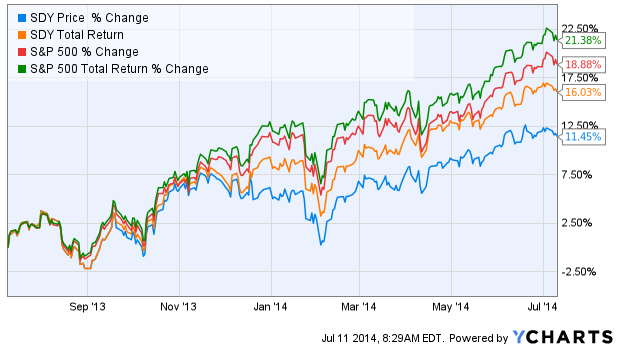 SDY performed the least favorably against its index. All three funds closely correlate to the moves in their respective indexes.
Conclusion
Thanks to readers like you I have changed my original thesis that PBP belongs in your dividend portfolio.
BuyWrite funds such as PBP offer attractive yield. But that yield is sporadic and unpredictable (see chart in original article). In a sideways market, it is your best option, but rarely do markets move sideways long enough to reap the benefits.
Both HSPX and PBP offer full downside risk exposure to the S&P 500, but limit your upside potential (PBP more than HSPX). Each fund also has a higher expense ratio than SDY.
As we can see from the historical chart, the average total return of the S&P 500 Index stood at 10.08% as of 12/13/13.
For these reasons, I recommend SDY for dividend yield and principal growth over the BuyWrite funds.
Please follow me on SeekingAlpha.
Most popular article:
How UVXY and SVXY would have performed in 2008 and 2011: here
Investor education short video:
How to tell if stock options are a good price: here
Disclosure: The author has no positions in any stocks mentioned, and no plans to initiate any positions within the next 72 hours. The author wrote this article themselves, and it expresses their own opinions. The author is not receiving compensation for it (other than from Seeking Alpha). The author has no business relationship with any company whose stock is mentioned in this article.