Dish Network (NASDAQ:DISH) captured headlines in May, when it announced that it would start accepting payments in bitcoin. This is undoubtedly a shot in the arm for the digital currency, which had hitherto been struggling to shrug off negative criticism derived from governments' and regulators' relentless bashing. Just as a recap, Dish Network said it would begin accepting bitcoin payments in September through payment processor Coinbase. Coinbase, a San-Fransisco based start-up, will instantly convert the bitcoins into cash, enabling Dish to circumvent the risk of price fluctuations posed by time lags in bitcoin-to-cash conversions.
While a compelling number of web retailers, such as Tiger Direct Inc. and Overstock.com Inc., just to cite a few, currently accept bitcoins, Dish's impending adoption signals the beginning of a new chapter for the digital currency - a chapter where businesses outside the realm of retailing look to bitcoin as a convenient alternative. Expedia Inc. (NASDAQ:EXPE), a leading online travel service, in June announced that it would let travelers pay for bookings by converting bitcoins into money. Expedia, like Dish Network, is partnering with Coinbase in this initiative by similarly allowing the latter to instantly process its bitcoins receipts into cash, in order to eliminate the risk of price fluctuations.
Apparently, eBay (NASDAQ:EBAY) has also been mulling over integrating digital currencies such as bitcoin into its payment service, PayPal. Although eBay has not given any definitive timeline for this operation, company CEO John Donahoe, in a video interview on CNBC, said that the integration was imminent.
What is driving acceptance?
There are two key reasons why big corporations have developed unmistakable leanings toward bitcoin over the past several months. The first obvious reason is that bitcoin is gaining immense popularity beyond the small initial set of crypto-buffs and early adopters. Now, moderates and averagely tech savvy users are using the digital currency to make purchases online. This has largely been driven by the fact that bitcoin transactions allow users to remain anonymous. This is in direct contrast to credit cards, which typically compel the divulgence of personal information, like addresses and PINs, over the internet. Bitcoin only requires two sets of information; a public key, which is loosely defined as the address of a bitcoin wallet, and a private key, which only the holder of the bitcoins is privy to. This has proven to be attractive for many users.
The second and perhaps more pertinent reason why corporations are accepting bitcoins at a faster rate than before is that it is cheaper and faster to use bitcoin, as opposed to bank transfers and credit card payments, especially for corporations that do online business.
Retailers usually have to pay a merchant fee on credit card transactions. The collective fees of thousands of individual transactions translates into mammoth costs, and most retailers, in a bid to preserve profit margins, pass these merchant fees to buyers in the form of higher unit prices. Bitcoin transactions, on the other hand, don't have administrative charges typical to credit cards. This means that corporations which adopt bitcoin earlier than their competition will have the advantage of pricing more competitively.
"Over 60,000 businesses in the U.S. currently take bitcoin, and that number is only going to grow because the transaction costs are cheaper," said Barry Silbert, founder and CEO of SecondMarket, which has a bitcoin fund that allows institutional investors to invest in. Silbert added that this is the year of Wall Street to embrace bitcoin, suggesting that the volumes of transactions will increase.
Moreover, online credit card transactions go through authorization, clearing and settlement. All these three stages require manual approval and could drag on for days, making businesses realize their cash flows slower. Bitcoin concludes transactions faster in a matter of minutes. A traditional bank wire between the U.S. and Europe takes between 1 and 5 days. In contrast, a bitcoin-based wire between the U.S. and Europe would take between 7 and 45 minutes, according to figures published on CNBC.
These strong incentives will continue driving the adoption of bitcoin. In fact, Apple (NASDAQ:AAPL), in a candid desertion of its previous policy, will let software developers include virtual-currency transactions in their applications. "Apps may facilitate transmission of approved virtual currencies provided that they do so in compliance with all state and federal laws for the territories in which the app functions," said the smartphone maker in a recent update to its App Store review guidelines. Although Apple didn't mention bitcoin expressly, increased development of apps around digital currencies will inadvertently drive bitcoin usage further up.
Gold miner sees opportunity
While the conversation around bitcoin has largely been dominated by retailers and crypto-buffs, one gold miner has recently chimed in. DNA Precious Metals Inc. (DNAP) recently announced that it had formed a wholly-owned subsidiary under the laws of the State of Nevada called DNA Crypto Corp. The new subsidiary will seek to identify the best crypto currency mining opportunities in the US and Canada.
"The management of DNA Precious Metals, Inc. was approached by some crypto currency miners recently and they presented us with an opportunity that we did not want to pass up. They proposed that we should become part of the bitcoin mining industry and we saw the potential to deliver value for our shareholders as we continue to work towards bringing our mining operations on the Montauban Mine Property into production," said DNA Precious Metals' CEO and president James Chandik in a press release.
The question is: how does a gold miner benefit from mining bitcoins?
Spoiler alert: it profits immensely.
Bitcoin has deflationary qualities. This means that unlike fiat currency, which erodes in value over time, bitcoin gains in value over time, just like gold. From a currency standpoint this is unwanted, since it discourages consumption and encourages currency hoarding - because buyers anticipate higher value and greater utility in future from the same amount of money they have today. From an asset standpoint, however, this is greatly desirable. Just like gold, some people buy bitcoin with the aim of investing and reaping higher returns in future.
Bitcoin's deflationary qualities have previously been discussed by U.S. Senator John Manchin, who earlier in the year, penned a letter bashing bitcoin. The letter read in part, "As of December 2013, the Consumer Price Index (CPI) shows 1.3% inflation, while a recent media report indicated Bitcoin CPI has 98% deflation." If only Manchin knew that his argument lends credence to bitcoin's dual assessment as both an asset and a currency.
DNA Precious Metals is leveraging on bitcoin's unique quality of being both an asset and a currency at the same time. Like gold, bitcoin's value rises over time. However, unlike gold, holders of bitcoin can trade the virtual currency directly for products. As bitcoin's adoption in commerce increases, demand for bitcoins to facilitate transactions will increase. Accordingly, a similar pattern will be duplicated in the price of bitcoin, making it more economically viable for DNA Precious Metals to mine it.
There are presently about 13 million bitcoins in circulation, out of a possible maximum of 21 million, as represented in the chart below.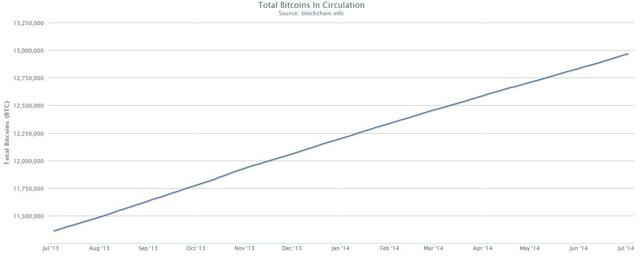 (Source: blockchain.info)
As more bitcoins are successfully added into circulation, it becomes increasingly harder and expensive to mine them. Why does it become harder? With bitcoin mining, miners use software to solve complex math problems, and if successful, are issued with a certain number of bitcoins in exchange. This creates an incentive for miners to solve more problems. However, as more problems are solved, subsequent problems become progressively more complex, consequently increasing the value of bitcoins attached to the problems.
Given the increased complexity of problems, it becomes even more expensive to sustain continued mining. Not only do miners need more skills to handle more challenging problems, which come at a cost, but they also need more resources. When bitcoin mining started, a bedroom PC could do the job. Today, miners are leasing warehouses and turning them into mine rigs, equipped with millions of sophisticated chips designed specifically for bitcoin mining. Overall operational costs in such warehouses typically run into millions of dollars. The recent influx of venture capitalists in bitcoin-related businesses is a testament to the mounting costs associated with bitcoin mining. According to Micky Malka, a general partner at venture capital firm Ribbit Capital and a board member of the Bitcoin Foundation, there has been increased interest in bitcoin from Silicon Valley's venture capital community. He asserts that an average round of funding for a bitcoin-related company brought in $1-$2 million in 2013. Now, it routinely fetches even $20 million. In fact, DNA Precious Metals managed to secure a line of credit of $10 million for its bitcoin venture.
The increased costs and accompanying heavy investments needed to mine bitcoin will be reflected in the price of the digital currency. In addition, the continued rarity of solutions to the math problems requisite to bitcoin issuance will ensure higher prices in the long term.
Conclusion
DNA Precious Metals made a great choice to venture into bitcoin mining. It will complement its gold mining effort, which is expected to start in the third quarter of 2014. Gold alone is expected to grow DNA Precious Metals' operating revenue to $5.8 million in 2015 and $10.8 million in 2016, according to company reports. Having a favorable mix of gold and bitcoin should allow DNA Precious Metals to easily navigate the asset landscape in future. It will also give it a lot of options, including allowing it to offer a gold-backed crypto currency when the laws change surrounding crypto backed by gold.
Disclosure: The author has no positions in any stocks mentioned, and no plans to initiate any positions within the next 72 hours. The author wrote this article themselves, and it expresses their own opinions. The author is not receiving compensation for it (other than from Seeking Alpha). The author has no business relationship with any company whose stock is mentioned in this article.
Editor's Note: This article covers one or more stocks trading at less than $1 per share and/or with less than a $100 million market cap. Please be aware of the risks associated with these stocks.