By Craig Bowles
Overview
Goldman Sachs (NYSE:GS) is scheduled to report Q2 2014 earnings before the opening bell on Tuesday, July 15th. The firm indicated it would provide a press release at approximately 7:30 a.m. EST and follow with a conference call at 10:30 a.m., webcast through Goldman Sachs Investor Relations. Goldman's results also have the potential to impact the financial sector as well as the broader market gauges, particularly the index futures, given the investment bank's influence.

Outliers & Strategy
Key measures:
Earnings Per Share: Goldman Sachs typically provides a "clean" number that is comparable to consensus. The current Street estimate is $3.07 with a range of $2.80 to $3.48. Consensus was $3.42 two months ago, but all the banks have seen steady estimate declines since last quarter, except for Wells Fargo which reported in line rather than their normal beat. (Source: Yahoo! Finance)
Revenues are seen coming in at $7.98 bln, a decrease of 7.4% from Q2 2013. The range is $7.53 bln to $8.74 bln.
Having become a member of the Dow Jones Industrial Average, Goldman Sachs' earnings are even more critical to the market. Following reports from JPMorgan Chase (NYSE:JPM), Citigroup (NYSE:C), and Wells Fargo (NYSE:WFC), Goldman's results will be a key litmus test measuring the health of the U.S. financial services sector. Bank of America (NYSE:BAC) and Morgan Stanley (NYSE:MS) will report later in the week.
Implied Volatility: The options markets are implying a 2.56% move one day after earnings are disseminated.
Recent News
07/07: Goldman's board of directors is assessing the next generation of leaders for the firm through private dinners, with Chairman and CEO Blankfein turning 60 this summer, according to a post by WSJ.com.
06/23: Goldman Sachs will test a triple-recourse structure bond to take advantage of investors' demand for Triple A rated assets giving recourse to the pool of assets backing the trade, as well as having an unsecured claim against Goldman Sachs and Mitsui Sumitomo Insurance, according to a post by Reuters.
06/17: Nomura remains Neutral due to valuation, given the recently proposed Supplementary Leverage Ratio (SLR) will become a binding capital constraint for Goldman (vs. risk-based measures) and dampen the long-term ROE potential, according to a post on Barron's Blogs.
06/17: Analysts have become more pessimistic on Goldman. A sample of the reasoning is, "Trading revenue from fixed income, commodities and currencies will drop 16 percent this quarter," according to a post on Bloomberg.com.
06/11: Claims against the firm continued to be settled, with the latest being Goldman and Bain Capital paying a combined $121 million to settle a lawsuit, alleging the firms colluded to keep down the prices they paid for companies during last decade's takeover binge, according to a report on WSJ.com.
06/04: Goldman CEO has no plans to step down and can never imagine leaving, according to an interview on CNBC.
Technical Review
Having made a few successful tests of the 200-day moving average gives optimism, but the stock has been mostly working a $150-$170 range for more than one year. A similar development occurred in 2009/2010 and at higher levels in 2007/2008 before the stock rolled over, so this retest of the 200-day MA might be treated more seriously. That being said, the stock has limited resistance above $170. (Chart courtesy of StockCharts.com)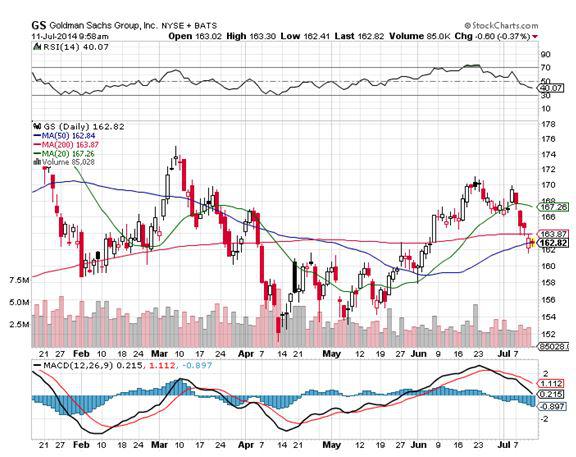 Summary
The lack of market volatility is expected to weigh on trading revenue in 2Q and analysts expect declines in earnings per share the next two quarters before a rebound in 2015. So, Street expectations have been reduced again this quarter on Goldman and banks in general. Having beaten estimates 38c-88c the last four quarters, traders probably need to see earnings closer to analysts' original estimate of $3.42 with revenue above the mid-point of guidance and above $8.4 bln for a favorable market reaction.
DISCLAIMER: By using this report, you acknowledge that Selerity, Inc. is in no way liable for losses or gains arising out of commentary, analysis, and or data in this report. Your investment decisions and recommendations are made entirely at your discretion. Selerity does not own securities in companies that they write about, is not an investment adviser, and the content contained herein is not an endorsement to buy or sell any securities. No content published as part of this report constitutes a recommendation that any particular investment, security, portfolio of securities, transaction or investment strategy is suitable for any specific person.
Disclosure: The author has no positions in any stocks mentioned, and no plans to initiate any positions within the next 72 hours. The author wrote this article themselves, and it expresses their own opinions. The author is not receiving compensation for it (other than from Seeking Alpha). The author has no business relationship with any company whose stock is mentioned in this article.