[Originally published on 6/30/2014]
I'm going to show you the closest thing to free money you'll find in the investment markets...
Last month, I walked my DailyWealth Trader readers through an opportunity to buy gold at a big discount... by buying closed-end funds.
You see, most funds – like mutual funds and exchange-traded funds – have an unlimited number of shares to issue. If folks buy more shares, the funds simply buy more assets and sell more shares. These "open end" funds always trade near the value of their assets.
But closed-end funds are different...
Closed-end funds have a fixed number of shares. If lots of folks want to own those shares, they'll trade at a premium to the fund's asset value. If no one is interested in owning them, the shares can trade at a discount. If you're willing to buy when others aren't, it's like getting a dollar bill for $0.95.
As my colleague Dr. David Eifrig put it in this short educational interview, buying these closed-end funds at a discount can be "the closest thing to free money you'll find" in the investment markets.
Let me show you how it works...
In May, I recommended my DailyWealth Trader subscribers buy the closed-end fund Central Gold-Trust (NYSEMKT:GTU). Its business is as simple as it gets: It holds about $1 billion worth of gold bullion in underground vaults. That's it. At the time, each share of GTU was worth $47.69 in gold. And you could buy a share for $45.49 – a 4.8% discount.
A discount like this on GTU doesn't happen all the time. Two years ago, GTU regularly traded at a premium to the value of its gold. From late 2007 to about a year ago, GTU traded at a discount only twice, and for a very short time. The average premium over the last five years is 1.7%.
So if GTU simply returned to its average premium, my DailyWealth Trader subscribers would make nearly 7%, even if the price of gold went nowhere.
And as you can see in the chart below, GTU has popped higher in the last few weeks. It just broke out to a three-month high.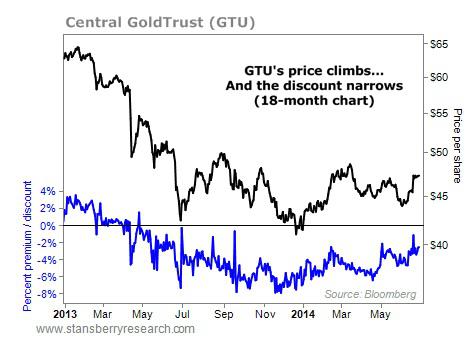 Part of that move mirrored a jump in the price of gold. But GTU jumped even more than the gold price... because its discount narrowed. When I recommended the fund in May, it was selling at a 4.8% discount. Today, it's 2.5%. If you had owned $5,000 worth of gold, your position would now be worth $148 more. If you had owned $5,000 worth of GTU, your position would now be worth $253 more. Free money.
At the current discount, I don't recommend buying GTU today. But you could take a look at GTU's "sister" fund, the Central Fund of Canada (NYSEMKT:CEF). CEF holds a mixture of gold and silver... and it's trading at a 5% discount to its asset value.
Disclosure: None