By Craig Bowles
Overview
Intel, Corp. (NASDAQ:INTC) is slated to report Q2 2014 earnings after the bell on Tuesday, July 15th. The earnings release is expected at approximately 4:00 p.m. EST, with a webcast conference call to follow at 5:00 p.m. accessible through Intel Investor Relations. A member of the Dow Jones Industrial Average, S&P 500, and Nasdaq 100, Intel has significant market influence and the potential to impact the broader market gauges. Other tech names are often impacted by the results, along with related ETFs, such as the PowerShares (NASDAQ:QQQ) and Market Vectors Semiconductor ETF (NYSEARCA:SMH).

Outliers & Strategy
Key measures:
Earnings Per Share: The current Street estimate is $0.52 (range $0.45 to $0.55), and has increased from $0.43 three months ago (Source: Yahoo Finance). Intel typically provides a "clean" number that is comparable to consensus, but will otherwise publish a non-GAAP, if need be.
Revenues: Company guidance was increased on June 12th to a range of $13.4 bln to 14.0 bln (from $12.5 bln to 13.5 bln). Analysts expect an increase of 6.8% y/y to $13.68 bln (range $13.0 bln to $14.0 bln).
Gross Margin: Company guidance was increased by 1% on June 12th to 62% to 66%, so 64% is the mid-point.
Revenue Guidance (Q3 2014): Analyst estimates are for $14.03 bln (range $13.40 bln to $14.56 bln). On June 12th, the company said it now expects some revenue growth for the year, rather than its previous expectation for revenues to be flat.
Gross Margin Guidance (Q3 2014): Analysts expect 63.2%, according to Zacks Institutional Services.
Gross Margin Guidance (FY 2014): Company guidance was increased on June 12th to the upper half of its previous range, or to approximately 61% to 64% (from 58% to 64%). A new full-year margin range is to be provided with the earnings release.
Intel shares are yielding 3.0%, and above the industry average of 1.9%, which helps against downside risk. Intel's yield slipped below the 5-year average of 3.3% with the recent stock price advance. Intel usually declares a dividend in the last ten days of July, and there's some speculation around a possible increase.
Intel announced stock buybacks of $10 bln in 2011 and $6 bln in 2012. April 2014 began with $2.6 bln still available for buybacks under its current plan, and would sustain the current rate of buybacks through the first half of 2015. In the last three months, insiders have sold 633,246 shares, and 4,061,154 shares in the last twelve months.
Intel has a 1-day average price change on earnings of 3.54%. Options are pricing in an implied move of 2.63% off earnings.
Recent News
06/23: Cowen and Co. claimed that Apple (NASDAQ:AAPL) is currently in talks with Intel over the possibility of having the company supply the baseband processor for the iPhone 7, according to a post on WallStCheatSheet.com.
06/13: S&P Capital IQ reiterated a Buy rating on Intel after the increased guidance citing more upside from Windows 7 adoption and a belief that tablet cannibalization is moderating, according to a post on Benzinga.com.
Technical Review
Intel only recently moved above the 2012's first-half high, so has lagged the general bull market of the last two years and would have to rise 30% to catch up. That's probably one reason for market reaction when guidance was increased on June 12th, when the stock price jumped well above the 2012 high. Since the increased guidance, the stock has had near-term support between $29.50 and $30. The biggest near-term worry is the stock has shown some seasonal weakness in late summer and that carried over into the fourth quarter two years ago. A false breakout on a return below $27 could be a significant change, but the bulls have the upper hand otherwise. (Chart courtesy of StockCharts.com)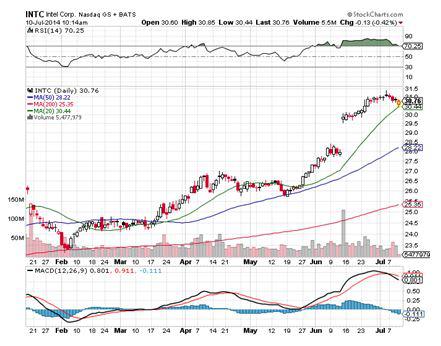 Summary
Intel has alternated quarters for beats and misses versus earnings, and the stock has acted accordingly. After a beat last quarter, market participants appear leery of the increased analyst expectations. If earnings can meet consensus with solid Q3 guidance suggesting revenue continues above $14 bln with firming margins, the market likely reacts favorably.
DISCLAIMER: By using this report, you acknowledge that Selerity, Inc. is in no way liable for losses or gains arising out of commentary, analysis, and or data in this report. Your investment decisions and recommendations are made entirely at your discretion. Selerity does not own securities in companies that they write about, is not an investment adviser, and the content contained herein is not an endorsement to buy or sell any securities. No content published as part of this report constitutes a recommendation that any particular investment, security, portfolio of securities, transaction or investment strategy is suitable for any specific person.
Disclosure: The author has no positions in any stocks mentioned, and no plans to initiate any positions within the next 72 hours. The author wrote this article themselves, and it expresses their own opinions. The author is not receiving compensation for it (other than from Seeking Alpha). The author has no business relationship with any company whose stock is mentioned in this article.