By Craig Bowles
Overview
Yahoo, Inc. (NASDAQ:YHOO) is slated to report Q2 2014 earnings after the bell on Tuesday, July 15th. The earnings release is expected at approximately 4:05 p.m. EST, with a conference call to follow at 5:00 p.m., available through Yahoo Investor Relations. The company is a component of the S&P 500 and Nasdaq 100 Indices. Yahoo holds a 23% stake in Alibaba, and will sell 40% of that stake in Alibaba's IPO.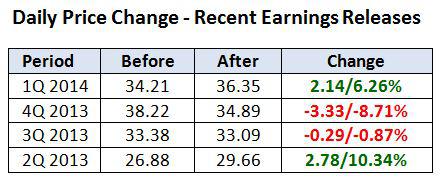 Outliers & Strategy
Key measures:
Non-GAAP Earnings Per Share: The current Street estimate is $0.38 (range $0.31 to $0.48). (Source: Yahoo Finance).
Revenues: The current Street estimate is $1.08 bln (range $1.04 bln to $1.11 bln).
Yahoo shares are trading at 28.7x earnings, 7.9x sales, and 2.7x book value - a slight premium to the five-year averages of 23.1x, 5.1x, and 2.0x, respectively.
Insiders have sold 223,301 shares the last three months and 42,596,683 shares over the last year.
Apart from the earnings and revenue figures, other variables that could impact post-market trading include display revenue, ads sold, paid clicks, and price-per-click.
Yahoo shares have a 1-day average price change on earnings of 5.47%. Options are pricing in an implied move of 0.79% off earnings. Options suggest the focus is more on the Alibaba IPO, so this earnings release will likely have less of an impact than normal.
Recent News
07/10: Of increasing importance to investors is how Yahoo plans to use the cash generated from the Alibaba IPO, and analysts are expecting CEO Mayer to add some clarity with this earnings release, according to a post by MarketWatch.com.
07/01: Yahoo's TV programming efforts continue with the cancelled NBC cult comedy, Community. Thirteen all-new episodes will be available for streaming exclusively on Yahoo Screen, according to a post by Entrepreneur.
06/30: A Piper Jaffray analyst upgraded Yahoo stock to Overweight from Neutral, due to Alibaba's implied valuation of $221 billion, with the current cash balance using comparisons to similar companies' valuations. Alibaba's value in Yahoo, using a sum-of-the-parts valuation technique, has been raised from a previous estimate of $22.3 billion to $28.7 billion, according to a post by Investors Daily.
06/23: Alibaba's growth is slowing. The company's fiscal 2014 revenues increased 52.1%, slower than the 72.4% growth in fiscal 2013. For the three months ended March 31, 2014, the operating margin decreased to 45.3% from 51.3% in the year-ago quarter, according to a post by Zacks Equity Research.
06/05: Bank of America reiterated a Buy rating on Yahoo after its annual Tech conference where Yahoo CFO Ken Goldman highlighted a core business still in transition and management's intention to be good stewards of capital, according to a post on Benzinga.com.
Technical Review
Yahoo shares moved up over 250% from October 2012 through 2013 before consolidation. A 5-year comparison with the overall market shows the company remained relatively flat from 2009 into 2012, so has now caught up with the overall market and is probably more inclined to be a market performer at this point. The short-term moving averages being below the long-term isn't as much of a concern given the still upward trend line. Since March, the balance area is $32.50 to $37.50. (Chart courtesy of StockCharts.com)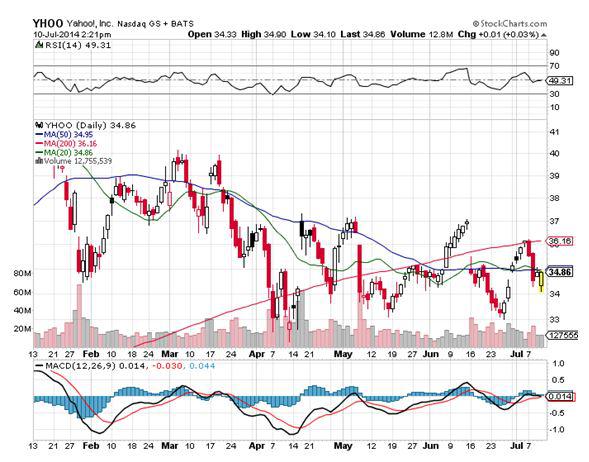 Summary
The company has beaten estimates in each of the last four releases, but the market reaction has varied. Earnings probably need to come in above $0.39 with revenue above $1.09 bln for a positive market response. Apart from the earnings and revenue figures, other variables that could impact post-market trading include display revenue, ads sold, paid clicks, and price-per-click. The Alibaba IPO is expected in the next couple of months, and then analysts will shift their focus back to Yahoo's core business transition.
DISCLAIMER: By using this report, you acknowledge that Selerity, Inc. is in no way liable for losses or gains arising out of commentary, analysis, and or data in this report. Your investment decisions and recommendations are made entirely at your discretion. Selerity does not own securities in companies that they write about, is not an investment adviser, and the content contained herein is not an endorsement to buy or sell any securities. No content published as part of this report constitutes a recommendation that any particular investment, security, portfolio of securities, transaction or investment strategy is suitable for any specific person.
Disclosure: The author has no positions in any stocks mentioned, and no plans to initiate any positions within the next 72 hours. The author wrote this article themselves, and it expresses their own opinions. The author is not receiving compensation for it (other than from Seeking Alpha). The author has no business relationship with any company whose stock is mentioned in this article.