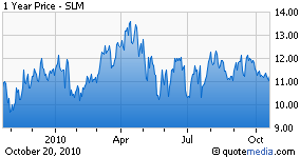 Click to enlargeSLM (NYSE:SLM), commonly known as Sallie Mae, reported third quarter core earnings of $189 million or 35 cents per share, ahead of the Zacks Consensus Estimate of 27 cents. The results compare favorably with the prior-year quarter's core earnings of $164 million or 26 cents per share. The better-than-expected results were primarily driven by higher interest income on its student loans.
However, on a GAAP basis, Sallie Mae reported a quarterly net loss of $495 million or $1.06 per share, compared with a net income of $159 million or 25 cents per share in the year-ago quarter.
The quarterly loss reflected a $660 million goodwill and intangible asset pre-tax impairment charges and a $183 million unrealized, mark-to-market, pre-tax loss on certain derivative contracts.
Behind the Headline Numbers
After provisions for loan losses, core net interest income was $397.8 million, up from $376.8 million in the prior quarter and significantly above $241.7 million reported in the year-ago quarter.
However, as a result of the signing of the student loan reform act by President Obama in March, which forbids private sector companies from making new federal student loans after June 30, 2010, Sallie Mae stopped originating federal student loans. Besides Sallie Mae, the new act also eliminated the role of other private lenders such as Nelnet Inc. (NYSE:NNI) in originating federal student loans under the Federal Family Education Loan Program.
Sallie Mae originated $835 million in private education loans of which 92% had cosigners. Moreover, the company serviced around 2.5 million accounts on behalf of the federal government and other third-party clients in the reported quarter. It also added 1.3 million third-party accounts for servicing since the third quarter end.
As of September 30, 2010, private education loans in repayment were worth $25.8 billion compared with $21.7 billion in the year-ago quarter. The company experienced a favorable trend in delinquencies, which as a percentage of private education loans in repayment declined to 11.1% from 11.9% in the prior quarter and 12.6% in the year-ago quarter.
Private education loan loss provision was $330 million, down both sequentially and year over year. Net charge-offs were $348 million, up from the prior quarter's $336 million but down from $443 million in the year-ago quarter.
Core fee income was $227 million, compared with $337 million in the prior-year quarter. The year-ago quarter figure included a $74 million gain from debt repurchases.
The company reported core operating expense of $319 million compared with $331 million in the prior quarter and $303 million in the year-ago quarter. Core operating expense excludes restructuring costs and related asset impairments.
Last month, Sallie Mae announced its agreement to buy an interest in $28 billion securitized federal student loans and related assets from Student Loan Corp. (STU), the indirect subsidiary of Citigroup Inc. (NYSE:C). The deal is anticipated to close by the end of this year.
Our Take
The student loan reform act that restricted Sallie Mae from making new federal student loans after June 30 is a concern. As a result, the company's traditional role would change and its loan portfolio would become heavily weighted toward the higher-risk private student loans. ??????Nevertheless, we expect Sallie Mae to benefit from the Department of Education's servicing contract. The company is expected to play a major role in the contract, under which it would service and collect government guaranteed loans.
The deal with Student Loan Corp. is encouraging as it expands the company's customer base, and we expect Sallie Mae's future earnings to benefit. Finally, we believe that the company's leading position in the student lending market and its efficient cost structure would also provide it with an edge over its peers.
Sallie Mae shares retain a Zacks #3 Rank, which translates into a short-term Hold recommendation. We have a long-term Neutral recommendation on the stock.
Disclosue: Np positions