As we find ourselves heading into yet another action-packed earnings season, I wanted to take a closer look at the upcoming earnings for one particular company in the technology sector and share my thoughts on what needs to happen in order for Intel Corp. (NASDAQ:INTC) to meet and/or surpass analysts' expectations when the company announces its second-quarter results on July 15.
Upcoming Earnings Outlook
When it comes to the company's upcoming Q2 earnings, there are a number of things potential investors should consider, especially since analysts are currently calling for INTC to earn $0.52/share (which is $0.14/share higher than what the company had reported during Q1 2014, and $0.13/share higher than the company had reported during the year-ago period) on revenues of $13.68 billion.
In order to meet and/or exceed its quarterly EPS estimates, I'd like to see a 2.5% to 3.5% increase in the company's revenue (revenue of $12.8 billion was reported during Q1 2014), a 3.3pt to 4.0pt increase in the company's gross margin as compared to Q1 (a gross margin of 59.7 was reported during Q1 2014), an increase of 1.1% to 2.5% in its R&D and MG&A spending (R&D and MG&A spending of $4.9 billion was reported during Q1 2014), a 4% to 6% increase in the company's operating income (operating income of $2.5 billion was reported during Q1 2014), and lastly, an 8% to 10% increase in the company's net income (net income of $1.9 billion was reported during Q1 2014).
That being said, I only have one concern with the company's upcoming quarter, and that is with its tablet shipment expectations. We all know that Intel shipped just 5 million tablets during Q1, and if the company plans on meeting and/or exceeding its target of 40 million shipments, the company will have to average 11.66 million shipments in each of the three remaining quarters.
Updated Revenue Revisions Look Promising
Trends in PC demand can weigh quite heavily on the revenue generation of many of the other names in the chip sector. However, and after citing the recent turnaround in PC demand (from a steady, sustainable decline over the last few years to falling much less than had been expected in the last few quarters), Intel now expects Q2 revenue of $13.4B-$14B, which is much better than prior guidance of $12.5B-$13.5B and a considerable improvement over the $13B consensus estimates. In my opinion, growing corporate demand and a continued spike in sales for Windows operating systems (most notably Windows 7) should help in leading the charge toward higher revenues on both a quarterly and annualized basis for Intel.
Recent Trend Behavior
On Thursday, shares of INTC, which currently possess a market cap of $155.6 billion, a forward P/E ratio of 14.73, and a PEG ratio of 2.47, settled at a price of $31.26/share. Based on a closing price of $31.26/share, shares of INTC are trading 2.61% above their 20-day simple moving average, 10.73% above their 50-day simple moving average, and 23.29% above their 200-day simple moving average.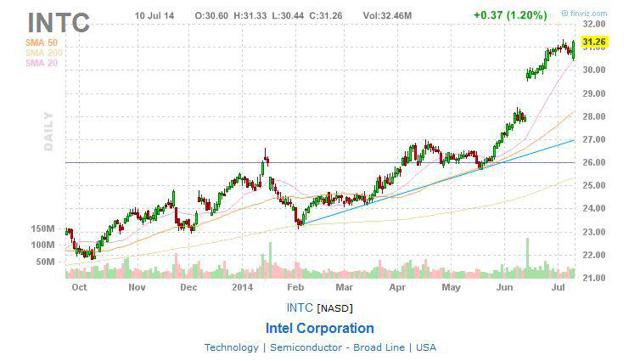 It should be noted that these numbers indicate a short-term and mid-to-long term uptrend for the stock, which generally translates into a buying mode for most near-term traders and many long-term investors.
If the company can demonstrate a stronger-than-expected earnings performance when it announces Q2 results on July 15, there's a very good chance the company's trend behavior will move in a sustainably positive direction.
Joining Forces To Develop An Industry Standard
Earlier this week, it was announced that Samsung (OTC:SSNLF), Broadcom (BRCM), Atmel (NASDAQ:ATML), Intel, and Dell have teamed up to create a standard by which household gadgets communicate with each other, called the Open Interconnect Consortium. Aimed at competing with the AllSeen Alliance, a similar framework supported by Qualcomm (NASDAQ:QCOM), LG (OTC:LGEIY), Microsoft (NASDAQ:MSFT) and other companies, the Open Interconnect Consortium looks to establish how smart devices work together, in a trend increasingly called the Internet of Things. In addition to household gadgets and their subsequent communication, one of the additional focal points will be on home security systems, which is something the AllSeen Alliance has lagged in addressing versus those in the Open Interconnect Consortium.
According to its website, the Open Interconnect Consortium will define connectivity requirements to ensure the interoperability of the more than 30B devices that are projected to come online by 2020, which translates into the potential for considerable long-term sales growth, especially if Intel plays a key role in the continued development of such devices.
Conclusion
For those of you who may be considering a position in Intel, I'd actually look to keep a closer eye on any further developments with regard to the recent enhancements in PC demand, as well as its ability to generate higher sales through its position in the Open Interconnect Consortium. By demonstrating increases in its revenues, gross margins, and both its operating and net income, there's really no reason why the company's Q2 earnings should stray off their expected course.
Disclosure: The author is long INTC, QCOM. The author wrote this article themselves, and it expresses their own opinions. The author is not receiving compensation for it (other than from Seeking Alpha). The author has no business relationship with any company whose stock is mentioned in this article.