Delta Air Lines (NYSE:DAL) is recognized as Fortune's "Most Admired Airline." It was also recognized by Business Travel News as the "Best Airline" and recognized as "Airline of the Year" by Air Transport World. There are many reasons that make DAL a fabulous airline to travel with. We also have many reasons that make it a fabulous investment at its current price. DAL scores highest in customer satisfaction and is poised to create high value for its investors.
DAL made a great recovery in earnings with 2013 serving as a testimony that it is poised for a profitable future. Delta Air Lines is making efforts to continue to improve its top and bottom lines, margin expansion and free cash flow growth. It is in a very good position to continue the growth momentum.
Ahead of the Pack Again
The March 2014 quarter revealed that DAL continues to be ahead of the pack in the airline industry. With $3,038 million per-tax income, excluding special items, DAL is ahead of its peers. The graph below compares Delta to its peers.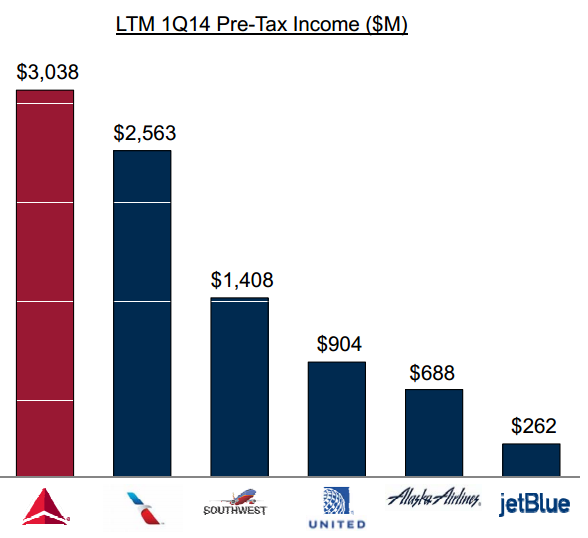 Record per-tax profit and margin expansion
DAL's continued strong financial performance tells a lot about the strengths that this airliner possesses. DAL managed to generate a record pre-tax profit of $444 million reflecting a $363 million increase year over year. DAL also managed to improve its pre-tax margin by 400 basis points. The margin expansion is the result of a cost-cutting plan that the company is pursuing with discipline.
Strong Cash Flows
In the quarter under discussion, DAL continued to generate strong free cash flows that totaled $390 million and returned $175 million to its shareholders. Delta's plan to deploy cash in a balanced way would allow it to further strengthen the balance sheet through a reduction of debt and pension net liability and would also allow it to continue to return cash to shareholders. DAL is working to implement this plan with discipline, resulting in the strengthening of the company's financials. Consequently, this makes the company a good investment for medium- and long-term investors who want exposure to the recovering airline industry.
Preparing for Greatness
The world's leading airplane producer Airbus (OTCPK:EADSF) provided its outlook of air travel in the next two decades. This outlook offers promising growth prospects for Delta. With a long history of successful business, Airbus's outlook acts as valued guidance for allied industries and stakeholders. According to Airbus, passenger traffic is expected to grow at a CAGR of 4.7%. To serve growing passenger traffic, the passenger fleet is expected to grow by 109% by 2032. The emerging markets of the Asia Pacific region, South America and Africa are expected to see a healthy growth in air travel in the coming years.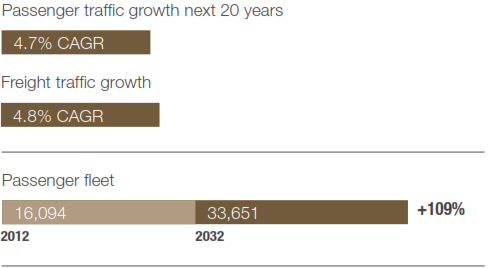 Delta Air Lines is all set to capitalize on this growth opportunity. Its long-term plan to bring more efficiency to its operations and to strengthen its balance sheet is executed with discipline and has started to pay off in the form of improvements in the profit margins and optimization of capital structure. DAL is preparing itself for greatness and investors should not ignore this investment opportunity. DAL is a good investment opportunity for investors with medium- and long-term perspectives that can wait for the company to realize the growth potential in the coming years.
Supported by Valuation
The following is the valuation of Delta's stock that includes the mean and median target price taken from the valuation made by 17 brokers analyzing the stock. Even the lowest target price is above the current price reflecting strong optimism about the company's performance. The mean and median target prices, if they materialize, offer a price return of over 30%. This is a desirable return that investors would love to earn. The most optimistic valuation expects a return of about 50% on the current price level and the most conservative valuation gives a return of about 10%. This supports our analysis that DAL is a worthy and investable stock at its current price level.

Price Dip: A Good Entry Point
The recent price dip may be a cause for concern for short-term investors eyeing speculative opportunities but it's not a cause of concern for investors with medium and long-term perspectives. This dip is in fact a good entry point to take a long position in DAL's stock.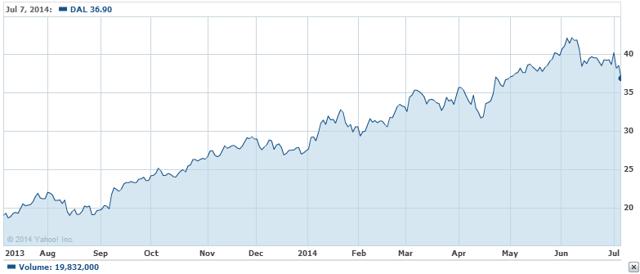 Click to enlarge
Delta Air Lines: Pushing its Limits
DAL updated its five-year plan reflecting the company's confidence that it would be able to push itself to new heights. The previous long-term goal was to achieve an operating margin of 10-12% and DAL revised it to 11-14%. The following discussion details the highlights of the updated five-year plan.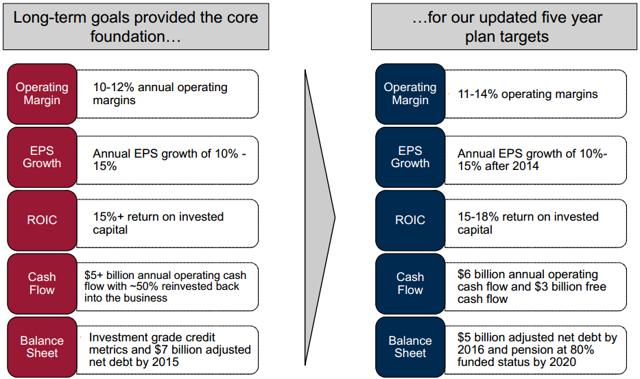 Click to enlarge
DAL's updated five-year plan aims to achieve an EPS growth of 10-15% and return on invested capital (ROIC) of 15-18%. DAL is aiming to achieve $6 billion annual operating cash flow and $3 billion free cash flow. This seems to be an achievable target given the strength of the company and its growth prospects. DAL is aiming to change its capital structure to optimize the capital composition and to reduce the cost of capital. The company aims to reduce its adjusted net debt to $5 billion by 2016. DAL has also improved the funded status of the pension liability and wants to further its plan by aiming to have a status of 80% funded by 2020.
Conclusion
DAL is putting a very serious effort into strengthening its business operations by making them more efficient and lean. These efforts have already started to pay off in the form of improvements in operating margins. There is healthy growth expected in air travel and DAL is all set to capitalize on this opportunity in the coming years. On the basis of the very optimistic valuation of DAL's stock, the company appears to be a very good investment opportunity at its current price.
Disclosure: The author has no positions in any stocks mentioned, and no plans to initiate any positions within the next 72 hours. The author wrote this article themselves, and it expresses their own opinions. The author is not receiving compensation for it (other than from Seeking Alpha). The author has no business relationship with any company whose stock is mentioned in this article.