By Dean Popplewell
Loonie slammed by jobs report
Canada's unemployment rate climbs
BoC to promote their dovish stance
By early Friday morning, the Canadian "bull" thought they were onto a good thing. Long the loonie, and on the verge of taking out its six-month highs at $1.0620, actually had some investors managing to grab "defeat from the jaws of victory" by being stopped out within minutes of Canada's employment report release.
The CAD weakened abruptly after the data showed that the Canadian economy unexpectedly lost jobs (-9.4k vs. an expected +20k gain) and the unemployment rate climbed from +7% to +7.1%. The horrid headline print would suggest that the BoC would have to continue their ongoing cautious approach. The numbers are evidence enough that there is still slack in the economy. Canadian employment continues to struggle to move above the six-month average (+9k), the unemployment rate is not declining, and wage growth remains subdued. All indicators that governor Poloz and his team will have to continue to focus on. Friday's disappointing report supports the BoC's quarterly business outlook released earlier this week, which indicated lower hiring plans.
Labour market slack combined with an uncertain economic outlook suggests that underlying inflation over the medium term is likely to remain low, in fact, surely Governor Poloz be more concerned about the downside risks to inflation? It's not just a potential European phenomenon. The disappointing report gives the BoC all the justification it needs to still sound quite "dovish" in next week's interest rate decision and quarterly monetary report. Now that the loonie has traded through key support levels ($1.0700 & $1.0720) investors should expect the dollar to be better bid on pullbacks ahead of the BoC and Poloz next week.
A look ahead
In contrast to Europe, North America will be exposed to a plethora of data releases, ranging from the US retail sales to Canadian wholesales reports, from the Fed's Ms. Yellen testimony (who is due to testify on the Semiannual Monetary Policy Report before the Senate Banking Committee, in Washington DC on Tuesday) to the BoC rate decision mid-week. Ending the week with investors getting a taste of US consumer sentiment.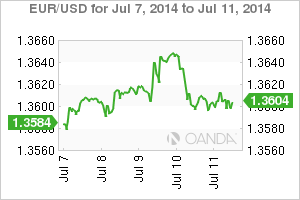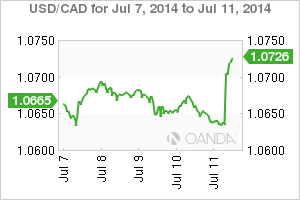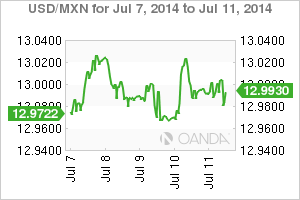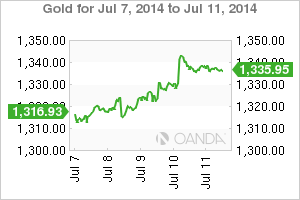 WEEK AHEAD
* GBP Consumer Price Index
* USD Advance Retail Sales
* NZD Consumer Prices Index
* CNY GDP
* CAD Bank of Canada Rate Decision
* EUR Euro-Zone Consumer Price Index
* CAD Bank Canada Consumer Price Index
* CAD Consumer Price Index
* USD U. of Michigan Confidence