Southwest Airlines Company (NYSE:LUV) is flying high as travel demand has picked up in the United States and it rolls out international routes for the first time. This Zacks Rank #1 (Strong Buy) is expected to grow its earnings by the double digits in both 2014 and 2015.
Southwest Airlines is the largest U.S. domestic airlines serving 93 destinations in 40 states, Washington DC and Puerto Rico. In May 2011, Southwest acquired AirTran Airlines, which also operated international routes to the Caribbean and Mexico.
It has been integrating AirTran into the Southwest system. On July 1, it flew its first international flights to Aruba, Jamaica and the Bahamas under its namesake brand. It will be expanding to 5 international destinations this year, including to Mexico.
By expanding to Caribbean beach destinations, it has also been able to grow its Southwest Vacations business by offering joint hotel and airfare packages.
Traffic Rises in the First Half of 2014
Anyone who has flown this year has seen how crowded the flights have been. Southwest flew 52.7 billion revenue passenger miles (RPMs) for the first six months of 2014, up 2% compared to the same period in 2013. The year-to-date load factor was 81.7% compared to 79.5% in the first six months of 2013.
In June, the good news continued as it flew 10.1 billion RPMs, up 2.2% from June 2013. Passenger revenue per ASM was estimated to have risen 7% to 8% year over year.
Record First Quarter Profit
On April 24, Southwest reported its first quarter results and beat the Zacks Consensus for the third quarter in a row. Earnings were a record for the first quarter at $0.18 compared to the Zacks Consensus of $0.16.
The company had a strong first quarter despite the awful winter weather and saw it continue into the second quarter with Easter and Passover being strong travel periods.
It intends to retire the AirTran name completely by the end of 2014, as all 52 AirTran Boeing 737-700s will have been converted to the Southwest Evolve configuration.
Due to fleet activity this year, however, with a larger than normal number of aircraft out for scheduled service, it expects relatively flat available seat miles, year over year.
Southwest has been generating healthy cash flow. In the first quarter, it generated $712 million. As of April 23, it also had $3.5 billion in cash and short-term investments on hand as well as a $1 billion revolving credit line. During 2014, Southwest intends to repay $500 million in debt and capital lease obligations.
Double-Digit Earnings Growth
The analysts are bullish on Southwest, as 5 estimates have been raised for both 2014 and 2015 in the last 30 days.
Earnings are expected to grow 37.3% in 2014 and another 17% in 2015. Southwest is expected to report second quarter results in late July.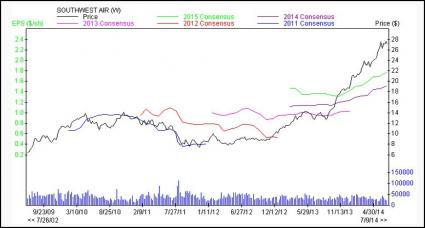 Valuation Is Still Attractive
Despite the shares soaring to new multi-year highs, the valuation isn't stretched. Southwest trades with a forward P/E of 17.7. While not as cheap as just a few years ago, it is under its historic median of the last 15 years, which is 22.
Because of its solid valuation and double-digit growth, Southwest also has a PEG ratio of just 0.9. A PEG under 1.0 usually indicates a company is undervalued.
It has both value AND growth. That is a rare combination.
For investors who want to play the hot transports, Southwest is a stock to keep on your short list.
Disclosure: None