Pier 1 Imports, Inc. (NYSE:PIR) has been in the midst of a turnaround but a recent first quarter earnings miss put that in jeopardy. As a result, this Zacks Rank #5 (Strong Sell) has seen its full year estimates slashed in the last 30 days.
Pier 1 Imports is an importer of global decorative home furnishings and gifts. It sells through retail stores as well as through its e-commerce site Pier1.com.
First Quarter Results Disappoint
On June 19, Pier 1 reported fiscal first quarter results for the quarter ending May 31. It missed the Zacks Consensus by 4 cents. Earnings were $0.16 compared to the consensus of $0.20.
It was the third miss in the last four quarters.
While same store sales grew 6.3% due to higher average ticket and an increase in total brand traffic, and e-Commerce sales came in way ahead of expectations, at 9% of total sales for the quarter, the company also was pessimistic about the retail environment.
It described it as being "highly promotional." Gross profits were also still being pressured in the near term.
Full Year Guidance Lowered
Given the retail pressures, it lowered its full year EPS guidance by 2 cents to the range of $1.14 to $1.22 from $1.16 to $1.24.
It also expects comparable sales growth, including e-Commerce, to be in the high-single digits for the year.
Analysts immediately cut estimates to match the lowered guidance. 12 estimates for fiscal 2015 fell in the last 30 days to $1.14 from $1.21.
That's still earnings growth of 13.3% in fiscal 2015.
Analysts aren't as pessimistic about fiscal 2016 either. Pier 1 is expected to grow earnings by 19.9%.
Shares Take a Beating
After the earnings miss, investors dumped the shares, which sank to a new 52-week low.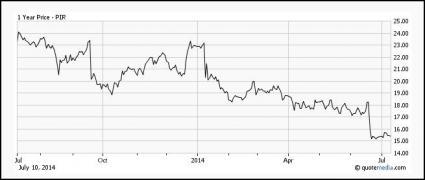 Pier 1 now trades with a forward P/E of just 13.5, which is cheap compared to the overall S&P 500, which averages 17x.
However, the Zacks Rank is a short-term recommendation of 1 to 3 months so investors with a long-term outlook may look at other criteria.
But if you're nervous about the short term, but still want to invest in a home furnishings company, you may want to consider Williams Sonoma Inc. (NYSE:WSM). It is a Zacks Rank #2 (Strong Buy) and hasn't missed on earnings in 5 years.
Disclosure: None