Recently on Seeking Alpha there has been a couple of articles exploring the possibility of using buy-write (covered-call) ETFs as a means to obtaining a superior return and income relative to an S&P 500 dividend ETF. Nathan Buehler decided (here) that neither PowerShares S&P 500 BuyWrite Portfolio ETF (NYSEARCA:PBP) nor Horizons S&P 500 Covered Call ETF (NYSEARCA:HSPX) was able to match returns of SPDR S&P Dividend ETF (NYSEARCA:SDY). Both ETFs did offer higher dividends, however, and PBP did so by a substantial margin.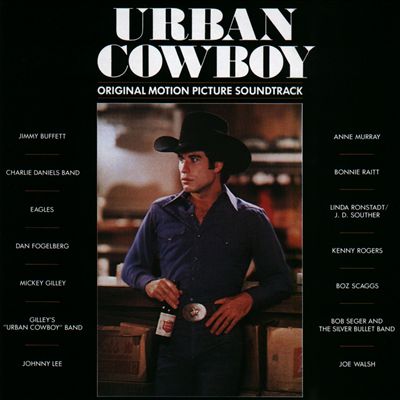 Remember that old country tune "Lookin' for Love (in All the Wrong Places)?
"I was lookin' for love in all the wrong places,
Lookin' for love in too many faces"
-- Bob Morrison / Pat Ryan / Wanda Mallette
For an investor looking for high income and returns competitive with a fund like SDY, the choice is not an ETF; it's a CEF: a closed-end fund. CEFs do not get the attention or respect of ETFs these days, but they are the oldest investment fund vehicle around. Closed-end funds excel at providing income, and the best accompany that income with excellent total returns. Covered-call funds are a particularly strong category for CEFs, so anyone considering this category would be well advised to not exclude CEFs from those considerations.
Let's compare some large-cap, covered-call CEFs with the ETFs cited above.
The Funds
Eaton Vance Tax-Managed Buy-Write Opps (NYSE:ETV) invests in S&P 500 and NASDAQ stocks and uses a covered-call and options strategy to provide return. It is unleveraged.
Eaton Vance Tax-Managed Buy-Write Inc (NYSE:ETB) invests in S&P 500 stocks, uses the same strategies, and has the same management team as ETV. It too is unleveraged.
Dow 30 Enhanced Premium & Inc (DPO) from Nuveen follows the DJ Industrial Average rather than the S&P 500, but it also applies a covered-call and options strategy to the large-cap sector, so I'll throw it in here as well. It is leveraged at about 25%, unusual for a buy-write CEF.
Dividend Yield
For a start, let's look at income. Yields for the three ETFs and the three CEFs are:
| | | |
| --- | --- | --- |
|   | Funds | Current Yield |
| ETFs | PBP | 6.93% |
|   | HSPX | 1.65% |
|   | SDY | 1.82% |
|   |   |   |
| CEFs | ETV | 8.91% |
|   | ETB | 8.09% |
|   | DPO | 6.29% |
Pretty good so far, right? But what about total return? Is that high income attained at the cost of capital appreciation?
Total Return
Let's start with the complete data for the period that covers all 7 funds. HSPX is the youngest with a 24 June 13 inception date, so this is only a couple of weeks more than a year's returns: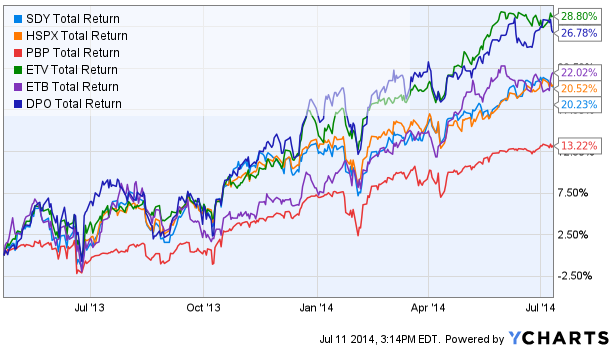 ETV and DPO lead the pack by a substantial margin. ETP comes in third about a point and a half better than the most competitive ETFs (HSPX and SDY). PBP trails the field. This is where the investor pays for PBP's outsize yield. And, as the table above shows, it's only outsize relative to the other ETFs, not when compared to the CEFs.
You're not convinced. "Too short a time frame to conclude anything," you say? Okay, let's drop HSPX from the comparison and look at the past 3 years: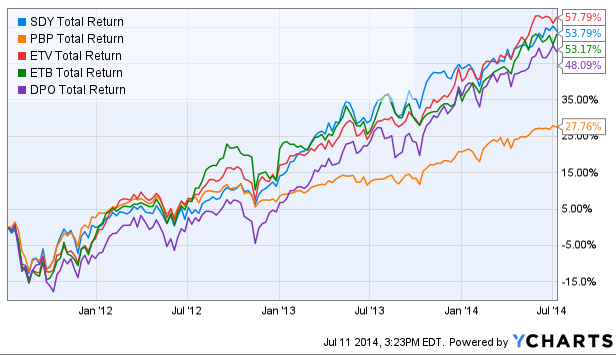 Or, even better, since the inception of PBP in December 2007, a time frame that includes the carnage of 2008-09, so it is particularly telling: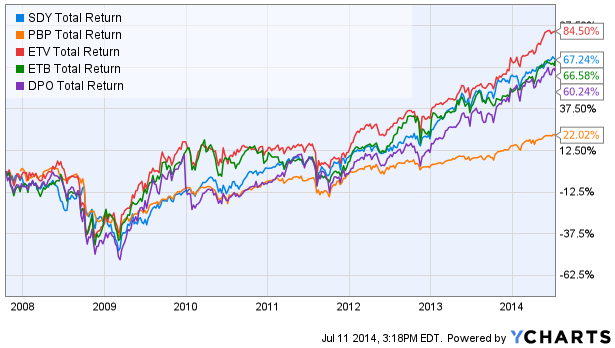 We find ETV on top again, now by a huge margin. SDY places this time but only by 66bps over the show horse, ETB. DPO trails the leaders, but PBP is running on another track all together, turning in a dismal 22% barely a quarter of ETV's winning performance.
Note that ETV and ETB both had impressive recoveries from the 2009 low points. SDY really didn't catch up until the end of 2012, from which time it stays with ETB, but falls behind ETV once again.
Summary
Summing up is easy here. If you're looking to large-cap funds for high income and capital appreciation to give excellent total return, the place of choice is not the S&P dividend ETF. It's certainly not the option-income ETFs that exploit this arena. It's option-income closed-end funds like ETV, ETB and DPO. The S&P dividend ETF is a reasonable competitor if your primary interest is capital appreciation rather than income. But even there you'd have been better off in ETV, reinvesting its distributions, than in SDY.
There are other strong performers in the buy-write closed end fund categories. One that has turned in performances comparable to these large-cap domestic funds is Cohen & Steers Global Income Builder (NYSE:INB), which invests in large-caps as well, but adds real estate and MLPS to the mix.
None of this is investment advice, of course. I'm only trying to make investors aware of an investment category they might not have considered. Anyone interested in following up on this report will certainly want to investigate fully the funds discussed here as well as other possibilities for income and total return.
Disclosure: The author is long ETV. The author wrote this article themselves, and it expresses their own opinions. The author is not receiving compensation for it (other than from Seeking Alpha). The author has no business relationship with any company whose stock is mentioned in this article.