Overview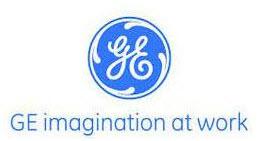 General Electric (NYSE:GE) is a solid investment vehicle worthy of consideration by baby boomers and all market participants for that matter. The stock is suitable for income and dividend investors due to the fact it provides the opportunity for both income production and capital gains over the long haul. Furthermore, the company's forward thinking programs will negate the risk of being hit with substantial capital gains taxes. In the following sections I will lay out my case as to why these statements ring true and why the stock is a buy as we speak.
Current chart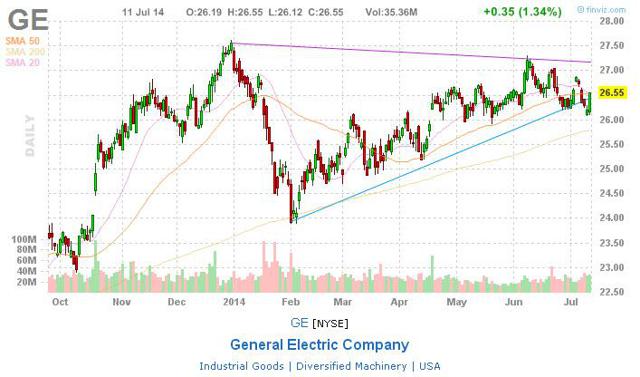 (Source: Finviz.com)
The never-ending onslaught of baby boomers has begun
According to recent statistics provided by the U.S. Census Bureau, there are 76.4 million baby boomers alive and well in the United States as of April 2014. According to a recent article provided by the AARP, millions of these baby boomers will retire over the next 18 years at a rate of 8,000 per day. The article states:
"In 2011, the first of the baby boom generation reached what used to be known as retirement age. And for the next 18 years, boomers will be turning 65 at a rate of about 8,000 a day. As this unique cohort grows older, it will likely transform the institutions of aging - just as it has done to other aspects of American life."
I completely agree with this statement. I believe this development will have a vast and long lasting effect on the stock market. Moreover, I feel this cohort will underpin General Electric's stock and bolster the company's performance over the years. General Electric's stock will meet the needs of income investors by providing a safe and steady cash flow mechanism for years to come. This fact should drive baby boomers to the stock like a horse drawn to water. This is why it may be a good investment vehicle for others as well.
The stock is not just for boomers either
The fact that the stock may end up being the investment choice for boomers leads me to believe General Electric makes a good investment vehicle for all market participants as well. Every investor, young and old, should have a well-diversified portfolio. General Electric's stock would make for an excellent pick to meet the needs of any investor in the market today. There is no disputing the fact that historically dividend-paying stocks have outperformed non-dividend-paying stocks. Taking this into consideration, General Electric offers the opportunity for an outstanding total return play for all investors. Furthermore, the company's management team is top notch and should carry the torch of success well into the future.
World class management team
General Electric's CEO Jeff Immelt has done a tremendous job of bringing a top notch executive management team together. How do I know this? The proof is in the pudding, as it were. This maxim implies that there is a lot of evidence supporting my assertion. Now let's review the proof. The highlights of the positive fundamental developments follow.
Major fundamental positives
The key fundamental metrics for General Electric are trending higher on a long-term basis. Revenues, profits, EPS and cash flow are all in great shape and accelerating as we speak.

(Source: GE.com)
Revenues are up and projected to grow
Revenues are what it's all about. If a company has declining or flat revenues, the company's stock is doomed to fall at some point. General Electric has several key initiatives in the works at this time to keep revenues flowing for years to come. I will cover these revenue generating catalysts in detail in the next section.
Earnings per share growth is strong
The earnings per share of a company, or EPS, is conceivably the most important statistic to understand before investing in a company's stock. Each time you consider starting a position in a stock, you should prudently scrutinize its earnings information. The reason earnings are so vital to investors is because they tell you about the relative profitability of a company. Whatever is not paid out in the form of dividends is placed into the retained earnings, which then become a source of capital that can be used to help support the growth of a company.
Lowest forward P/E ratio of the competition
General Electric has one of the lowest forward P/E ratios of five of the largest conglomerates at 14.59. Furthermore, General Electric is focused on streamlining operations, divesting itself of unprofitable business units, and spinning off risky financial units. General Electric plans to divest $4 billion of the expansive conglomerate by spinning off the consumer finance business in an initial public offering later this year. The company is well on its way to reaching the 70/30 percentage split with regard to where the company derives earnings. A supplementary effect of this transition could be an expansion of the current multiple as the company shifts away from the finance sector.
Strong free cash flow and hoard
General Electric has done a tremendous job of managing its finances and has a substantial cash hoard of approximately $90 billion. This money can be used to facilitate organic growth, pay dividends, buy back shares and perform merger and acquisition activities.
Growing project backlog
Driven by strong customer demand, General Electric's backlog is massive and continues to grow. The backlog currently stands at $244 billion. This is significantly higher on a year-over-year basis. The backlog has increased exponentially over the last few years.
Now that we have covered the major positive points regarding the company's fundamentals, let's take a look at how General Electric plans on keeping the ball rolling so to speak. In the following section we will review some of the major catalysts on the horizon for the company.
Major Catalysts
Foray into the energy sector
Global oil and gas reserves are flourishing but the petrochemicals are stowed away in the most challenging environments on the planet. This is where General Electric comes in. The company is working with partners around the globe to solve the perplexing issue of how to retrieve the deposits cost effectively. In the third quarter of 2015 General Electric will open a Global Technology Center in Oklahoma. This global innovation hub's focus will be to hasten innovation in oil and gas technology with the ability to unlock and retrieve the resources more efficiently. General Electric Global Research scientists have spent the last year developing breakthrough technologies in four specific areas that may crack the profitability code for these expensive endeavors. There are four major areas of focus. I wrote an in-depth piece recently covering this topic. You can find it here. I believe this may be one of the most profitable segments for General Electric's business going forward.
Transition from finance to energy multiple expansion
General Electric has just sealed a deal to purchase certain segments of a French energy company. By doing this deal General Electric will significantly expedite its goal of transitioning from a financial to an energy company. This may boost the share price simply based on expansion of the multiple, not to mention increased EPS if the deal is accretive in its final form. Many of you are most likely very familiar with this acquisition. I feel General Electric knows what they are doing in this regard. The company is well versed in European operations. I wrote a detailed piece regarding my thoughts on the acquisition which you can find here.
Aviation division inroads
General Electric's Aviation business is currently delivering on its promises for growth and appears well positioned for the future. The aviation division has an unprecedented installed base which is growing. The company is making investments in all segments of the market and securing service contracts as well. This is evidenced by the large and growing services backlog. General Electric Aviation is committed to technology leadership in the industry. The company provides value to its customers by constantly trying to outdo itself. I wrote an in-depth piece regarding this business segment which you can find here.
Nonetheless, there are always downside risks to any investment. In the following section I will highlight some of the major ones I see at this point in time.
Downside risks
The market looks like it's rolling over as we speak. Moreover, the market is at all-time highs just as geopolitical and macroeconomic risks appear to be spiking. With Japanese machine orders down 18%, European banking issues bubbling up, Greece and Portugal's debt interest rates spiking, Chinese export growth shrinking, and Israel seemingly about to go to war, anything could happen at this point. If the world does go to heck in a handbasket so to speak, this could be trouble for General Electric. Moreover, the Fed plans to stop QE in October. If you have any semblance of a memory, you should remember this was devastating to the stock market the previous times QE was pulled. I see a high probability the market may be in for a correction of some magnitude in the near future. For this reason, I would definitely layer in to any position over time to reduce risk.
Conclusion
General Electric is a great investment currently for the hoards of baby boomers entering retirement over the next 18 years. This fact alone should underpin the stock for years to come. The forward dividend yield currently stands at 3.36% and is payable on July 25th for shareholders of record June 23rd with an ex-dividend date of June 19th. Furthermore, General Electric offers potential shareholders the opportunity for capital gains and income production.
If the global economic recovery stays on track, significant shareholder wealth should be created over the coming years. The company's plan to increase the percentage of earnings derived from industrial operations bodes well for General Electric for various reasons. One major positive is the shift may trigger expansion of the P/E multiple based on the company shedding the higher risk financial segments. For all these reasons stated above, I feel General Electric offers an excellent buying opportunity for all investors today. I look forward to hearing your thoughts in the comments section.
Disclosure: The author has no positions in any stocks mentioned, and no plans to initiate any positions within the next 72 hours. The author wrote this article themselves, and it expresses their own opinions. The author is not receiving compensation for it (other than from Seeking Alpha). The author has no business relationship with any company whose stock is mentioned in this article.