While nearly three-quarters of the companies that have reported earnings this season have beaten estimates, the stock price reactions have been less than stellar. In fact, the average stock that has reported has gone down more than 1% on the first trading day following its earnings release. (For companies that report after the close, we use the next day's change, and for companies that release before the open, we use that day's change.)
There are some stocks that have reacted positively to their numbers, however. Below we highlight the 30 stocks that have had the biggest 1-day changes on their report days. As shown, Audiocodes (NASDAQ:AUDC) has had the best response with a gain of 12.50%, followed by Pinnacle Financial (NASDAQ:PNFP) with a gain of 11.24%. Ranking 3rd is technology behemoth Google (NASDAQ:GOOG) with a gain of 11.19% last Friday. Google has had the best reaction to earnings of any S&P 500 company so far this earnings season. Other noteable S&P 500 names that have had positive reactions to earnings are Boston Scientific (NYSE:BSX), Micron (NASDAQ:MU), Alcoa (NYSE:AA), Citigroup (NYSE:C), Gilead (NASDAQ:GILD), Genuine Parts (NYSE:GPC), CSX, and Capital One Financial (NYSE:COF).

click to enlarge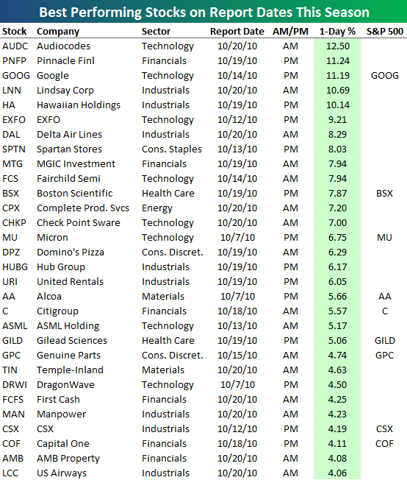 Now for the biggest losers.
Infinera (NASDAQ:INFN) has had the worst response to earnings of any US stock this season with a 1-day decline of 35.52%. Apollo Group (NASDAQ:APOL) ranks 2nd worst with a decline of 23.23%, followed by Supervalu (NYSE:SVU), FSII, and McMoRan (NYSE:MMR). Other notables on the list of earnings losers include Gannett (NYSE:GCI), Intuitive Surgical (NASDAQ:ISRG), Harley Davidson (NYSE:HOG), and Mattel (NASDAQ:MAT).