I respectfully disagree with the call of another writer to ignore the 68 million units that Apple (NASDAQ:AAPL) allegedly ordered for the iPhone 6. Taiwan's Chinese-language Business Weekly published a piece hinting that Foxconn and Pegatron might have received an initial order of at least 68 million iPhone 6 units.
Business Weekly also highlighted that the 68 million iPhone 6 initial order is twice that of the iPhone 5. Mass production of the iPhone 6 will commence this month and the phone will launch this September. The Business Weekly article was published last July 9 but it was only yesterday that major English websites noticed the story.
Based on the market's lukewarm action yesterday, investors did not buy the rumor. However, I bought more AAPL shares because this 68 million-order gossip is in line with another rumor that Foxconn is hiring an additional 100,000 workers to help in the iPhone 6 production this month.
Foxconn and Pegatron Recruit More Workers for iPhone 6
Apple's next handset is putting a lot of pressure on its OEM partners. Pegatron is also reported to be increasing its staff by 30% on one of its plants involved with Apple's iPhone 6 production. Deductive reasoning says Foxconn and Pegatron's sudden big need for more workers is one clue that Apple made a substantial order for the iPhone 6.
If Apple only made the same iPhone 5-level order, Foxconn and Pegatron will not be requiring new workers. Apple already frowns upon allegations of worker abuses in iPhone-related production.
If accurate, the 68 million initial order for iPhone 6 really compels Foxconn and Pegatron to increase their work force to meet Apple's September delivery schedule.
Several Past Leaks of Apple Products Were Proven True
I also refused to ignore the 68 million units leaked by Business Weekly because past online rumors were sometimes accurate. Tim Cook may have discouraged investors from putting too much weight on leaks. On the other hand, Apple has been cracking down on supply chain rumors since 2011. Tim Cook is highly motivated to protect his company's absolute need for secrecy.
Unfortunately, Apple's need for secrecy is hard to implement because of its long stretch of suppliers and OEM partners. The company has grown too big and too important that leaks are inevitable to happen.
Lowly paid employees in China assemble or make parts for Apple. An aggressive journalist can easily bribe somebody employed at Foxconn or Pegatron to extract information.
Fast Company has published a list of past Apple-related leaks that proved true. Here is another list of 9toMac rumors that were accurate. Tim Cook can issue new memos about why investors should ignore leaks and I still would ignore those memos.
The point is that Apple does not have 100% control over the information about its products. Leaks will also happen because Apple's suppliers and OEM partners are also sometimes motivated to drop hints to the press to make them look good to investors.
A parts supplier company can benefit from rumors that it won a fat contract for the iPhone 6.
July Production for the 5.5-inch iPhone 6
Another rumor that helped encourage me to bet on the 68 million leaked information is the report that Apple's partners might also start producing 5.5-inch iPhone 6 this month.
Two versions of the iPhone 6 is another probable explanation for Apple to put a big initial order. Foxconn and Pegatron may not only be working on a single model of the iPhone 6.
Business Weekly's 68 million leak becomes more believable when we consider that Apple might release both 5.5 inch and 4.7-inch iPhone 6 versions in September.
The company launched both iPhone 5S and iPhone 5C on the same date last year. I am compelled to believe that Apple might release the two alleged models of the iPhone 6 on the same date too.
A more recent report said Apple and its partners have resolved the battery issues. The 5.5-inch iPhone 6 is on track for September release and Apple is allegedly expecting to ship out 20 million units of them by the end of 2014.
Apple has good reasons to fast track the production of a phablet-size iPhone 6. The company is the only smartphone maker right now that has not yet joined the phablet money train.
Xiaomi is greatly outperforming Apple in China because Xiaomi has big-display smartphones. Chinese customers seem to prefer phablets nowadays. Kantar says 4 out of 10 smartphones sold in China last March were phablets.
Canalys' Q1 2014 report also revealed that phablets accounted for 34% of the total 279.4 million global smartphone shipments for the first three months of this year. Canalys says phablets accounted for 39% smartphone shipments in China, and 43% in Asia Pacific.
Conclusion
The point of this article is that several past Apple-related leaks proved true. The bigger point is that daring investors who are willing to bet on rumors can reap more money than skeptics (who only join the party after the leaks are proven true).
I increased my position on AAPL because the 68 million initial order for iPhone 6 rumor coincides with other news.
1. Foxconn and Pegatron substantially increased their work force for iPhone production.
2. Two models of the iPhone 6 may be simultaneously released in September.
3. Canalys and Kantar report that many customers now prefer the phablet.
All the above events fit nicely with last month's gossip that AlphaWise is predicting better iPhone sales for Q2. Apple's stock performance shoots up usually when the company reports better-than-expected iPhone sales numbers.
I am event-driven and when several news/rumors coincide with each other, I am inspired to raise my bets. Rumors or noise has huge influence on stock market performance.
Likewise, Seeking Alpha readers who do not want to buy the rumors should still appreciate that in spite of Apple above-$95 price levels, BarChart Opinion's short-term technical indicators still rates Apple an 80% Buy. Long-term indicators say Apple is 100% Buy.
Macroaxis' forecast engine supports the short-term indicators of BarChart Opinion. Macroaxis is predicting that Apple might hit $104.61 within the next eight trading days.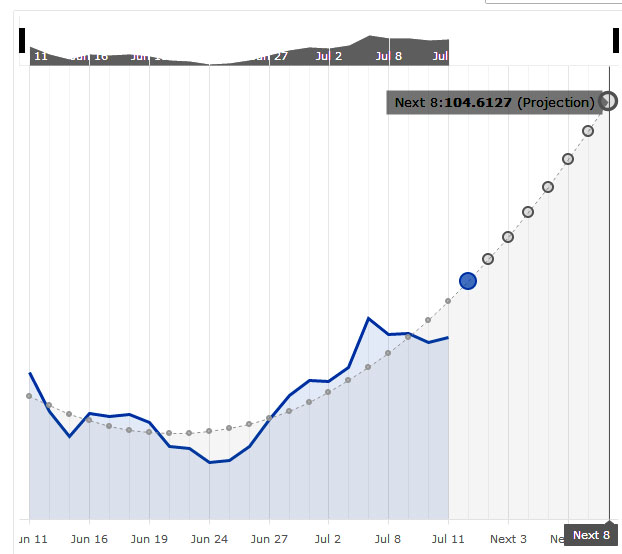 Source: macroaxis.com
Macroaxis' prediction engine also gives AAPL a Next Trading Expected Value of $97.46, with upside potential toward $100.04.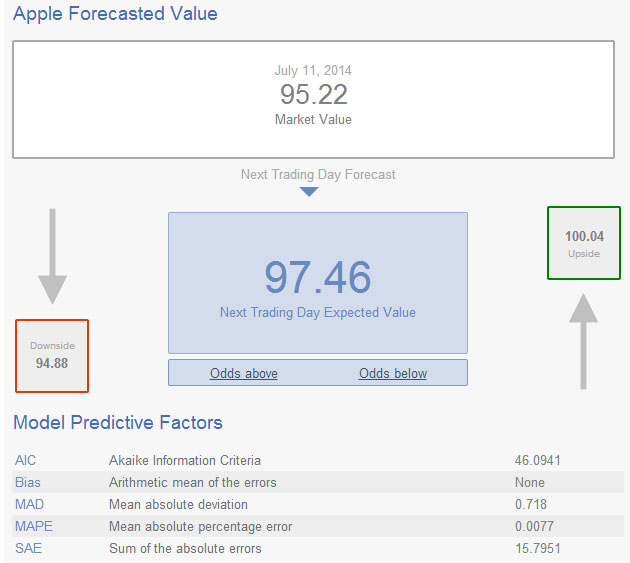 Source: macroaxis.com
Disclosure: The author is long AAPL. The author wrote this article themselves, and it expresses their own opinions. The author is not receiving compensation for it (other than from Seeking Alpha). The author has no business relationship with any company whose stock is mentioned in this article.