Medical devices major St. Jude Medical (NYSE:STJ) posted adjusted earnings per share of 72 cents for third-quarter fiscal 2010, exceeding the Zacks Consensus Estimate of 68 cents and the year-ago earnings of 59 cents. This represents the fifth consecutive quarter of outperformance.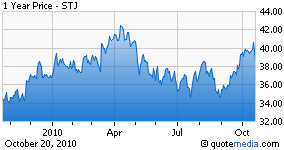 The adjusted earnings include a tax benefit associated with the federal research and development tax credit and exclude charges related to the acquisition of LightLab Imaging (acquired in July 2010) and specific technology assets. Net income surged 24.8% year-over-year to $208 million (or 63 cents a share) on the back of revenue growth across all business segments.
The Quarter in Detail
Revenues
The Minnesota-based company posted revenues of $1,240 million, up 7% year-over-year, but missed the Zacks Consensus Estimate of $1,247 million. Foreign currency translation dragged down sales by roughly $10 million.
Segment Results
Revenues from the Cardiac Rhythm Management (CRM) unit leapt 7% year-over-year (8% on constant currency basis) to $738 million riding on higher ICD sales, which soared 13% to $439 million. St. Jude and its peers Medtronic (NYSE:MDT) and Boston Scientific (NYSE:BSX) are increasingly in a tug-of-war to grab CRM share. Pacemaker sales were flat year-over-year at $299 million. St. Jude contends with competition-driven pricing pressure and heightened competition in a mature pacemaker market.
Atrial Fibrillation revenues rose 8% year-over-year to $169 million while neuromodulation revenues climbed 11% to $93 million. Neuromodulation represents an increasingly promising prospect (driven by new product introductions) for St. Jude. Cardiovascular sales were up 4% to $240 million with vascular closure and heart valve sales coming in at $86 million (down 5.5%) and $78 million (up 2.5%), respectively.
Margins
Gross margin fell to 72.6% from 73.6% a year-ago on account of higher cost of sales. Selling, general and administrative expenses as a percentage of sales declined to 35.4% from 36.8% a year-ago. Research and development expenses (as a percentage of sales) fell modestly to 12.1% from 12.3%. St. Jude's cost-management initiatives helped increase operating margins to 24.1% from 20.9% a year-ago.
Financial Condition
St. Jude exited the quarter with cash and cash equivalents of $851.6 million, a 6.7% year-over-year increase. However, long-term debt rose 21.8% year-over-year to $1.99 billion.
Outlook and Recommendation
St. Jude has lifted its earnings forecast for fiscal 2010. The company now envisions a full-year adjusted EPS in the range of $2.98-$3.00 versus the earlier projection of $2.86-$2.91. For the fourth quarter, adjusted EPS has been projected between 72 cents and 74 cents. The current Zacks Consensus Estimate for fiscal 2010 is $2.90, representing an estimated year-over-year growth of 19.5%.
While St. Jude is well positioned to grow its ICD market share driven by several new product launches, it is challenged by competition-driven pricing pressure and a sluggish CRM market and is exposed to foreign-exchange headwinds, which may dent future operating results.Our long-term Neutral recommendation on the stock is supported by a short-term Zacks #3 Rank (Hold).