The BlackBerry (NASDAQ:BBRY) Z3 smartphone has arrived in Malaysia. TuneTalk is the first Malaysian firm to offer the BlackBerry Z3 with free 500MB of data. The 699 RMB price tag translates to roughly $219. TuneTalk also allows Malaysian customers to buy up to two BlackBerry Z3.
In my previous article, I said Malaysia is a small country that may not be significant in the overall global performance of the Z3. However, a Seeking Alpha reader reminded me that Malaysian customers have higher purchasing power compared to Indonesian, Philippine, and Indian smartphone buyers. Malaysia, he said, can contribute ample sales for the Z3.
Malaysia is an Important Market
I now admit that a Malaysian, with much higher disposable income, can easily afford the $219 price tag of the Z3. The Malaysian smartphone market was already worth $2.1 billion in 2013. Malaysia boasts 140% mobile phone penetration among its 30 million people. Ten to fifteen million Malaysians are also 3G subscribers.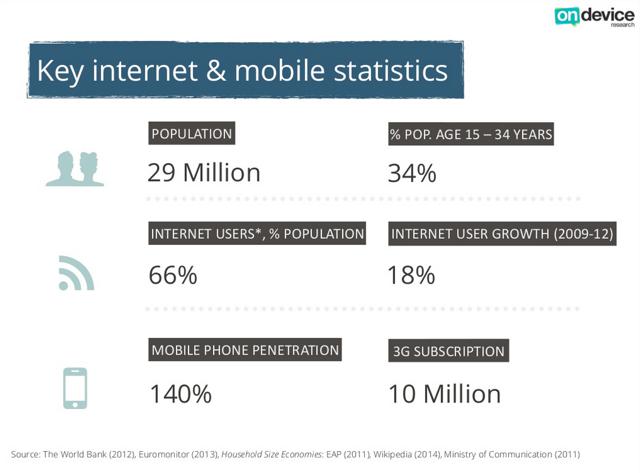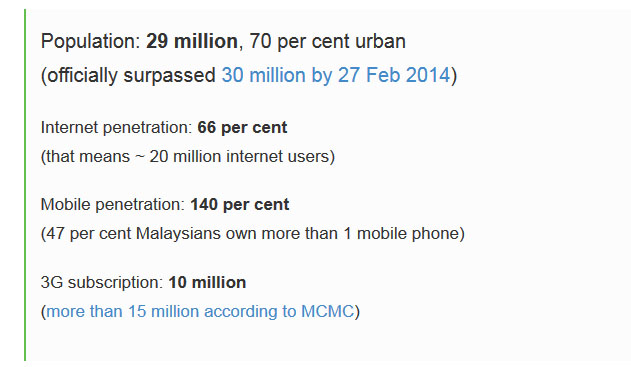 Source: e2.co
Even if BlackBerry Z3 only wins 1% of the Malaysian smartphone market this year, BlackBerry stands to gain at least $21 million in hardware sales. BlackBerry was the No.3 smartphone vendor in Malaysia last year, just behind Samsung and Apple. The Android apps-compatibility of the BlackBerry Z3 should help it grab more than 1% of Malaysia's smartphone market.
Malaysian customers are not as price-sensitive as buyers in Indonesia and the Philippines are. The mere fact that Apple (NASDAQ:AAPL) was the number one smartphone vendor in that country last year confirms many Malaysians still favor premium phones over cheap Android phones.
Malaysia's government is also offering a 200 ringgit ($62.77) rebate to encourage its citizens to buy smartphones. Malaysians can qualify for the said rebate if they are 21 to 30 years old and are earning below 3,000 ringgit ($929) monthly salary.
Mobile Data Plans For Mobile Gamers
I took note of the free 500MB data plan offer of TuneTalk for the BlackBerry Z3 because smartphone users now spend most of their playing games. Flurry's chart below shows games took 32% of iOS/Android devices' usage time.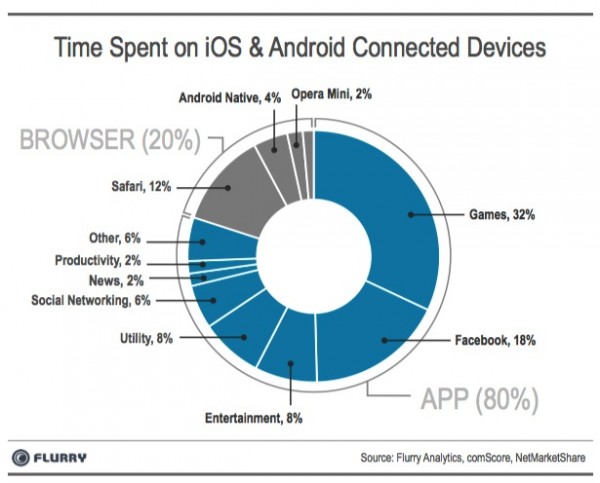 I believe that wireless carriers in Malaysia and other countries will likely sell more BlackBerry Z3 handsets if they bundle it with prepaid and postpaid mobile data plans. Massively multi-player online smartphone games are now becoming popular. Mobile gamers are exceedingly shifting towards competitive online games like what PC gamers did in the early 2000s.
Most Android and iOS games now come with Facebook/Twitter share functions. Mobile gamers get free in-game rewards to go online and share their game achievements.
Massively multiplayer online strategy iOS/Android games like Clash of Clans and Boom Beach already generates $5.15 million sales every day for the games' developer, SuperCell.
Clash of Clans and Boom Beach enjoy 29.5 million daily active users (as of February 7, 2014). These two games DAU is higher than the 27 million daily active users of League of Legends in January 2014. As more powerful but affordable smartphones like the BlackBerry Z3 is released, the more gamers will shift towards mobile online games.
The point is that mobile games are now internet-reliant. Wireless carriers can likely sell more BlackBerry Z3 units by promoting its Android games-compatibility and bundling the phones with decent amount of mobile data plan. I do not play Clash of Clans so I do not know how much mobile data bandwidth it consumes per hour.
However, in my PokerStars experience, I can play more than 12 hours of single-table poker tournaments on my iPhone 4 or Galaxy S3 on a prepaid 24-hour 15MB mobile data plan. Globe Philippines offers a 20 peso ($0.46) daily load plan, which includes free Facebook access, 15MB surfing, 20 text messages to other networks and unlimited calls to other Globe numbers.
TuneTalk also has some affordable daily, weekly, monthly mobile data plans. Instead of only offering the BlackBerry Z3 with free 500MB of mobile data usage, TuneTalk will likely attract more buyers by bundling it with a cheap 1GB monthly data plan. TuneTalk offers a RMB 50 ($15.69) monthly plan with 3GB data limit. Why not offer the said $219 phone under a $6/month data 1GB plan too.
I expect that most postpaid Malaysian and Philippine subscribers can afford a $6/month 1GB data plan. The Philippines' largest wireless operator, Smart, offers the 8GB iPhone 4S free under the 1,500 pesos ($34.88)/month Unlimited Internet Surfing plan.
Unfortunately, Smart still charges outright cash payment of 11,000 pesos ($255.81) for the BlackBerry Z10 under the same unlimited surfing $34.88/month plan.
The said pricing/bundling disparity is one of the reasons why Apple became the new social status symbol phone brand in the Philippines. My country, like Indonesia, and Malaysia, used to perceive BlackBerry phones as ultimate must-have prestige devices. Sadly, local wireless carriers are marketing BlackBerry phones to postpaid customers more expensively than other brands.
The Z3 is reportedly better in Android apps rendering and gaming than the Z10. It also comes with a larger 5-inch display - which is much better for gaming. The Z3 can comfortably run Clash of Clans and the 3D graphics-heavy Asphalt 8.
Online mobile gamers should appreciate the prestige of owning a BlackBerry phone while still being able to play their favorite games.
Conclusion
The BlackBerry Z3 is intended for emerging markets. However, the success of this phone should not only rely on the $200 price tag. Wireless providers can increase sales of the BlackBerry Z3 by bundling it competitively against iOS and Android smartphones in their postpaid plans.
Foxconn and BlackBerry need to charm wireless operators so that the Z3 is included in affordable call/mobile data plans.
Smart is offering free Nokia X on Plan 999 pesos ($23.23)/month Unlisurf plans. Smart should also include the Z3 in the said same postpaid data plan. If Smart is wary of offending Microsoft (NASDAQ:MSFT), Apple (OTC:APPL), or Samsung (OTC:SSNLF), it can just offer the BlackBerry Z3 at its Sun Cellular subsidiary.
It is important that BlackBerry and Foxconn win fair treatment/support from Asian wireless carriers. The BlackBerry Z3 is the company's best all-touch BB10 model that can help deliver the 10 million-handset-sales-annual objective of John Chen.
In spite of BBRY's recent strong upside run, BarChart Opinion's technical indicators still sees BlackBerry as a good Buy for both short-term and medium-term technical investors. Macroaxis's triple exponential smoothing forecast engine is predicting a Next Trading Day Expected Value $11.64 for BBRY.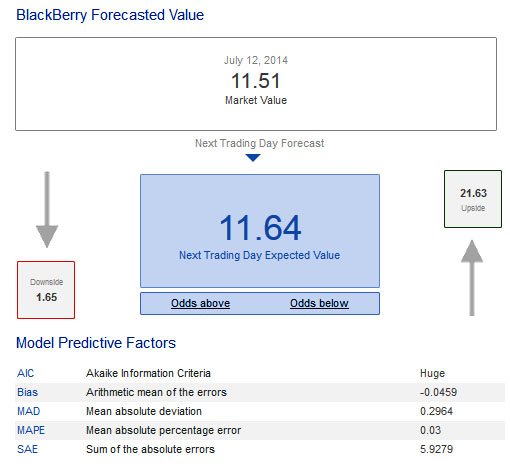 Source: macroaxis.com
Disclosure: The author is long BBRY, AAPL, MSFT. The author wrote this article themselves, and it expresses their own opinions. The author is not receiving compensation for it (other than from Seeking Alpha). The author has no business relationship with any company whose stock is mentioned in this article.
Editor's Note: This article discusses one or more securities that do not trade on a major U.S. exchange. Please be aware of the risks associated with these stocks.