Yum Brands (NYSE:YUM) reports 2Q14 earnings on Thursday before market opens. Investors who wish to listen in to the call can go to the company's investor relations site.
Heading into the Q, I will be looking at three key themes: the rebound of KFC China division, strong ramp up of the Pizza Hut China division and, finally, performance of Taco Bell and its continuous menu innovation involving Catina Bell.
YUM's KFC China division has seen stabilizing SSSg profile with sales up 11% in 1Q14, which gives comfort that consumer sentiment over the avian flu incidents have improved. I expect SSSg to improve marginally this quarter to 12% on the back of menu innovation that the company rolled out in March.
My key focus will be on the health of the Pizza Hut China division, which I see is YUM's future growth driver in the country. In my North American QSRs: Avoid The Low End, Stick With The High End, I argued that companies with a strong global profile and tailoring to the higher-income earners are the better positioned than those focusing on the low-income earners. Pizza Hut is considered a mid-end casual dining in China and it is well positioned for China's structural shift towards higher diary consumption and growing income in the lower tier cities. Furthermore, I see Pizza Hut a critical hedge to KFC given the prior avian flu issues.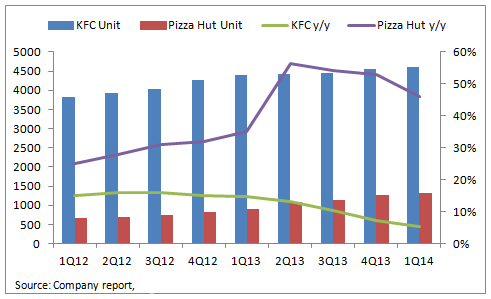 Taco Bell will be another area of focus to as the unit is catered to the lower-end income earners and is susceptible to the trend of low income earns increasingly dining at home due to the soft economy. However, I believe that the continuous menu innovation around Catina Bell and its leveraging of social media will likely drive positive comps in the quarter. I find Taco Bell's recent introduction of protein-oriented menu item while keeping the price hike to a minimal suggests superior value proposition to the average consumers. I will be buying YUM going into the quarter on recovery in China and growth in Taco Bell.
Disclosure: The author has no positions in any stocks mentioned, and no plans to initiate any positions within the next 72 hours. The author wrote this article themselves, and it expresses their own opinions. The author is not receiving compensation for it (other than from Seeking Alpha). The author has no business relationship with any company whose stock is mentioned in this article.