Chipotle (NYSE:CMG) had its initial public offering early 2006, with shares priced at $22 a pop. That very same day, Chipotle stock closed at double its entry price, at $44. Since then the stock has appreciated to $598 as of the time of this writing; the company has a market capitalization of $18.6 billion. At such a high stock price, could Chipotle still be a buy? We need to investigate the inside workings of the firm as well as the market it participates in order to form an opinion.
Fundamentals
Chipotle stock hasn't appreciated so well in the last several years for no reason - the company has excellent revenue as well as revenue growth. Chipotle's revenue has had nonstop growth, but even more remarkably, the company seems to be increasing the revenue growth rate as well. This is a very strong indicator that the company is actually speeding up, not slowing down.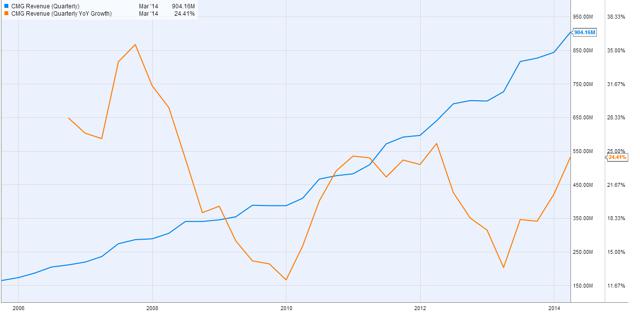 Source: YCharts
Another chart helps to reinforce the notion that Chipotle is remaining growth-focused.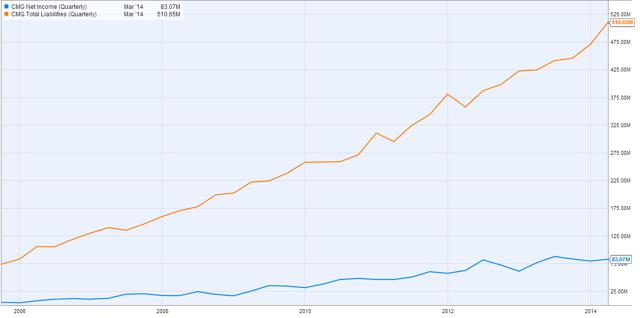 Source: YCharts
As can be seen above, Chipotle has continued to accrue liabilities, while keeping a fairly flat net income. The company is polishing itself and taking on more debt so that it can expand further; keep in mind that Chipotle is not a franchise, but has complete executive control over every store that it chooses to open. While it may seem that this model could hamper growth, it appears that Chipotle is interested in moving forward as one unit, holding each store to the level of efficiency and quality that it has become famous for. As a company continues to expand, however, management becomes more tricky. Looking at Chipotle's EBITDA margin shows us that the company is expanding while also getting more efficient.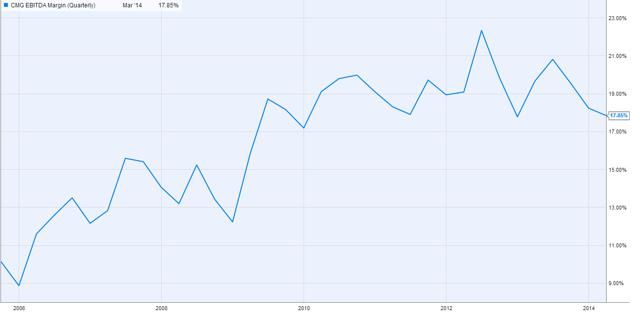 Source: YCharts
Chipotle's growth appears healthy and set to continue. The stock is currently trading at a historically moderate-to-high price to earnings ratio. This doesn't send too strong of a message in either direction as regards to ownership of the stock.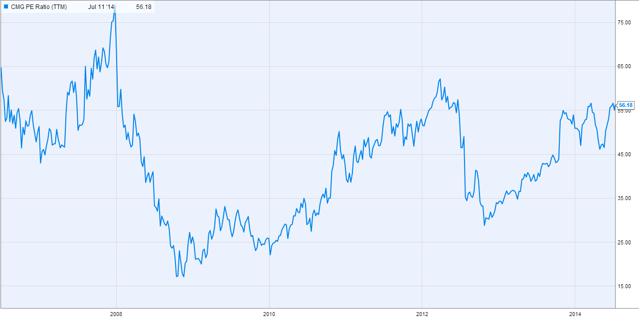 Source: YCharts
Market
Chipotle appears to be a company destined to succeed well into the future. There are several statistics that help back this up along with the firm's good fundamentals; the first is the healthy store growth of the chain: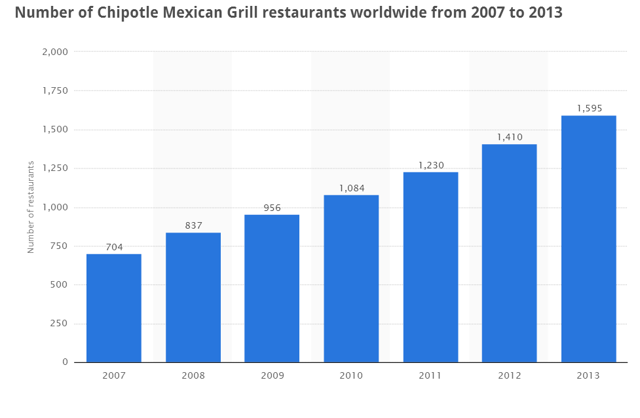 Source: Statista
So even though Chipotle isn't a franchise, the firm is managing to build new stores at a rapid pace. Chipotle has a good product as well; if you've ever tried the firm's burritos or other Mexican-inspired food items, you'll find them to be fresh and pleasing to the palate. A meta-review of surveys conducted by Statista shows statistical evidence for this notion: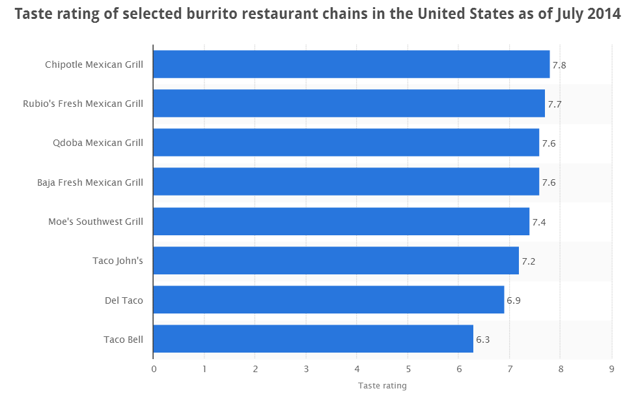 Source: Statista
Notice how Chipotle and its private competitors occupy a different 'taste bracket' than firms like Taco Bell, which compete more on price and convenience.
Conclusion
Chipotle is a fundamental powerhouse. The firm also appears to have resonance with the younger demographic, a qualitative indicator of future earnings potential. The issue is that the stock is priced very high and the price to earnings ratio is inconclusive. If you believe in the Chipotle business model and Mexican food as a culinary trend, then this stock may be a good buy for you.
Disclosure: The author has no positions in any stocks mentioned, and no plans to initiate any positions within the next 72 hours. The author wrote this article themselves, and it expresses their own opinions. The author is not receiving compensation for it (other than from Seeking Alpha). The author has no business relationship with any company whose stock is mentioned in this article.