This week, AbbVie (NYSE:ABBV) increased its bid to acquire Shire (NASDAQ:SHPG) after its initial offer was rejected by the Irish drug company. Now AbbVie is willing to pay as much as $51.6 billion to acquire Shire whose current market value is $47.5 billion. This would mean that AbbVie's latest offer adds a premium of 9% to the company's current price. As a matter of fact, Shire's market value was roughly $35.0 billion prior to AbbVie's initial offer, so we are actually talking about a pretty large premium for the investors of Shire.
Is AbbVie paying too much premium?
Last year, Shire posted $4.93 billion in revenues and $1.73 billion in operating profits. AbbVie's latest offer would value the company at 11 times its annual revenues and 30 times its operating profits. This is the fourth time AbbVie is raising its bid while Shire's stakeholders were far from convinced in the previous attempts. Currently, AbbVie is offering Shire a much larger premium than the premium Covidien investors got when the company was acquired by Medtronic. It is very typical for healthcare companies to pay large premiums for acquisitions because drugs are getting more complicated and it is getting increasingly difficult to invent new drugs for complex diseases in order to compensate for the expiration of the current patents. In simpler terms, as the healthcare industry advances in terms of technology, the drug makers have to focus on more difficult and more complex diseases in order to make a difference. Any new drug has to bring something new to the table, and this is becoming increasingly difficult, forcing companies to chase mergers and acquisitions for growth.
In the last 5 years, Shire saw its revenues grow by 64% and the company still has a lot of growth left in it. In comparison, AbbVie's revenues grew by 32% during the same period and the addition of Shire could definitely accelerate the growth rate at the company. It is highly unlikely that Shire will accept AbbVie's offer right away, but this offer could at least bring Shire's management to the negotiation table. Until now, Shire's management refused to even sit on the negotiation table with AbbVie's management. Once the negotiations begin, the final price is likely to be even larger than AbbVie's latest offer, because that offer would become only the basis for the negotiations.
Shire's growth prospects
In order to understand the deal better, we have to look at Shire's growth prospects. Shire's management repeatedly said that AbbVie's offer undervalues the company significantly even though it added a rich premium to the company's current price. Shire's current management clearly believes that the company's growth prospects are invaluable, and the company's long-term goal includes doubling the revenues to $10 billion by 2020.
The company expects to increase the sales of the existing products from $5 billion to $7 billion, and add another $3 billion to its sales as the products in its pipeline make it to the market. Last year, Shire went through a management change, and the current management puts a lot of emphasis on putting new products on the market and accelerating the company's pipeline production through innovation. In order for Shire to meet its goal of 2020, the company needs to increase its sales by about 10% each year between now and 2020, and this is consistent with the company's past performance. In other words, the company needs to continue doing what it has been doing for the last 5 years to meet its long-term target.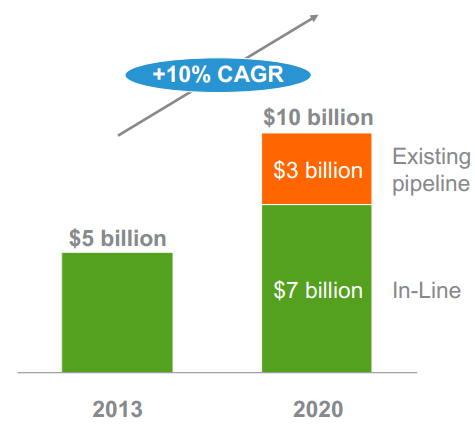 Note: The chart above was taken from the presentation from Shire's latest annual conference.
Shire's revenues rose at a compounded annual rate of 12% and the company's EBITDA rose at a compounded annual rate of 14% between 2008 and 2013. As a result of this, Shire's share price rose by 300% during this period. As the new management announced a shifted-focus towards rare diseases that are more difficult to identify and treat, Shire's growth rate will remain at least sustainable, if not robust in the coming years.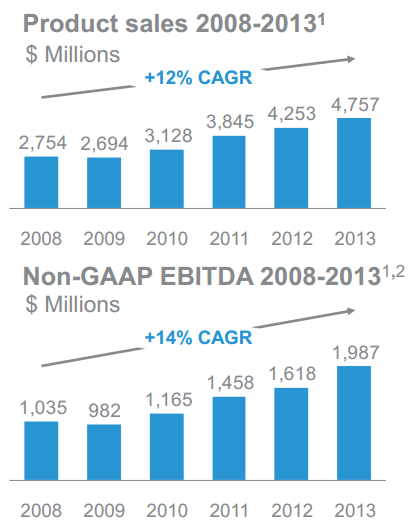 Note: The chart above was taken from the presentation from Shire's latest annual conference.
In the first quarter of 2014, Shire saw its revenues rise by 19% and the company saw double-digit revenue growth in three out of its four product lines. The Rare Diseases product line saw a 39% revenue growth followed by the GI (gastrointestinal) with a 17% growth rate, and the Neuroscience product line came third with a growth rate of 16%. These growth rates show the importance of the focus-shift that came with the new management.
Until this year, Shire used to have three R&D organizations focusing on human genetic therapies, specialty pharmaceuticals and regenerative medicine. Now these organizations are consolidated into one well-integrated organization. After the integration, Shire's scientists from different products are able to work together and leverage each other's strengths in different aspects of the job. The integrated R&D structure will also help with cost-cutting and streamlining the research processes. As a matter of fact, Shire's R&D spending as a percentage of revenues fell from 20% to 14% between the first quarter of last year and the first quarter of this year.
Even though Shire's management is skeptical about benefits of a merger with AbbVie, it is still familiar with the idea of acquisitions. Some of Shire's recent growth came from such acquisitions. The company is known to seek smaller pharmaceutical companies with promising products and add them to its portfolio. Recently, Shire acquired Lifitegrast, Premacure, ViroPharma and Lumena Pharmaceuticals to boost its portfolio. Lifitegrast, a T-cell antagonist, is considered to be one of the most effective products to battle dry eye disease, and there will be an NDA filing in the early part of next year for this product. Premacure offers a protein replacement therapy that is currently in Phase II trial in battling retinopathy of prematurity. ViroPharma and Lumena also have some interesting drugs in either Phase I or Phase II stages of trial, and these drugs are also expected to fight certain rare diseases where there are very few existing options for the patients. Going after rare diseases has always been a key for upcoming pharmaceutical companies because this allows them to survive the existing competition which will almost always have far more resources in battling more common diseases.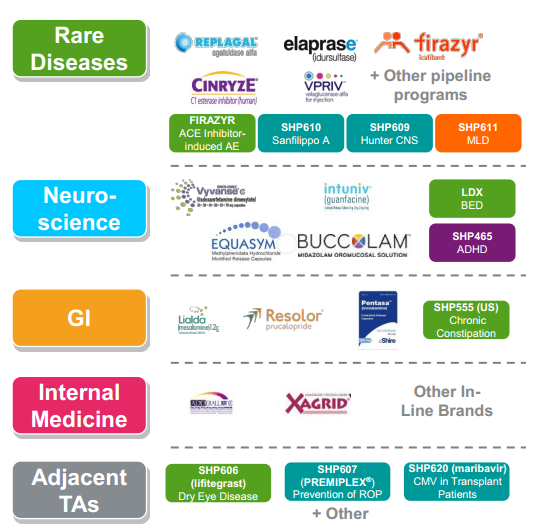 Note: The graphic above was taken from the presentation from Shire's latest annual conference.
In the first quarter of this year, Shire posted an adjusted EBITDA margin of 45%, which is a huge improvement over last year's 38%. Shire might become one of the most profitable pharmaceutical companies in the market if the company continues to improve its margins. Currently, Celgene's adjusted EBITDA margin is 44% and Amgen and Gilead follow Celgene with margins of 43% and 42% respectively. The increasingly strong margins of Shire will probably continue to attract buyers like AbbVie in the near future if the company can keep this up.
There is also the tax side to this story
For AbbVie, this acquisition also brings tax benefits. American companies are legally able to acquire a company from another country, and incorporate themselves in the location of the acquired company. This "loophole" allows an American company to avoid paying corporate taxes in the US. Since Shire is based in Ireland, AbbVie will be able to base itself in Ireland upon this acquisition, and be subject to the Irish corporate taxes rather than the American corporate taxes. In the US, the corporate tax rate can be as high as 35% compared to the Irish corporate tax rate of 12.5%. Last year AbbVie paid roughly $1.2 billion in income taxes (the tax rate for the company corresponds to 22.5% compared to Shire's tax rate of 16%) and the company would have saved nearly $500 million if it was based in Ireland for tax purposes. This is why AbbVie can afford to pay a large premium for Shire. If we assign a P/E of 15 to tax savings, this acquisition could be worth $7.5 billion on tax savings alone.
Are Shire investors supportive of this deal?
Yesterday there was some confusion regarding whether Shire investors were in support of this deal. The management of AbbVie reportedly talked to some key investors of Shire and they received some verbal assurance that the deal would be supported by those investors. Then, the company's CEO made an announcement stating this conclusion. Meanwhile, the takeover panel regulations will not allow a company to make a statement saying that "the other company's investors are in support of a deal" unless it has written consent from these investors. Basically the takeover panel regulations ban companies from using verbal statements for support of an acquisition. As a result, AbbVie had to retract its statement. This does not mean that the investors of Shire have changed their minds about the acquisition. It was simply a strategic move to avoid legal trouble.
Unless another company joins the race to outbid AbbVie, it should be able to buy Shire. Apparently, it's only a matter of time and amount-spent before this deal is complete. We will probably continue seeing a fair number of mergers and acquisitions in the pharmaceutical industry in 2014 and 2015, since a lot of larger companies struggle to fill their pipelines with game-changer projects and a lot of the smaller companies struggle with funding their operations.
What does this mean for the investors?
For investors, this can mean a few things. Shire investors should probably hold on to their shares unless they want to lock-in their profits so far. This is just the beginning of negotiations between the two companies. Shire's management sees a lot of potential in the company and the investors of the company should also share their management's vision. If the acquisition reaches completion, AbbVie's investors will also be getting a good deal. As described above, Shire comes with great growth prospects, a nice pipeline, tax benefits and the company's management seems to be very keen on creating value for the investors. I am sure that some of Shire's management will be joining the ranks of AbbVie, and they will also create more value for the AbbVie investors in the long run. If this deal works out, it might be a win-win for the investors of both companies.
Disclosure: The author has no positions in any stocks mentioned, and no plans to initiate any positions within the next 72 hours. The author wrote this article themselves, and it expresses their own opinions. The author is not receiving compensation for it (other than from Seeking Alpha). The author has no business relationship with any company whose stock is mentioned in this article.