Change that is profound seems always to begin slowly without fanfare and initially is met with unconcern, then disbelief followed by rationalization and ultimately panic. Reality descends in waves.
The message is clear and it is getting louder daily. Apple's (NASDAQ:AAPL) days in the sun are numbered.
Let's review the bidding. The largest market for smartphones on the planet is China with an estimated 420 million units to be sold this year. China represents over one in three smartphones worldwide. Despite massive effort, Apple has not really gained much traction in China.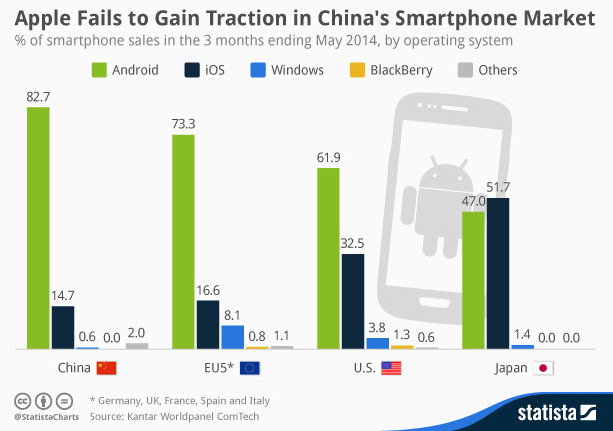 Chuck Jones had it right when he projected an ugly June quarter for Apple with 28 million iPhones and 15 million iPads shipped in the period. Those might be upside numbers.
Samsung's first quarter missed expectations by a wide mark but Samsung did not report that it was losing market share - it reported that the total market demand in China had slowed. Samsung supplies so many components to so many smartphone OEMs that it is uniquely positioned to know. Face facts. The China market is slow.
The impetus for iPhone growth in China is a combination of having a deal with China Mobile (NYSE:CHL) and expecting China Mobile (and its competing carriers) to promote the iPhone with subsidies just as North American carriers have done. That is unlikely. The Chinese government is moving to put curbs on subsidies. It seems the idea of a state controlled agency subsidizing smartphones from an American company while local smartphone vendors take it on the chin was not as palatable to the Chinese government as many hoped.
The changes have prompted some observers to comment that smartphone sales in China are unlikely to exceed 400 million units.
The news of weakness in the China market has not put a damper on the hype surrounding the iPhone 6 expected to be launched this September. Canaccord analyst Mike Walkley joined a host of other bumping up their forecasts for Apple for this year and next and forecasting a rise in iPhone average selling prices arising from the premium Apple expects to charge for the new models.
At the same time, Goldman Sachs has uttered a few words of caution on the industry demand for smartphones in a comment on the outlook for Qualcomm (NASDAQ:QCOM). Credit Suisse issued a report more or less at the same time suggesting investors look through the short-term weakness in smartphone demand and recommending Qualcomm. The Credit Suisse report also comments on weak demand for iPhones near term.
Meanwhile, Katy Huberty is projecting strong demand for the iPhone in the June quarter with an estimate of 39 million units sold, which would be a solid gain over 2013. Suffice to say the analysts are having trouble calling the outlook and the divergent views are what makes a market.
In a recent article in the Guardian, Charles Lynch wrote that iPhone users were abandoning the platform for Galaxy smartphones.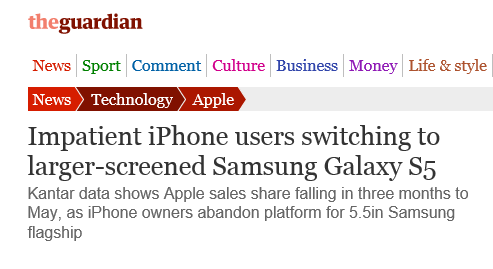 Source: The Guardian
Notwithstanding Lynch's article, the iPhone remains a top seller in the U.K. and many other European markets and the trend may well reverse with the iPhone 6 this fall. But the article does point out that current views of Apple's sales are mixed.
Some things are really not subject of much debate.
The higher forecasts for iPhone 6 demand have one implication no one seems to talk about - sales of more than 40 to 45 million iPhone 6 units will require Apple to take market share from someone and to sell 68 million iPhones - the number being bandied about as the number Apple plans to produce - will require Apple to sell somewhere around 20% of all smartphones sold worldwide from launch to year end. So far, the trend has been in the opposite direction. Apple fans don't like to talk about market share and prefer to talk about profit share, whatever that is. But a higher percentage of global units shipped is a necessary condition for Apple to sell that production unless the growth trends in the market turn sharply north in a month or two.
That makes the investment bet on Apple an interesting one. Regardless of whether you are an Apple fan or otherwise, putting your money at risk on the name should reflect the sober reality that the stock has run up materially on the expectation of a strong second half to calendar 2014. That puts it in the "earning confirmation" stage and any disappointment will very likely be punished. Expectations that Apple can grow its market share worldwide from around 15% to north of 20% on the strength of the iPhone 6 are ambitious at best, and there is more room for slippage than for outperformance.
Given where market growth is forecast, a 33% share gain will be a challenge. The market growth is happening in Asia, Africa and Latin America. Apple is barely present in those markets with the exception of its massive market share in Japan.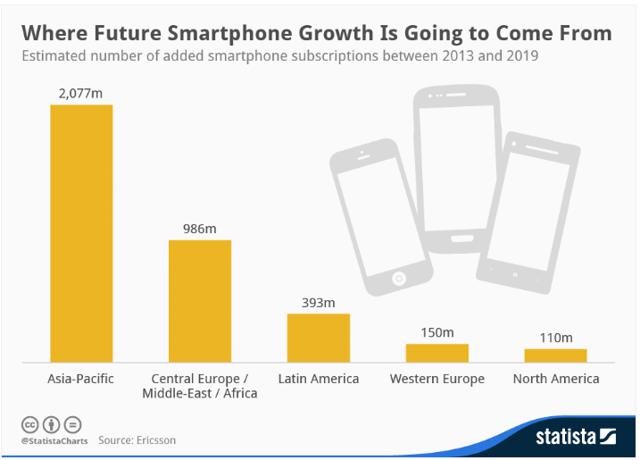 Click to enlarge
As you might expect, I think expectations for Apple are all over done and have added to my already sizeable short. I have been wrong on Apple for over a year now and may be wrong again, but my money sees more risk than opportunity in the name today.
Good luck on your investments.
Disclosure: The author is short AAPL. The author wrote this article themselves, and it expresses their own opinions. The author is not receiving compensation for it (other than from Seeking Alpha). The author has no business relationship with any company whose stock is mentioned in this article.