In our previous reports on Citigroup (NYSE:C), we concluded that investors should view Citigroup as two firms consisting of the following exposures:
Citicorp - Consists of the businesses that Citigroup has decided to retain. These businesses include Consumer Banking, Corporate and Institutional Banking and Transaction Services. Citicorp generates 93% of its revenue from Citicorp operations.
Citi Holdings - Consists of assets that Citigroup is willing to let run-off or try to sell. The goal with Citi Holdings assets is to minimize losses and expenses with these operations.
We believe this analytical framework allows us to have a prudent and rational opinion of our investment in Citigroup. We could see last year that it is making positive steps in catching up to its big bank brethren (JPMorgan Chase (NYSE:JPM) and Wells Fargo (NYSE:WFC)). Although JPM and WFC continue to post solid overall performance, we can see that Citigroup is keeping pace with those two banks. We reiterate that a rational, dispassionate investor should be able to see the changes going on with Citigroup and that this is not Charlie Prince's Citigroup anymore. Even former Citigroup critic Tom Brown of Second Curve Capital could see that the changes at Citigroup have worked out well for the company.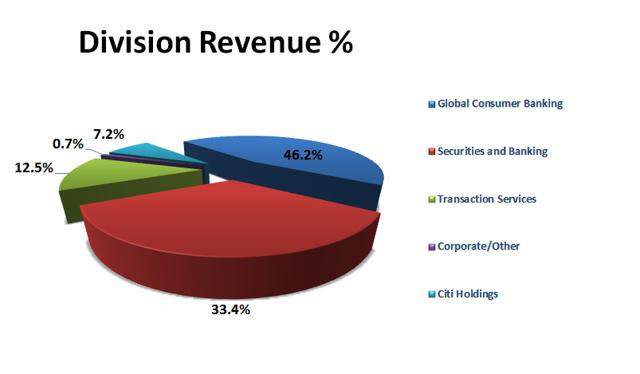 Source: Citi's Q1 2014 Report
Evaluation of Citigroup's Corporate and Administrative Performance:
Citigroup's $1.30 in adjusted EPS slightly exceeded the $1.29 expectations of the analyst community. Citigroup's projected FY 2014 EPS has slipped by $.16 (3.3%) over the last 90 days and its FY 2015 EPS has slipped by $.17 (3%). Citigroup passed its March 2013 Federal Reserve CCAR stress test in March but failed its March 2012 & 2014 tests and only passed a September 2012 makeup test). In our August 2012 report on Citigroup, we called on the Federal Reserve to allow Citigroup to repurchase at least $1B worth of stock (before the price increased by over 80% since then) and increase its dividend payout ratio from 1% to 10% ($.01/share quarterly dividend to $.10/share).
We were happy to see Citigroup go through another quarter in which it did not incur any "non-recurring charges" due to unforced strategic errors! In Q3 2012, Citigroup took a $4.68B pre-tax asset impairment charge on its remaining stake in in Morgan Stanley Smith Barney LLC. In Q1 2012 Citigroup incurred a $1.2B charge on the carrying value of its investment in Akbank T.A.S. (a leading Turkish bank). Finally, Citigroup took $1B of pre-tax charges due to repositioning activities in Q4 2012. Citigroup did incur a $210M charge related to corporate tax reforms enacted in two states. These reforms lowered marginal tax rates, resulting in a reduction in Citigroup's state deferred tax assets. Unfortunately, Citigroup is expected to incur $4B in additional charges in Q2 2014 in order to settle mortgage-related issues with U.S. regulators. Citigroup also closed the sale of its retail banking operations in Greece and Spain.
We were also pleased to see that Citigroup's net CVA/DVA charge was only $7M during the quarter, which shows that its reported EPS was somewhat comparable to its adjusted EPS. Citigroup's CVA/DVA gain/loss improved from -$310M in Q1 2013 to -$7M in Q1 2014. We were pleased to see that Citigroup was able to utilize $1.1B of its deferred tax assets in its most recent quarter and $2.5B in FY 2013. As the company reduces its credit loss provisions from its Citigroup arm and continues to see reduced losses from the reduction of its Citi Holdings asset base, we expect Citi to continue to utilizing its DTAs.
Evaluation of Citigroup's Banking Performance: Credit and Deposits
Deposits: We preferred to see stronger growth in consolidated deposits from Citigroup. Citigroup's deposits grew by -0.21% on a linked-quarter basis and by +3.48% versus last year's comparable quarter. This was not as good as the -0.39% linked quarter deposit growth and +6.67% year-over-year deposit growth that JPMorgan Chase enjoyed and the +1.43% linked quarter deposit growth and +8.3% year-over-year deposit growth that Wells Fargo achieved. Citigroup was gaining ground on Wells Fargo and JPMorgan Chase concerning deposits during the first three quarters of 2012 however; Wells Fargo and JPMorgan Chase have begun to pull away from Citi since the beginning of Q4 2012.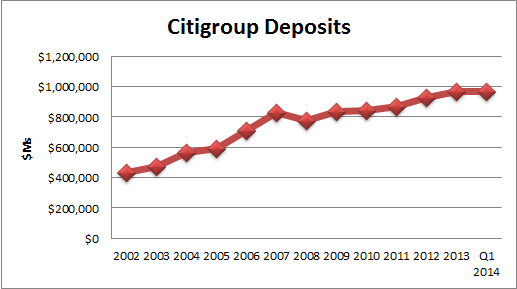 Source: Bloomberg LP
Credit Losses: We expected further declines in Citi's credit losses, especially from the Citicorp "good bank core operations" business units. Citigroup's total net credit losses declined by $439M versus last year's quarter (15%). Citi decreased its provision for loan losses, benefits and claims by $462M, which shows that Citi is reducing reliance on releasing loss reserves in order to prop up the income statement. Citicorp saw credit losses decline by $439M year-over-year (14%) and decreased its credit loss provision by $485M (15%). Citigroup's consolidated loan loss reduction of $485M was the result of reductions in credit losses of $418M at its Citi Holdings operations. Citigroup was able to reduce its loan loss provision by 20% year-over-year. This was better than the 38% increase that JPM achieved but less than the 73% that Wells Fargo achieved. We previously forecasted favorable credit trends for Citigroup and its peers however, this is dependent on the global macroeconomic environment and we continue to see a number of potential headwinds here.
Evaluation of Citigroup's Business Segments
Citi Retail Banking: Citi Retail Banking continues to see incremental growth year-over-year in investment sales, deposits and loans, however its revenues declined by 11% due to significantly lower U.S. mortgage refinancing activity and continued spread compression globally more than offset the ongoing volume growth in most international businesses. Citi Global Consumer Banking's expenses decreased by 2% year-over-year as its retail branch footprint has steadily declined for nine straight quarters. We were surprised that its credit loss provision increased by 13% year-over-year and its Net Credit Losses declined by 12% during the same period.
Citi-Branded Cards: Citi Cards's business segment generated mixed performance as its revenue grew by 1% and its income increased by 11% on a year-over-year basis and increased by 6% on a linked quarter basis. This was due to flattish average loan balances year-over-year, reduced credit provisions and reduced operating expenses versus the Q1 2013 period.
Citi Securities and Banking: Recurring business segment revenue decreased by 10% year-over-year excluding changes in the credit value adjustments on derivatives and debt value adjustment on the fair value of Citigroup's debt. Investment Banking revenues declined by 10% ($-94M) but lending grew by 38% ($63M) versus soft performance endured during Q3 2012. This was offset by softness in capital market activities. Equity capital markets revenues grew by 36% ($188M) but fixed income capital markets activities declined by 26%% ($-956M). Net operating expenses declined by nearly 4% versus the linked quarterly period and by 3% versus Q3 2012 though credit loss provisions increased by $193M. Our favorite business line in this division is Citi Private Bank but it saw its revenue increase by 82bp year-over-year and decreased by 4.8% versus the linked quarter.
Citi Transaction Services: Transaction Services has been Citigroup's island of tranquility in an otherwise truculent market from 2007 to 2011, which is why we were surprised to see unremarkable performance for it in FY 2012, 2013 and in Q1 2014. This quarter it generated a 68bp year over year revenue decline due to soft revenue performance at its Treasury and Trade Solutions business and its Securities and Fund Services business. At least the division saw a $1.2T year-over-year increase in EOP Assets under Custody. Citigroup's Institutional Clients Group saw a 10% year-over-year growth in end of period deposits, which was bolstered by 14% deposit growth from the Treasury and Trade Services business.
Citi's Securities and Fund Assets under Custody increased by 8.9% on a year over year basis, which was just under the 9.5% that J.P. Morgan Treasury and Securities Services achieved. J.P. Morgan TSS showed the same flattish revenue growth in its Treasury and Trade Services and its Worldwide Securities Services businesses during the quarter that Citigroup achieved. We reiterate our stance that if Citi Securities and Fund Services business continues to struggle, Citigroup should consider selling this business to its former CitiStreet Investor Services joint venture partner State Street (NYSE:STT).
Citi Holdings ("bad bank"): Citi Holdings was able to narrow its quarterly losses from $804M in Q1 2013 to $284M in Q1 2014 due to 61% revenue growth and a $418M reduction in its loan loss provisions. Citi Holdings revenues increased due to the absence of repurchase reserve builds for representation and warranty claims in Q1 2014, as well as higher levels of mark-to-market gains, lower funding costs versus the prior year period and a one-time gain on a debt transaction. Total Citi Holdings assets were $114B in Q1 2014, 23% below the prior year period, and represented approximately 6% of total Citigroup assets.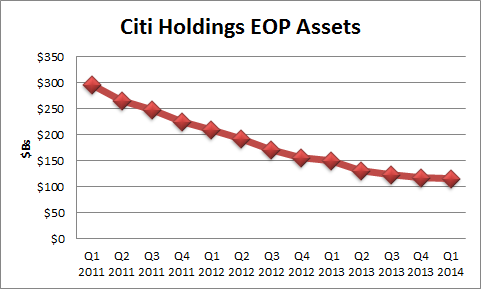 Source: Citigroup's 2012-14 Earnings Releases
Conclusion:
In conclusion, we continue to hold on to our stake in Citigroup, and selectively accumulate a larger position. We reiterate our positive outlook for the company because we see that Citigroup continues to achieve the following performance accomplishments in Citigroup's business lines:
Assets for Citi Holdings are now $114B and only represent 6% of total company assets.
Lower credit costs across Citigroup's diverse business lines
Increased credit/debit card purchase transaction volumes from Citi Cards
Lower Operating Expenses from the Securities and Banking division
Steady revenue growth from Citi Private Banking
Citigroup's share price of $47 represents a 29% discount to its book value and a 17% discount to its tangible book value
Disclosure: The author is long C. The author wrote this article themselves, and it expresses their own opinions. The author is not receiving compensation for it (other than from Seeking Alpha). The author has no business relationship with any company whose stock is mentioned in this article.
Additional disclosure: This article was written by an analyst at Saibus Research. Saibus Research has not received compensation directly or indirectly for expressing the recommendation in this article. We have no business relationship with any company whose stock is mentioned in this article. Under no circumstances must this report be considered an offer to buy, sell, subscribe for or trade securities or other instruments.