Sprint (NYSE:S) is the little guy in the United States telecommunications space. Nonetheless, the stock has appreciated heartily; it was worth less than $5 just over 2 years ago. It now stands at $~8.50 and has a market capitalization of $32.54 billion. Since the stock price is so low relative to competing players Verizon and AT&T, Sprint could continue to be a hot stock. Investors who are bullish on the telecom industry could see it as an equity that allows them greater leverage on their capital, while still permitting entry to the telecom space. This is an often-cited reason for the hot nature of Sprint's stock in the last several years, and forces such as these could continue driving the company's stock to greater heights. It's worth looking at the firm on a fundamental level to see if it's really worth your investment.
Fundamentals
Sprint has had erratic revenue behavior during the last decade. Its revenue appears to have spiked, tanked, and then rose steadily but quickly became stagnant. Its revenue growth tells the same story. What this revenue chart tells me is that the firm doesn't have a stable foothold in its industry; the market forces are pushing Sprint around without letting them maintain steady growth.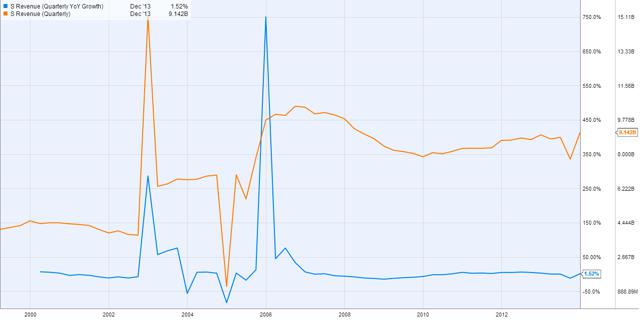 Source: YCharts
Sprint has also been taking on bigger liabilities. There appear to only be incremental periods where Sprint is paying off its debt. It appears as if Sprint will be having larger interest payments with a stagnant revenue for the near term.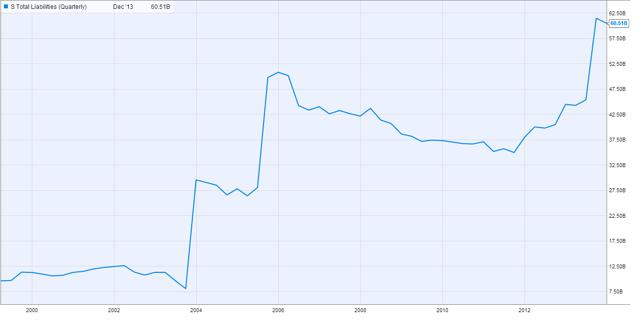 Source: YCharts
Of note is the way that Sprint's net income (post tax and interest) fell after the recession. While other firms within the telecom industry had slight perturbations during the proceeding years, Sprint's net income took a massive hit before it rebounded back to normal, non-volatile levels.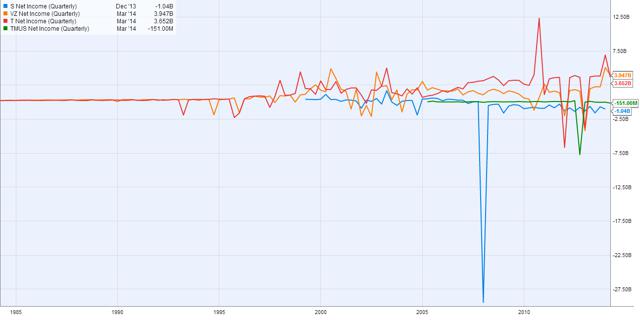 Source: YCharts
The firm also appears to have a declining cash flow. This is surprising, since you would expect higher liabilities to mean heavy and investment and distribution of capital. This may not be the case with Sprint.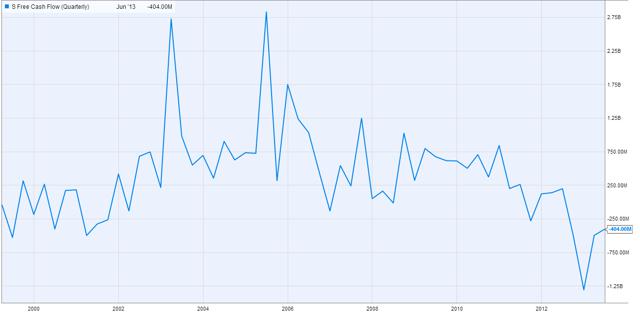 Source: YCharts
Conclusion
There are some red flags with Sprint's fundamentals. The company appears to have stagnant revenues, growing liabilities, and a weak cash flow to match. Sprint also had a very bad period following the recession, while the other telecom firms appear to have been less affected. Since Sprint is operating in a growing market, these numbers indicate that Sprint may need a shift in management or tactics. It's worth still keeping an eye on Sprint since it offers such a cheap play on the telecom sector, but for now I would say that it is not a good time to enter the stock.
Disclosure: The author is long S. The author wrote this article themselves, and it expresses their own opinions. The author is not receiving compensation for it (other than from Seeking Alpha). The author has no business relationship with any company whose stock is mentioned in this article.
Additional disclosure: Own Sprint calls.