Refiners have been under pressure since the Energy Department decided to grant two Eagle Ford producers the right to export light oil or condensate produced from their shale assets. This has been taken by the market as a sign that a wholesale effort will be made to allow full scale oil exports, something that has not happened in 40 years. Refiners have sold off 10% to 20% as a result of worries about higher input costs and lower margins for refiners as result of the decision.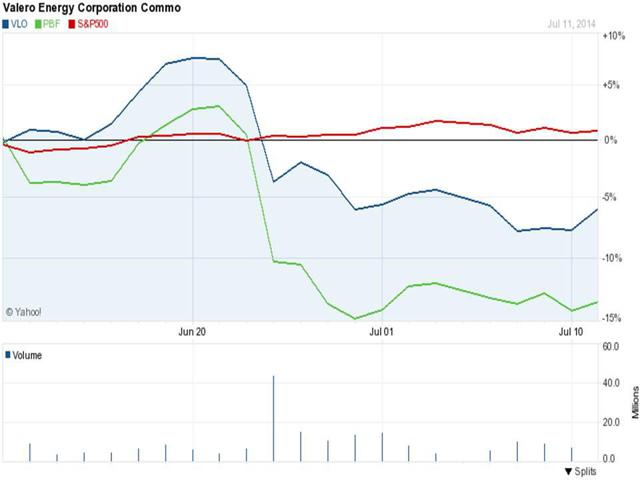 I think this is overreaction to a limited ruling. Although this administration has shown no issues with bypassing Congress or the Constitution - only to be reversed by the Supreme Court more than a dozen times and counting - I don't think the intent of this recent ruling is to open the spigot on oil exports on a huge scale.
Opening exports fully would upset Congress - and mostly members of the president's own party - which would be sure to challenge this direction. In addition, the administration has not exactly been friendly to the oil & gas industry (Ex, one year drilling moratorium in the Gulf in 2010, no decision on Keystone for over five years).
What the decline in refiners does represent in my opinion is a good opportunity to buy into or add into these extremely reasonable valued energy plays at a solid longer term entry point.
Valero (NYSE:VLO), North America's largest refiner, continues to be my favorite play in the sector. Analysts are starting to see the same opportunity in this name as I am after the stock has slid from ~$58 a share to $50. Citigroup came out the other day with a $63 a share price target on Valero. Citigroup's analyst believes Valero "will be the prime beneficiary of incremental heavy and medium crude supply on the Gulf Coast." Cowen recently reiterated their "Buy" rating and $61 a share price target on this refiner as well.
Valero is also cheap after its recent decline. The stock sells for less than nine times forward earnings, a ~45% discount to the overall market multiple. VLO has a five year projected PEG of under 1 (.76), a solid balance sheet and pays a 1.7% dividend. The 14 analysts that cover the shares have a $63 a share price target on Valero, ~25% above the current stock price.
I also continue to like and hold PBF Energy (NYSE:PBF), with refineries in the northeast of the country, at the current levels after its recent pullback. Despite concerns on margins due to recent ruling, consensus earnings estimates for both FY2014 and FY2015 are actually nicely higher from where they were three months ago before these worries were present.
Earnings are tracking to more than doubling over 2013's levels and another 10% gain is projected for FY2015. The shares are cheap at just over 7.5 times forward earnings. PBF Energy also pays a generous dividend yield of 3.7%. The company has also crushed bottom line estimates each of the last two quarters. The 8 analysts that cover the stock currently have a $34.50 a share median price target on PBF, more than 25% above the current equity price.
Disclosure: The author is long PBF, VLO. The author wrote this article themselves, and it expresses their own opinions. The author is not receiving compensation for it (other than from Seeking Alpha). The author has no business relationship with any company whose stock is mentioned in this article.