FireEye Inc. (NASDAQ:FEYE) provides IT security software for corporations and government entities to detect, remove, and prevent cyber-attacks. With a virtual-based platform, FireEye products can protect against threats in real time, and prevent threats from materializing in the first place. In short, this company is a hacker's worst nightmare. Since its IPO, FEYE has had a somewhat rocky ride, evidenced by the graph below.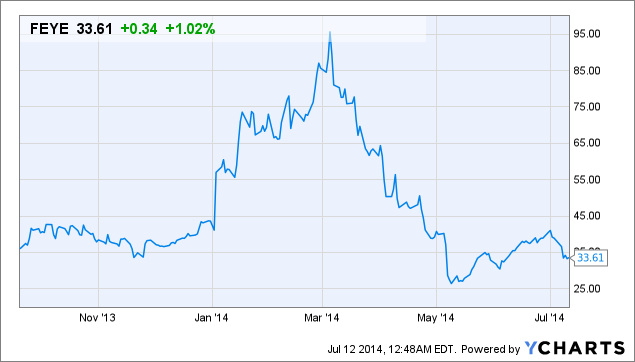 With huge gains at the start of 2014, FEYE rose to just below $100 before shedding about two-thirds of its value in a matter of weeks. FEYE is now trading at attractive levels to initiate a long position and take advantage of this company's projected long-term growth, business sustainability, and best-in-class solutions.
Industry Trends
There are many overall technology industry trends that would prove favorable for FireEye. The first is an increase in the amount of capital that will be invested in IT security through the latter half of this decade. With a CAGR of about 5-6%, IT security spending will top $7 billion by 2017. As technological solutions evolve, there is a constant need for companies to invest in security to protect themselves from cyber-security attacks. In this day and age, a company that does not invest in this security will undoubtedly see severe repercussions in the form of data breaches. This affects FEYE in an extremely positive manner, as it will see sustainable sources of revenue from both its products and subscription segments. In addition, the ability of hackers and organizations such as Anonymous to adapt to security measures and infiltrate networks should be expected to increase over time as well. This will lead to a demand for new and innovative products that corporations are willing to invest in to prevent themselves from making headlines (i.e., Target (NYSE:TGT)). One interesting statistic is that roughly two-thirds of the companies that FireEye provides services for believed their networks to be safe prior to FireEye installation. Of these companies, 95% were wrong in their belief and FireEye immediately detected malicious threats.
A second trend that should prove favorable for FEYE is the evolution of devices. I discussed the idea of the Internet of Things(IoT) in a previous article, and a more in-depth definition can be found there. In short, the IoT is the ability for objects of all varieties to connect to the Internet and communicate with each other. While FEYE currently caters its high-powered IT solutions to corporations and government entities, the consumer market is one area in which growth should be expected. As processes such as banking, shopping, and social media continue transitioning to an online platform, it is understandable that consumers will desire the ability to protect all of their sensitive data including SSNs, credit cards, bank accounts, passwords, etc. that are stored on their own devices. While many believe programs such as Norton protect against this, that is not necessarily the case, especially against real-time threats.
Products and Services
IT security basically boils down to one thing: will this software successfully thwart cyber-attacks and threats? When potential clients post this question, FireEye can confidently answer with a yes and point to the data to back up this claim. FireEye boasts a much higher efficacy rate than peers when determining the percent of threats successfully detected. In addition, without going into too much detail, FireEye has developed its threat detector in such a way that the amount of false positives or potential threats that turn out to be nothing is near zero percent. This results in a streamlined process better enabling the software to filter potential threats, detect the true threats, and ultimately remove and prevent the threat from happening in the future. This is one of the many areas where FireEye invested heavily in R&D to basically re-create an entire new platform to stay ahead of the threats.
So, what exactly does FireEye offer? In short, the FireEye platform has the ability to protect against web, file, and e-mail threats, while also detecting areas and endpoints in which the defense measures must be bolstered. Another competitive advantage is that FireEye has developed its platform on a virtual-level and integrated cloud capability to truly protect enterprise data and assets from ranges of possible cyber-threats. Various additions that can be purchased include Forensic Analysis, which shows what types of threats are currently infiltrating the network; Managed Defense, which includes 24/7 human monitoring to ensure no threat skates by; and Dynamic Threat Intelligence, which shows how the attackers operate and what they are trying to extract from the entity in the first place. The MVX (base) platform that FireEye offers is definitely the best-in-class product to date in the threat detection space and is truly unequaled in detecting malware. This fact is extremely important as IT security is an area where entities will not take a chance on cheaper or unproven software, and instead purchase the best-in-class solution.
The diverse range of products offered by FireEye truly gives the user an all-in-one solution that enables CEOs to sleep better at night knowing that the sensitive data they possess will be protected.
Business Model
FireEye has an intriguing business model in which it utilizes products and subscriptions to ensure both reliable sources of revenue and the ability to generate revenue growth. The base platform and Threat Prevention software such as e-mail or web is purchased at a one-time cost. However, services such as Forensic Analysis, Consulting, and Cloud integration are subscription-based. A large majority of enterprises will pay for various subscriptions based on their network and security needs in addition to the platform to ensure protection. FireEye also offers a range of platforms to cater to specific needs. Small businesses with five employees do not have the same security needs of government entities who may want to protect the social security numbers of American citizens, for example. FireEye offers solutions for both, and this diversity enables the company to grab a large market share instead of operating in a niche within the IT security and threat detection space.
The Target Scandal
The Target scandal in which millions of credit card numbers were extracted from servers put FireEye in an extremely negative light as Target utilized its products. However, FireEye actually had successfully detected and flagged the threats. A failure by Target's own IT security team occurred when employees failed to recognize the severity of the FireEye flagged threats and did not act. I see no reason that FireEye's stock price should have been negatively affected by this accident, as it is actual proof that FireEye's platform detected and flagged the threats, which should have been removed at that point. In addition, this scandal has led directly to other companies, specifically retailers, investing more heavily in IT security to ensure this event does not replicate on their own systems.
Valuation
FireEye is growing at rapid rates with annual top-line growth expected to be in the 50%-75% range through FY2019. While FEYE is not currently operating at a profit, this is mainly due to R&D spending, which shareholders should appreciate, and Sales and Marketing expenses. As an investor, I prefer heavy investing in R&D early on in the lifespan of a company to ensure competitive advantages. As for Sales and Marketing, this expense should decrease tremendously as a percent of revenue as revenue increases and this expense marginally increases over time. As FireEye continues growing its top-line at a rapid pace, profitability and earnings growth will surely follow.
The chart below displays the annual revenue over the last three years. This trend is actually expected to increase substantially over the next few years as revenue growth increases at a higher rate than current levels.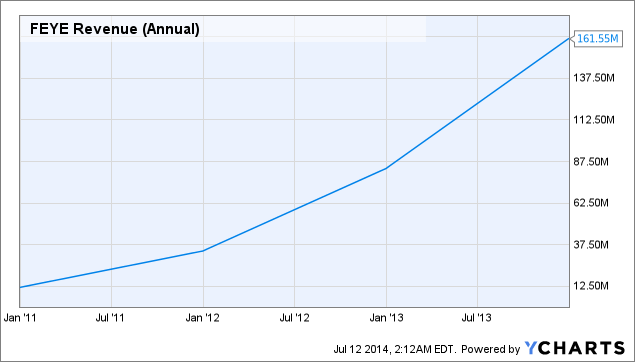 Since the company is relatively early in its lifespan and still operating at a loss, I prefer to value it based on top-line metrics such as P/S and EV/Revenue. Comparing current metrics to the company's own historical average is not an effective method due to the extreme outliers when the stock was trading upwards of $100. So, I chose instead to compare it to industry averages and apply multiples based on the amount of premium FireEye is worth. Applying an EV/Revenue of 12 (high above the industry average but lower than the current metric of 20.4) to 2015 revenue expectations of $590 million-$600 million would result in a price target of $46.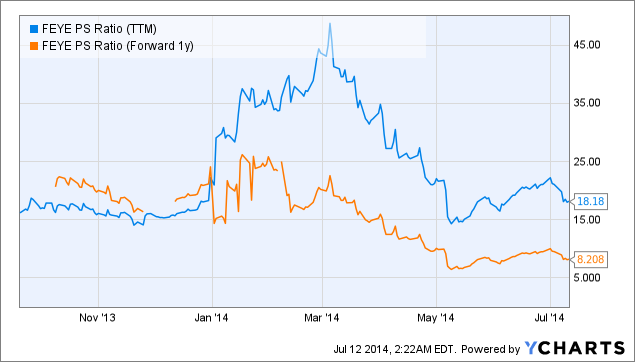 At current levels, investors are paying over 18x TTM Sales. However, current levels suggest FEYE is trading at just 8.2x 2015 Sales projections. While this is above the industry average, it is understandable considering the considerable amount of top-line growth, and the stock looks somewhat cheap on a relative basis. While there is an obvious premium for FEYE, it is justified with the high levels of growth. Examining the graphs, it seems that FireEye has most likely bottomed out and looks to be trading in a less volatile price range.
FireEye's balance sheet is pretty typical for a young tech company. With a current ratio of over 3 and no long-term debt, there is financial flexibility to possibly acquire a start-up competitor if the opportunity arises, especially in the consumer sector. Deferred revenue is about 25% of total liabilities due to the business model in which revenue is spread out across the life of the subscription (1 to 3 years on average), but cash is collected on the front end. No line item on the balance sheet jumps out as a cause for concern, and the amount of cash on hand (over $400 million) is a reassuring factor as FireEye is still operating at a loss.
My valuation suggests a slightly more bearish view on FireEye's immediate future (12 months) than Wall Street. Of the research reports updated since the release of FY2013 results, the average price target has trended in the low to mid-$50s. However, my plan for FireEye is that of a long-term hold, unless a price bubble occurs again, so I am not as caught up in where this stock will be trading at a certain point in the immediate future.
Conclusion
FireEye is poised for long-term growth in a very sustainable market. As the clear leader in threat-detection software, FireEye should be expected to gradually increase its market share as companies tend to choose the most proven provider for security needs. I recommend FireEye as a buy/hold with an 18-month price target in the upper $40s. I plan on selling if another price bubble occurs, but I foresee a much more stable price in the near term. Unlike many of my positions, I will not be adding to FireEye on major dips unless the price decrease is totally misperceived by the market or unjustified.
Risks
The major risk for FireEye is that it currently operates at a loss, and there is no guarantee that it will become profitable, despite its top-line growth. Risks to my analysis include potential headlines similar to Target's in which threat detection software does fail. Also, a breakthrough on the attacker/hacker side leading to flawed firewalls and threat detection would inevitably hurt FireEye's reputation and stock price.
Disclosure: The author has no positions in any stocks mentioned, but may initiate a long position in FEYE over the next 72 hours. The author wrote this article themselves, and it expresses their own opinions. The author is not receiving compensation for it (other than from Seeking Alpha). The author has no business relationship with any company whose stock is mentioned in this article.