Few sectors have been more hated over the past few years than coal. Coal companies have come under pressure for a number of reasons, including slowing growth in China, low natural gas prices, and opposition from the Obama administration. As shown by the chart below, Arch Coal (ACI) has not been the only coal stock to suffer over the past few years. However, at this point, I believe ACI is an interesting speculative investment idea, and I recently bought the stock.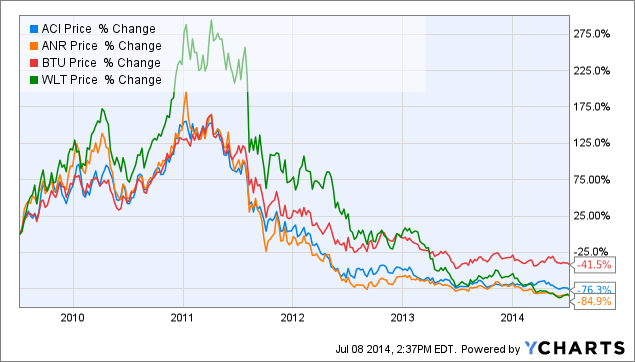 ACI data by YCharts
No Debt Maturities Until 2018
One of the main reasons why I feel comfortable taking a chance with ACI is that the company does not have any debt due until 2018. ACI also has more than $1 billion in cash. In December 2013, the company made a smart move by completing a tender offer for its $600 million worth of senior notes due in 2016 along with issuing $350 million worth of senior secured notes due in 2019. The fact that ACI does not have any debt maturities until 2018 means that the company has a time window for coal prices to improve.
Coal Prices Could Improve
Prices for both metallurgical coal, used for steelmaking, and thermal coal, used for power generation, have been under significant pricing pressure due to a number of factors. ACI is a major producer, and holds significant reserves, of both metallurgical and thermal coal. At the moment, the metallurgical coal business appears to be more troubled than the thermal coal business. However, both metallurgical and thermal coal prices are low for the same basic reason: supply is currently greater than demand. Of late, thermal coal prices have been helped somewhat by rising natural gas prices. Moody's has said that most of U.S. metallurgical coal production including mines operated by Peabody Energy (BTU) and Walter Energy (NYSE:WLT) is unprofitable and as much as half of global output is unprofitable at current prices. In my view, the current price is unsustainable. Cliffs Natural Resources (NYSE:CLF), a major producer of iron ore and metallurgical coal, recently announced that it plans to idle its Pinnacle Mining Complex which produced 2.8 million tons of metallurgical coal in 2013. Other leading miners have also said announced plans to idle mines or are considering idling mines due to current market prices. In addition to a reduction in supply due to mine idling, coal prices could also benefit from a stronger global economy which could lead to a rapid increase in power generation. Another potential catalyst for thermal coal is a more favorable Presidential administration, towards coal, in 2016. SA contributor Equity Watch laid out the more in depth bull case for coal in a recent piece and I tend to agree.
Hedge Funds Buying Arch Coal
Citadel Advisors, the massive hedge fund run by Ken Griffin, recently increased its stake in ACI to more than 5.4%. Another noted hedge fund manager, Jim Chanos, also recently purchased a stake in ACI. Chanos' move is interesting because he has an extremely negative outlook on the coal industry. Chanos is said to be short all of the major U.S. coal producers with the exception of ACI. While investors should never make decisions based on the holdings of high profile investors, I believe the fact that these two noted investors are long ACI is a positive.
Conclusion
Coal is arguably the most hated market sector right now. However, some recent examples of hated sectors that have turned to market darlings include airlines, solar, and financials. I think it is likely that coal prices are nearing a bottom and prices could move much higher over the next few years. Due to its lack of debt maturities until 2018 and hedge fund ownership, I believe ACI is an attractive way to speculate on a bottom for coal.
Disclosure: The author is long ACI. The author wrote this article themselves, and it expresses their own opinions. The author is not receiving compensation for it (other than from Seeking Alpha). The author has no business relationship with any company whose stock is mentioned in this article.