AT&T (NYSE:T) was once part of a huge firm that the government broke up for its incredible market power in the telecommunications space. The company is still massive, weighing in with a market capitalization of $185 billion. Although a bit smaller than Verizon's (NYSE:VZ) market cap of $208 billion, AT&T has roughly the same market presence as Verizon owing to similar subscriber numbers. Together these two titans dominate the United States telecom industry. With such fierce oligopolic competition, however, is AT&T still a good investment? The telecom market appears to be growing, but it's worth taking a look at AT&T's fundamentals in order to make the decision more rigorous.
Fundamentals
AT&T's revenue has grown consistently with the rise of smartphones and the overall size of the telecommunications sector. Although it's evident that the firm's revenue jumped for a time being, its growth became stagnant after the steep climb. This is a possible explanation for why the stock's price isn't as high as it was at one point.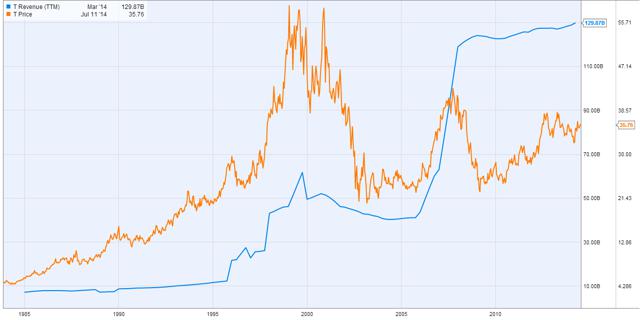 Source: YCharts
AT&T apparently took on more liabilities during this growth period. The debt helped AT&T sustain growth during a market rise, but the management stayed on the right side of the current ratio (assets/liabilities). The firm's assets consist primarily of telecommunications infrastructure; the value of this kind of asset can't simply be captured on price alone. AT&T is a huge communications provider, and the prolific rise of the smartphone market helped propel them to even higher profitability.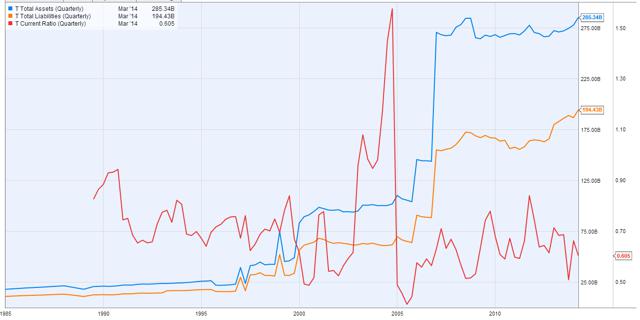 Source: YCharts
Comparing AT&T to its largest competitor, Verizon (VZ), it becomes evident that the stocks have a strong correlation. Verizon's revenue, however, appears to be sustaining more growth; the very shape of it implies a more constant growth in revenue as opposed to AT&T's jump and proceeding stagnation.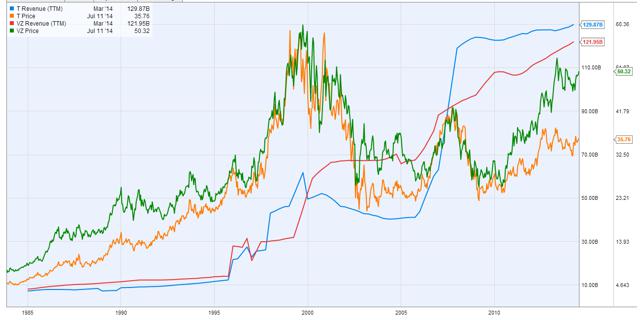 Source: YCharts
Also of note is the fact that AT&T stock is trading slightly above its 50-day moving average, an indication that either the stock is moving up or is overbought.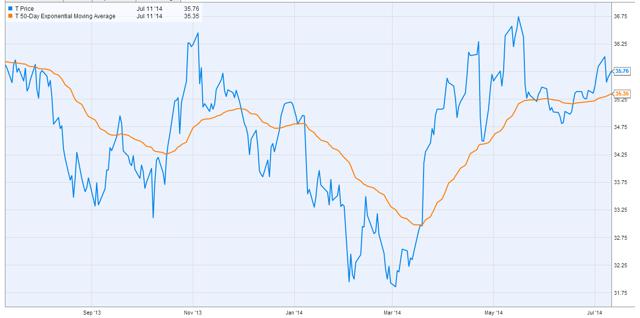 Source: YCharts
It's important to keep in mind the kind of market power that AT&T has. Along with Verizon, the two firms together account for a very large portion of the cellular market. Competitors Sprint (NYSE:S) and T-Mobile (NASDAQ:TMUS) are both shrimp in comparison:
| | |
| --- | --- |
| Company | Market Cap |
| VZ | 208.38 |
| T | 185.59 |
| S | 32.54 |
| TMUS | 26.4 |
AT&T makes large portions of its revenue from its data services. As more people use their smartphones for a greater variety of tasks, application usage is increasing. Application usage is seemingly correlated with texting rates, so it makes sense to infer that the younger generation is using more data as a whole. This also means that, as a consumer base, the younger generation will be more reliant upon telecommunications providers such as AT&T - providing a consistent and growing revenue base for the firm.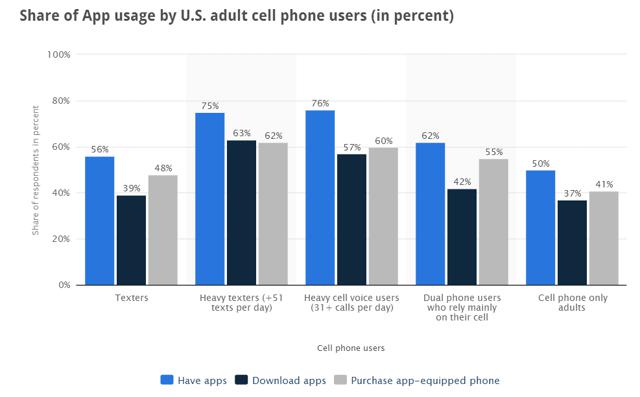 Source: YCharts
Conclusion
AT&T's fundamentals look strong and well in line with its direct competitor, Verizon. The company is very large and has significant market share, as well as operating in a growing market. Verizon's revenue growth looks slightly better, however, but AT&T continues to develop its infrastructure and Research & Development initiatives. If you believe that telecommunications services will constitute a larger part of the United States gross domestic product in the years to come, then AT&T is a buy at its current price.
Disclosure: The author has no positions in any stocks mentioned, and no plans to initiate any positions within the next 72 hours. The author wrote this article themselves, and it expresses their own opinions. The author is not receiving compensation for it (other than from Seeking Alpha). The author has no business relationship with any company whose stock is mentioned in this article.