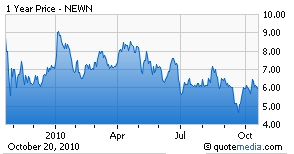 In my previous article, I provided my analysis on an under-valued stock OTC:NEWN (New Energy Systems). In the current article, I want to detail the rationale for investing in this gem.
There is no doubt that Apple (NASDAQ:AAPL) changed the world, ever since their creation of the advertising slogan "Think Different" in 1997. Nowadays, we can see people play with iPods, iPhones, and iPads everywhere. Our kids had one Mac computer at home and then the teachers bought several for the computer lab at the schools. The successful launch of iPad and iPhone allowed the company stock to have a major upturn in the past months with a nice 50% return in 2010. Can we benefit from the rally? In the current article, I want to show you why NEWN is a great candidate to benefit from Apple's rally.
When people are talking about market gurus, Peter Lynch is a name that usually pops up. During his 13 years of service at Fidelity Magellan Fund, the average return was 29% annually and was a record among mutual fund managers. Lynch is a "story" investor. That is, each stock selection is based on a well-grounded expectation concerning the firm's growth prospects. The expectations are derived from the company's "story"; what the company is going to do or what is going to happen to bring about the desired results. I will apply this principle to examine NEWN to see whether it qualifies for great investments.
What is the company going to do?
China has more than 600 million mobile phone subscribers, making it the country with the largest mobile market on the planet. The soaring demand for mobile power sources, such as lithium ion batteries, has fueled New Energy's organic growth. New Energy's wholly owned subsidiary, Shenzhen E'Jenie Technology Development Co., Ltd., has been licensed to manufacture backup power systems and accessories interoperable with Apple's mobile digital devices. These electronic accessories are designed to connect specially to iPod, iPhone, or iPad respectively and have been certified by the developer to meet Apple performance standards.
The products will be sold under the MeePower™ brand in the international marketplace and are anticipated to be made available to distributors in the U.S. beginning in late 2010.
What it is going to happen?
As China is switching to a domestic, demand-driven economy, the sales of cell phones, laptops, and the like will grow exponentially. It was the first time that the fourth version of the iPhone had been officially available on the Chinese mainland. In September, 2010, the high demand from people in China had caused China Unicom (NYSE:CHU), the country's sole iPhone distributor, to stop taking online orders. More than 200,000 preorders were received prior to the launch. The pace of sales outstripped those of the previous iPhone 3, which sold 100,000 after six weeks. The rising demand for fancy Apple products will also fuel New Energy's growth. In a country with $4 billion of lithium ion battery sales per year, a growing, affluent middle class, and an exciting array of innovative mobile devices, such as the iPhone 4, being introduced into the Chinese market, New Energy is well-positioned to grow through its line of quality products, expanding distribution networks, and accretive acquisitions.
How will the company achieve the desired results?
For the second quarter of 2010, the company's revenue increased 335.2% to approximately $23.4 million, with the adjusted EPS increased 59.1% to $0.35 per diluted share. These amazing results have led the management team in NEWN to reaffirm its revenue guidance of at least $88 million and adjusted net income guidance of at least $15.6 million, or $1.23 per share, for 2010. This is a huge opportunity for NEWN.
NEWN now has a very attractive valuation compared to its peers as shown below.
| | | | |
| --- | --- | --- | --- |
| Company | Ticker | P/E | P/B |
| New Energy Systems Group | NEWN | 4.9 | 1.2 |
| Advanced Battery Tech. | | 8.3 | 1.8 |
| China BAK Battery | (NASDAQ:CBAK) | N/A | 0.8 |
| China Ritar Power Corp | (OTC:CRTP) | 7.4 | 1.4 |
| Hong Kong Highpower | (NASDAQ:HPJ) | 8.5 | 2.1 |
With strong sales figures for Apple's products and increased demand for its accessories, I believe that NEWN offers a fantastic investment opportunity. My target price for NEWN is $12 – 15 for the short term and $20 – 25 in the next two years.
If you can buy them now at $6, you may be able to bring a next-generation iPad back home with you in 2011, as well as your original investment.
Disclosure: Long NEWN