Verizon (NYSE:VZ) has a market capitalization of $208 billion and has been around since the 80s. The company competes within a variety of industries, leveraging its telecommunications infrastructure and government sway in order to remain diverse and profitable. In the last 5 years, Verizon has gone from a price point in the high 20s to the $~50 it is now. After this kind of appreciation, does Verizon stock have any more room to grow? We need to assess its fundamentals and market position in order to find out.
Fundamentals
Verizon has maintained healthy revenues and revenue growth for the last decade or so. Verizon has benefited from the surge of smartphone technology and has other information-based revenue streams such as its fiber optic internet service, called Verizon FIOS.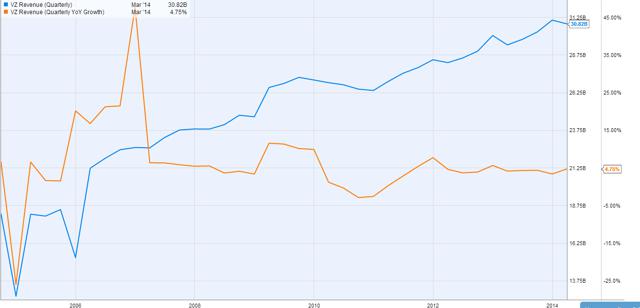 Source: YCharts
Although Verizon has had strong revenue activity, its costs appear to have gone up as well. We can see that the firm's post-tax and interest haul, called the net income, is somewhat stagnant and has even undergone heavy dips as of late.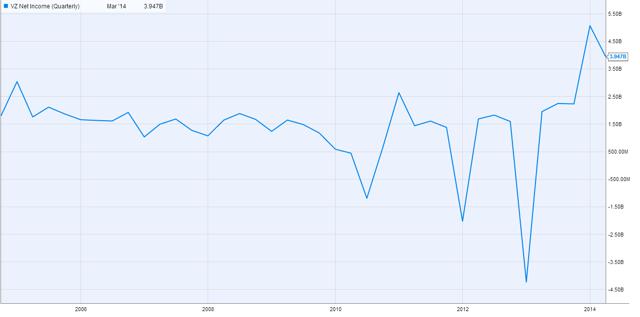 Source: YCharts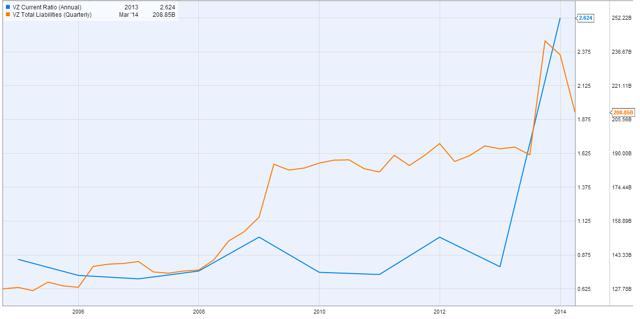 The increased expenses somewhat coincide with a spike in Verizon's liabilities. This should be of little concern because the firm's current ratio (assets/liabilities) has been on a healthy upwards trajectory in the most recent several quarters.
Source: YCharts
Verizon appears to be doing well on a fundamental level: the company's income statement and balance sheet look healthy.
Market and
Verizon is the largest player in the United States cellular telecommunications space. As you can see, Verizon's market cap exceeds that of AT&T (NYSE:T), and greatly exceeds that of Sprint (NYSE:S) and T-Mobile (NASDAQ:TMUS). Even the rumored merger between Sprint and T-Mobile merger would give the two firms a market cap just a bit larger than a quarter of Verizon. This kind of size in a market gives Verizon great leverage - everyone else is playing on its turf.
| | |
| --- | --- |
| Company | Market Cap |
| VZ | 208.38 |
| T | 185.59 |
| S | 32.54 |
| TMUS | 26.4 |
| | |
Verizon is also operating in a growing market. According to the United States Statistical Abstract, cellular phone service is on a brisk rate of growth. Note the slight decline noted in residential telephones from the latest data.

Source: US Statistical Abstract
Basic economics tells us that if Verizon is bigger than its competitors and is operating in a growing market, it's going to continue making money, and possibly more of it. Although Verizon has had increasing revenues for the last ten years, it has been shedding employees: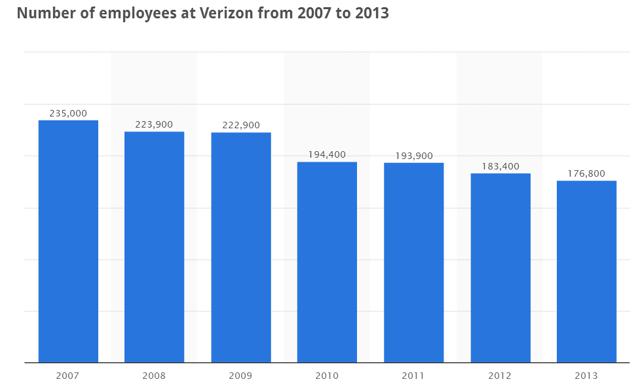 Source: Statista
It appears that management is cutting what they deem to be bloated personnel in order to make the company more efficient. They appear to be doing it well.
Conclusion
The core business position of Verizon should allow it to continue growing. The company has a strong fundamental base, a vibrant market, and a management team that is interested in making it a more scalable, capable enterprise. Based on these indicators, Verizon is a buy at its current price.
Disclosure: The author has no positions in any stocks mentioned, and no plans to initiate any positions within the next 72 hours. The author wrote this article themselves, and it expresses their own opinions. The author is not receiving compensation for it (other than from Seeking Alpha). The author has no business relationship with any company whose stock is mentioned in this article.