Johnson & Johnson (NYSE:JNJ) is well known around the dividend growth investing community with over 50 consecutive years of dividend increases. Chances are there's Johnson & Johnson products in your medicine cabinet right now and if you've ever had to take prescription medicine or had a medical procedure you've most likely used its products even if you didn't know it. Johnson & Johnson is a diversified giant in the health care industry. Johnson & Johnson closed trading on Friday, July 11th at $105.10 giving a current yield of 2.66%.
Discounted Earnings:
Analysts followed by Yahoo! Finance expect Johnson & Johnson to grow earnings 6.96% per year over the next 5 years and I've assumed they can grow at 5.22% (75% of 6.96%) for the next three years and at 4.00% in perpetuity. Running these numbers through a discounted earnings analysis with a 9% discount rate and summing over 30 years yields a fair value price of $111.61. This means the shares are trading at a 5.8% discount to the discounted earnings analysis.
Graham Number:
The Graham Number valuation method was conceived of by Benjamin Graham, the father of value investing, and calculates the maximum price one should pay for a company given the earnings and book value. Johnson & Johnson earned $5.23 per share over the last twelve months and has a current book value per share of $27.08. The Graham Number is calculated to be $56.45, suggesting that it's overvalued by 86.2%. Since we invest for the future, let's replace the earnings per share with forward looking earnings of $5.89 for FY 2014. Keeping the book value per share the same and re-running the calculation gives a fair value of $59.91. Shares are still overvalued by 75.4%.
Gordon Growth Model:
The Gordon Growth Model is a quick way to calculate the fair value of a company using the current dividend, the expected dividend growth rate, and your required rate of return or discount rate. Assuming a constant 7.00% dividend growth rate and a discount rate of 9.00%, the GGM valuation method yields a fair price of $119.28. Johnson & Johnson is currently trading at 11.9% discount to this price.
Dividend Discount Model:
For the DDM, I assumed that Johnson & Johnson will be able to grow dividends for the next five years at the lowest of the 1, 3, 5, 10 year growth rates or 15%. In this case that would be the 1 year growth rate of 6.56%. After that I assumed Johnson & Johnson can continue to raise dividends at 5.91% (90% of 6.56%) for the next three years, and in perpetuity at 5.00%. The dividend growth rates are based off fiscal year payouts and don't necessarily correspond to quarter over quarter increases. To calculate the value I used a discount rate of 9.0%. Based on the DDM, Johnson & Johnson is worth $81.26, meaning it's trading at a 29.3% premium to this valuation.
Relative Historical Valuations:
I've decided to start combining the historical valuation range methods into one section to condense these analyses a bit. In the following table you'll find the 5 and 10 year average high dividend yield, average low P/E ratio, average low P/S ratio, and average low EBITDA per share ratio. I've also included the base metric estimate for each valuation (i.e. dividend estimate is the dividend payment, P/E is earnings per share...) and the associated price targets.

P/E Ratios:
Johnson & Johnson's trailing P/E is 20.10 and its forward P/E is 16.60. The PE3 based on the average earnings for the last 3 years is 25.93. I like to see the PE3 be less than 15 which Johnson & Johnson is well over. Compared to its industry peers Johnson & Johnson is undervalued versus Covidien plc's (COV) 26.14 and Novartis AG's (NYSE:NVS) 22.84 but overvalued against Pfizer, Inc.'s (NYSE:PFE) 9.33. Previous comparisons are on a TTM basis. On a forward P/E basis JNJ is undervalued versus COV (20.53) and overvalued compared to NVS (15.73) and PFE (13.36). Johnson & Johnson is trading at a 5 year PEG ratio of 2.56 which is on par with COV (2.45) and overvalued against NVS (2.19). A PEG ratio of 1 is generally considered fair value and JNJ is well above that mark suggesting that it's expensive for the expected growth over the next 5 years.
Margins:
Johnson & Johnson's gross margins for FY 2012 and FY 2013 were 67.8% and 68.7%, respectively, and the company has averaged a 69.0% gross profit margin over the last 5 years. The net income margins for the same years were 16.1% and 19.4% with a five year average of 18.4%. Johnson & Johnson's net profit margins are back in the historical range of the past 10 years after dipping in 2011 due to the recalls. Gross profit margins have been trending slightly down but are still very solid in the high 60% area. Since each industry is different and allows for different margins, I like to compare the company I'm analyzing to its peer group. Over the TTM, Johnson & Johnson's gross margin was 69.1% with a net profit margin of 20.9%; COV's gross margin was 59.0% with a net profit margin of 15.6%; NVS's gross profit margin was 67.0% with a net profit margin of 16.5%; and PFE's gross profit margin was 82.0% with a net profit margin of 42.7%.
Share Buyback:
Since the end of FY 2004, Johnson & Johnson has been rather pedestrian with share buybacks. From FY 2003 to FY 2013 the share count decreased from 3.01B to 2.88B for just a relatively minor 4.4% reduction. That's just an average annual decrease of 0.44%. However, through FY 2011 the average share count decrease was at 1.00%. During FY 2012 and 2013 and thus far through 2014 the share count has been on the rise. I'd like to see a return to consistent share count reductions and will be looking for that when FY 2014 closes at the end of the year.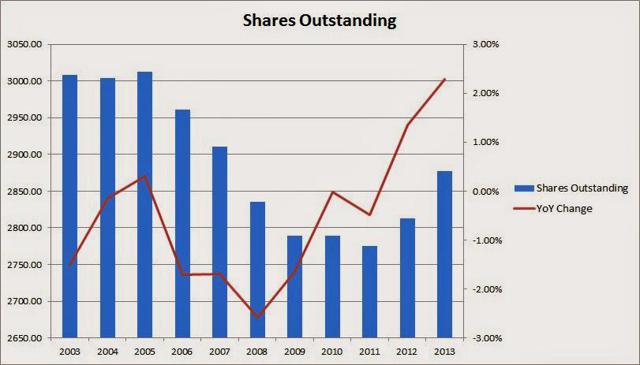 A negative number for the % change value means shares were bought back by the company and a positive value means the shares outstanding increased.
Dividend Analysis:
Johnson & Johnson is a dividend champion with 51 consecutive years of increasing the dividend. The dividend has been increased at a 6.6%, 7.1%, 7.4%, and 11.5% annualized rates over the last 1, 3, 5, and 10 year periods, respectively. Dividend increases are based off fiscal year payouts and don't necessarily correspond to quarter over quarter increases.
The payout ratio based off earnings per share has increased over the last 10 years from 38.7% in FY 2004 to 53.9% in FY 2013. Over the last five fiscal years the payout ratio has averaged 53.7%. The general trend has been a higher payout ratio as dividend increases have outpaced earnings per share growth although over the TTM the payout ratio is back in the mid to upper 40% range. Based on my calculations for EPS growth (discounted earnings) and dividends (dividend discount model) the payout ratio would remain fairly consistent in the mid to upper 40% level over the next 10 years. This would allow management to possibly increase the dividend at a slightly faster rate if they feel they wanted to increase the payout ratio a little bit more and reward owners.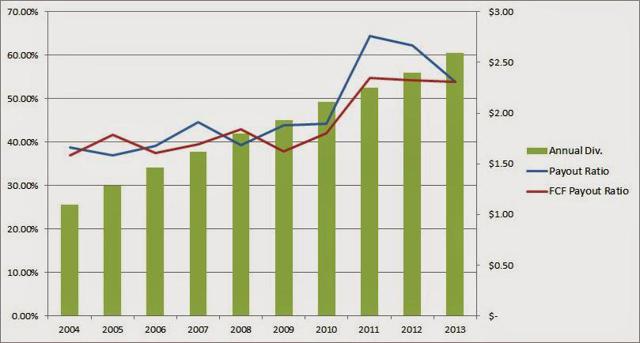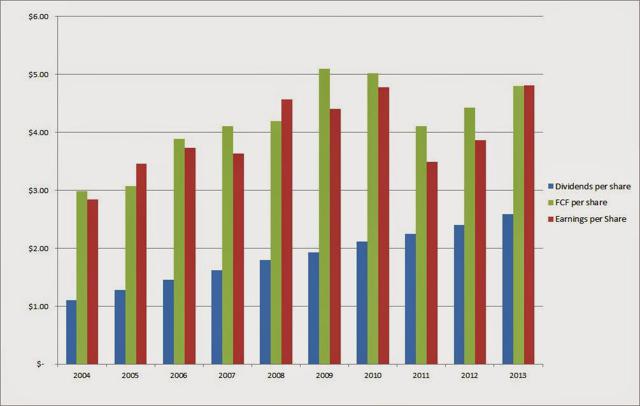 I also like to look at the cash flow and the free cash flow payout ratio in order to determine the safety of a dividend. Cash flow is less susceptible to accounting tricks when compared to earnings because after all cash is cash. The free cash flow payout ratio has followed the same upward trend as the traditional payout ratio but the dividend is still well covered by cash flow. Operating cash flow has increased from $14.972 B in FY 2008 to $17.414 B in FY 2013; that's good for an average annual increase of 3.07%. Capital expenditures increased from $3.066 B to $3.595 B over the same years for an average annual increase of 3.23%. Since operating cash flow has increased at a slower rate than capex, FCF has still increased in nominal terms but at a slower rate than operating cash flow growth. FCF was $11.906 B in FY 2008 and $13.819 B in FY 2013 or an average annual increase of 3.02%. As a dividend growth investor, the sustainability of the dividend is of utmost importance to me, so I also like to calculate the free cash flow after paying the dividend, or FCFaD. The FCFaD has declined slightly due to the dividend growing faster than all of the cash flow metrics. FCFaD was $6.882 B in FY 2008 and was $6.533 B in FY 2013 for an average annual decline of 1.04%. However, some positive news can be seen in the FCFaD over the TTM which is at a very robust $7.974 B mark. If it stays at that level through the rest of FY 2014, the average annual increase would jump to 2.48%. The FCF payout ratio is still at very comfortable levels at just 53.9% for FY 2013 and 51.6% for the TTM. The trend has been higher but it appears that the FCF payout ratio could decrease from here given the relatively low dividend increase earlier this year of just 6.1%.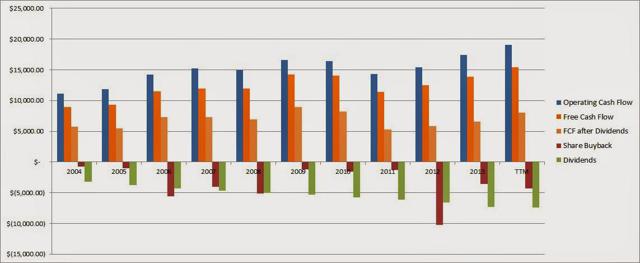 Revenue and Net Income:
Since the basis of dividend growth is revenue and net income growth, we'll now look at how Johnson & Johnson has done on that front. Revenue growth since the end of FY 2008 has been fair with a 2.3% annual increase; growing from $63.747 B to $71.312 B. Net income over the same years has grown at an annualized rate of 1.3% from $12.949 B to $13.831 B. Since net income has been growing slower than revenue, the net income margin has declined from 20.3% in FY 2008 to 19.4% in FY 2013. The only real concern here is that for a company that already has over $70 B in annual revenue it's hard to make meaningful improvements on those numbers.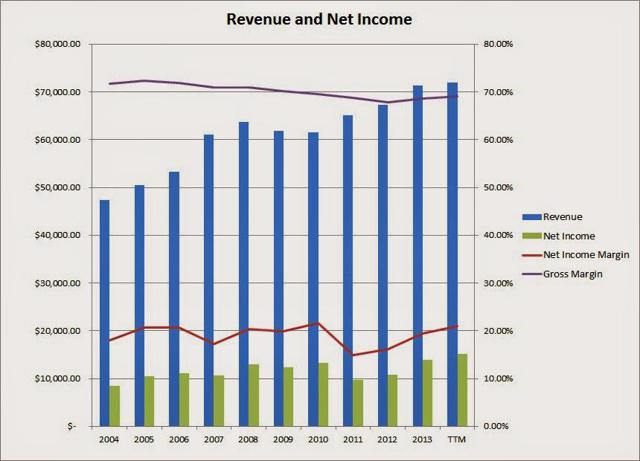 Forecast: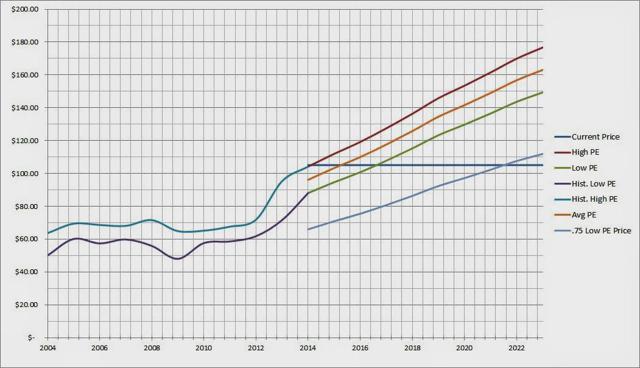 This chart shows the historical high and low prices since FY 2004 and the forecast based on the low, average, and high P/E ratios and the expected EPS values from the discounted earnings calculation above. I have also included a forecast based off a P/E ratio that is 75% of the average low P/E ratio. I like to buy near the 75% low P/E ratio price although this price doesn't usually come around very often. In the case of Johnson & Johnson, the target low P/E ratio is 15.0 and the 75% low P/E ratio is 11.2. This corresponds to an entry price of $88.04 based off the expected earnings of $5.89 for FY 2014, with a 75% target price of $65.95. Currently, Johnson & Johnson is trading at a $39.15 premium to the 75% low P/E target price and a $17.06 premium to the target low P/E price. FY 2015 price targets are $94.62 for low P/E and $70.87 for 75% low P/E. If you look at the chart the current price line intersects the average P/E line towards the beginning of FY 2016 suggesting that it's currently above fair value and that you're paying up for about 2 years of growth at current prices. The current price line intersects the low P/E line towards the middle of FY 2017 so you're paying up for about 3 years of growth at current prices. Shares seem to be on the high range of their historical valuations but they aren't grossly overvalued at current prices. If actual growth comes in above/below analyst estimates then these numbers are subject to change.
Conclusion:
The average of all the valuation models gives a target entry price of $84.92 which means that Johnson & Johnson is currently trading at a 23.8% premium to the target entry price. I've also calculated it with the highest and lowest valuation methods thrown out. In this case, the GGM and Graham Number valuations are removed and the new average becomes $83.65. Shares are currently trading at 25.6% premium to this price as well.
Assuming that Johnson & Johnson grows its earnings and dividends at the rates that I assumed, you're looking at probably market average returns over the next 10 years. In 2023, EPS would be $9.99 and slapping an average P/E of 16.3 gives a price of $162.99. Over the next 10 years you'd also receive $39.81 per share in dividends for a total return of 93.0% which is just a 6.79% annualized rate if you purchase at the current price. If you purchase at the target entry price of $84.92 the 10 year total return jumps to 138.82% or a 9.1% annualized rate. The average returns at current prices are mainly due to subpar capital gains thanks to P/E compression from the current level of 20.1 down to 16.3. If the economy and Johnson & Johnson are continuing to hum along, I don't think we'd truly see JNJ trading at a 16.3 P/E as this is one of the highest quality and most consistent companies available to investors. This also includes the artificially low multiple years from the "Great Recession" which lowers the average P/E ratio from 18.0 to 16.3.
According to Yahoo! Finance, the 1 year target estimate is $105.96 suggesting that the share price is trading at fair value and has just 0.82% upside left. Morningstar has JNJ rated as a 2 star stock meaning it's trading above their fair value estimate of $99.00 or about 5.8% overvalued. S&P Capital IQ has a fair value estimate of $100.70 for JNJ suggesting that it's overvalued by about 4.2%. The following table is from Morningstar and shows the current valuation of Johnson & Johnson compared to its industry, the S&P 500, and its 5 year averages.

Johnson & Johnson operates in three segments; consumer, pharmaceutical, and medical devices & diagnostics. Its products cover everything from baby powder and Band-Aid to various prescription drugs and orthopedic products. For FY 2013 the consumer segment provided 21% of sales with a 2.8% year over year growth, the medical devices and diagnostics segment provided 40% of sales with 6.1% growth and the pharmaceuticals segments accounted for the remaining 39% of sales with 12% year over year growth.
According to the 2013 annual report, Johnson & Johnson has four drivers of long-term growth, including (1) Creating value through innovation, (2) Bringing to life our global reach with local focus, (3) Maintaining laser focus on excellent execution, and (4) Leading with purpose to make a difference. To fulfill the first driver Johnson & Johnson continues to spend on research and development across all three segments, most notably in the pharmaceutical and medical devices segments. In 2013 55% of Johnson & Johnson's business came from outside of the United States, most notably in the emerging markets of Brazil, Russia, India and China. Continued expansion of those economies and penetration into those markets will allow Johnson & Johnson to fulfill growth driver (2). I think everyone knows about the recall issues that Johnson & Johnson faced with its OTC drugs Tylenol and Motrin from a few years ago. This forced Johnson & Johnson's hand to refocus on consistency and quality of its OTC products to restore credibility and faith in those products and the company. So far it's worked as OTC product sales saw a 19.7% increase and a return to the top of the OTC adult and pediatric pain product categories. Growth driver (3) is in full swing. Growth driver (4) is being fulfilled by supporting over 500 communities globally through contributions in both cash and products as well as helping to fight tuberculosis and HIV by making the drugs more accessible.
The pharmaceutical segment and further expansion/penetration in the emerging markets will be the drivers of higher growth over the next few years. Domestically I don't see huge gains in operations barring breakthroughs in the pharma or medical devices segments so we'll see steady increases year over year but not huge growth rates. As a dividend growth investor I'm not a big fan of the pure pharma plays due to the constant R&D demands and patents ending which can lead to large declines in revenues and profits. Thus making Johnson & Johnson a great diversified giant in the health care industry. Of course, that's also why Johnson & Johnson is one of just three companies with a AAA credit rating from S&P.
The health care industry is primed for continued growth as the global population continues to age. Across most developed economies we're just starting to see the "baby boomer" generation hit 60 years old. As that segment of the population continues to age that will unfortunately lead to more health related issues for those individuals. However, that's great for owners of health care related companies.
Overall I think the valuation of Johnson & Johnson is a bit rich at this time. Most of the valuation models have Johnson & Johnson on the high end of its normal valuation ranges suggesting that now would not be the best time to invest capital. If you believe that Johnson & Johnson will grow at the forecast rates then your returns won't be stellar but you wouldn't be disappointed either. Personally I'll wait until the share price dips back below the $100 level to add to my position although obviously I'd love to get my hands on more shares in the low-$90's. I really love this company and can't wait to add to my position but for now I'll wait.
What do you think about Johnson & Johnson as a dividend growth investment? How do you think the long-term dividend growth prospects are?
A full list of my holdings can be found here.
Disclosure: The author is long JNJ. The author wrote this article themselves, and it expresses their own opinions. The author is not receiving compensation for it (other than from Seeking Alpha). The author has no business relationship with any company whose stock is mentioned in this article. I am not a financial professional and all thoughts/ideas here are my own and for entertainment purposes only. Investing involves risks. Please consult a financial professional and do your own due diligence before investing. The author is not responsible for losses of any kind by readers. All charts/images and data are sourced from my personal stock analysis spreadsheet, Morningstar, Yahoo! Finance, or Johnson & Johnson's Investor Relations page.