Mid July update for two popular VIX ETPs.
Proshares Ultra VIX Short-Term Futures ETF (NYSEARCA:UVXY)
iPath S&P 500 VIX ST Futures ETN (NYSEARCA:VXX)
Hello everyone. I have been venturing off into unfamiliar ETF territories to try and research under-covered funds. I have missed giving you updates on my favorite VIX ETFs.
Around July 1st, 2014, I recommended exercising caution and avoiding the hype of a historical rise in the VIX during July. You can read up on that article here. So far this has proven to be a good assessment.
Let's look at both UVXY and VXX performance since July 1st, 2014.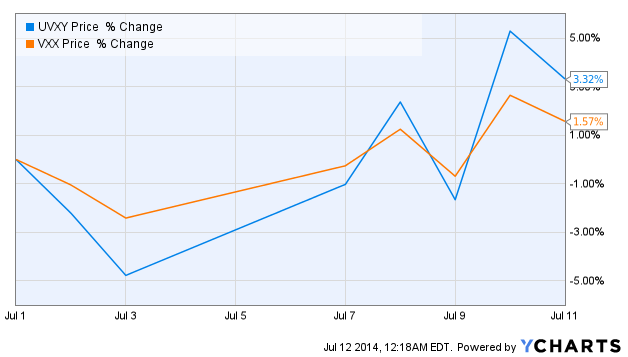 Both funds are showing a slight gain over the last two weeks. Nothing indicating a post fourth of July spike, yet. However, recent developments have me questioning how long the VIX can stay subdued.
Contango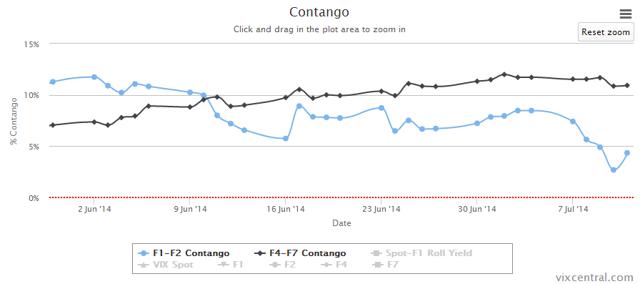 Futures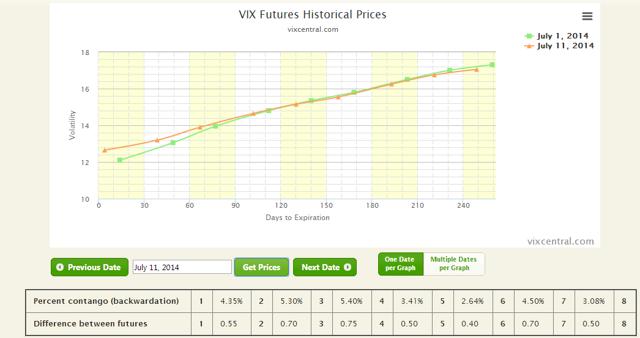 Contango has trended lower while the VIX Futures have slightly edged higher. With the VIX futures at such low levels, expect them to easily enter backwardation on any substantial drop in the S&P 500. When this happens do not think that UVXY will automatically turn into a safer investment like Proshares Short VIX Short-Term Futures ETF (NYSEARCA:SVXY). Both funds have inherent risk but at least SVXY has proven it can rise in value over time.
My recommendation is to wait until the VIX Futures trade at elevated levels and then short UVXY. You can also do this using options strategies. Check out my newest options video here (particularly beneficial when trading UVXY options). I prefer using UVXY over VXX because it is 2x leverage.
Outlook
Several developments have arisen since our last update.
1. Increasing Middle East tension. With the introduction of longer range rockets reaching further into Israel than ever before, this situation bears watching. You can read more here.
2. Economic data out of Europe has been negative over the past week. You can read more on the Investing.com economic calendar here.
3. The Federal Reserve has announced the end of its massive bond buying program. Next up, when will rates rise? Read here.
4. Consumer spending is still not improving. Read here.
Each of these events bear watching. The market, as shown by the last week, is still strong with investors buying the dips. I look for a spike in the VIX to reach a 15-17 range before settling back down. The only thing I can see derailing the U.S. economy is a change in the employment numbers. Yes wage growth is lacking, but the total number of jobs, and job openings, continues to improve. Until that reverses course we are going to continue to see the market run flat to higher over the long-term.
Historical Analysis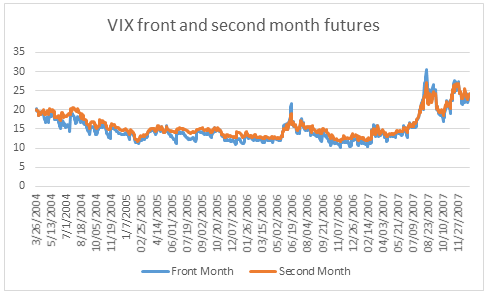 Chart created by Nathan Buehler using historical VIX futures from the CBOE.
We have VIX futures data dating back to 2004. The current period of low volatility resembles that of 2005-2006. I do not create charts that show correlation and just because volatility is low, does not mean it will suddenly spike. For the VIX futures you should focus on causation rather than any correlation.
The reason I show you this chart is to highlight how the VIX would typically act in and towards the end of a bull market. We all know what started to happen with the economy in 2006-2007. I do not currently see data that would be causation for the same to start occurring anytime soon.
When market volatility is low, it will stay at low levels until economic, geopolitical, or other unforeseen events cause it to spike higher. If a spike in the VIX occurs and it is not supported by economic weakness, political instability, or proven market weakness, the VIX will ultimately fall back to its previous range.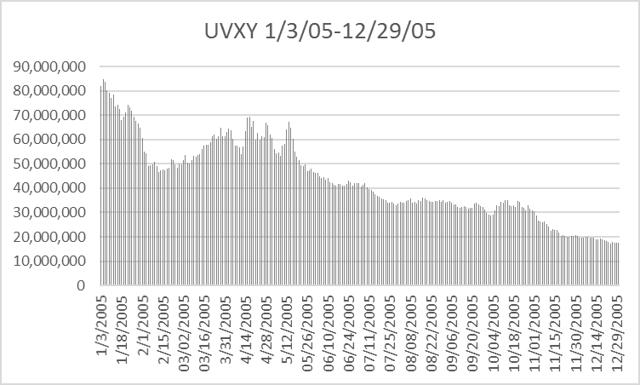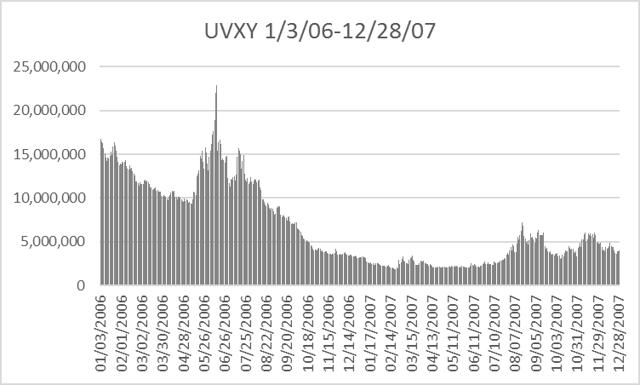 Both charts created by Nathan Buehler using back-testing data from The Intelligent Investor Blog.
In both of these charts we can see the substantial decay in the theoretical share price of UVXY.
Conclusion
Wait until VIX futures push well into backwardation. When this occurs it will present a shorting opportunity in both UVXY and VXX. We are long overdue for some type of market pullback. With this investing strategy you must remain patient and I do not recommend shorting either of these funds at volatility's current low levels.
As we can see from the charts above, UVXY will continue to see dramatic share price erosion if the VIX futures remain under 15.
Disclosure: The author has no positions in any stocks mentioned, and no plans to initiate any positions within the next 72 hours. The author wrote this article themselves, and it expresses their own opinions. The author is not receiving compensation for it (other than from Seeking Alpha). The author has no business relationship with any company whose stock is mentioned in this article.
Additional disclosure: Current events can change quickly. When investing in VIX futures ETFs it is important to keep track of current economic conditions. Strategies listed in this article have proven to be highly effective. It is up to the individual investor to gauge conditions for implementation of said strategies.